By Pat Harty
IOWA CITY, Iowa – About midway through this past basketball season, I finally learned how to tell Kris Murray from his twin brother Keegan Murray when they weren't wearing their Iowa uniform.
It wasn't anything from a visual standpoint that helped to distinguish one from the other, but rather how they interact with people and how they express themselves, because in that case, they're not identical.
Their voices sound the same, but their personalities are as different as their playing styles.
Kris seems more of a jokester who gets great satisfaction from teasing his twin brother, while Keegan seems more laid-back and predictable, almost robotic with his meticulous approach and answers.
Kris Murray sort of a took a friendly shot at his twin brother when asked Thursday on a zoom conference to comment on reports that he really took it to Keegan during some recent NBA workouts.
Kris Murray met with the media to address his decision to withdraw from the 2022 NBA draft to return to Iowa for his junior season.
Keegan Murray, on the other hand, is considered a lottery pick in the upcoming two-round draft after having earned consensus All-American honors at Iowa this past season.
"Keegan really never has been able to guard me, so yeah, of course, I'm going to go at him, especially since where he's supposed to be drafted," Kris Murray said. "He's not going to have anything easy, I guarantee you that."
What might seem to be a joke really isn't a joke to Kris Murray, because as great as his twin brother is as a basketball player and despite how much he loves and respects him, Kris Murray still believes that Keegan can't guard him.
Nobody believes in Kris Murray more than Kris Murray, and that's one of his strengths.
While success, fame, and soon-to-be NBA riches will come sooner for his brother, Kris Murray is convinced that his day will come, even more so now after having spent the past six weeks working out for NBA teams.
"There were a lot of things that I took away from it, and from day one when I got there to day two, I improved a lot and the persons working us out noticed it, too," Kris Murray said. "Even though I might be able to see it myself, if others notice, I thought that helped my confidence a lot."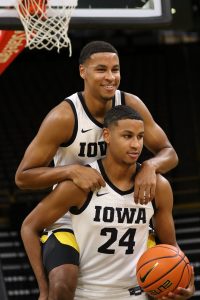 The Murray twins are moving into uncharted territory with the game they love finally causing them to separate.
Kris couldn't remember when or if he and Keegan were ever on different teams.
They grew up in Cedar Rapids and their father is former Iowa basketball player Kenyon Murray.
Basketball has always been a family affair for Kris and Keegan.
"If anything, it would have happened when we were younger," Kris Murray said. "But I think it'll be good for us. It will both grow our games, even though we played with each other for whoever knows how long. It will definitely be different. But it'll be something that I'm excited to get used to."
From a basketball standpoint, Kris Murray's decision to withdraw from the draft was huge for Iowa.
He isn't his brother, even though they're both about 6-foot-8 and 225 pounds, but Kris will be expected to help fill the massive void left by his brother, maybe more than any other player.
Kris Murray can play multiple positions and guard multiple positions. He isn't as physical as his brother, but Kris might have better perimeter skills.
A lot will be expected from Kris Murray next season, and he welcomes the spotlight and the pressure.
Of course, Kris will miss not having his brother around, but this will be a chance for Kris to shine without his brother and show that he, too, is special.
"I think we'll have pretty high expectations for ourselves first and foremost because we're a group that's been together for a while.," Kris Murray said. "We have a core group of guys and we're excited to bring in the freshman as well.
"I'm excited for the challenge. I want teams to have me on the top of their scout. I want to be the focus of their defense."
It's easy to forget that Kris Murray has only started one game as a Hawkeye.
He accepted his role as a top reserve last season, and made the most of it, like when he scored 29 points and grabbed 11 rebounds in a win over Indiana.
On that night, Kris Murray was the best player on the floor, which is meant as no disrespect to his brother.
Kris Murray said his decision to return to Iowa didn't come easy because he felt that some NBA teams were seriously evaluating him.
"There was definitely interest throughout this whole process," Kris Murray said.
Kris could've have stayed in the draft and taken his chances because his dream is to play in the NBA.
But the chance to not only be a Hawkeye for another year, but a star player in the Big Ten, was ultimately too good to pass up.
The NBA will be there a year from now, and will serve as motivation for Kris Murray.
But so, too, will the chance to excel on his own and show as a Hawkeye why his brother can't guard him.
"I think you have to be excited for it because it's a great situation to be in," Kris Murray said. "It's better than having low expectations or not being seen as a breakout player.
"But I feel good about myself and my game, and I'm excited for the pressure and the high expectations and everything that comes with it."