By Pat Harty
IOWA CITY, Iowa – Whether it was his intention or not, Charlie Jones has made the Iowa-Purdue football rivalry more intriguing, and probably more heated.
Even in this age of the transfer portal where it seems almost anything goes, Jones' decision to transfer from Iowa to Purdue as a sixth-year graduate student, and to do it this late in the process, is both odd and surprising.
Barely a month ago, Jones met with the media after Iowa's last spring practice and talked about how excited he was to build on what he already had accomplished as a Hawkeye, which included being named the Big Ten Return Specialist of the Year last season.
Jones had supposedly considered entering the 2022 NFL draft, but then decided to return to Iowa, even posting his decision on Twitter.
So, obviously, something has changed between now and the end of spring practice in late April.
It's no secret that Purdue needs help in its return game.
And who better to help than the Big Ten's top return specialist?
The fact that Jones excels as both a punt and kick returner adds to his value because that combination is rare at this level.
Jones is one of just three Hawkeyes to ever return both a kick and punt for touchdowns.
By transferring from Iowa to Purdue, Jones will also be leaving an offense with a mediocre to average passing attack and joining an offense that makes passing for 300 yards in a game look easy.
Purdue finished ranked fifth nationally in passing offense, averaging 360
Last season, Purdue's passing offense ranked fifth nationally with 355.3 yards per game. The Boilermakers registered 35 touchdowns through the air.
Iowa ranked 109th out of 130 FBS programs in passing offense for '21. It averaged 180.1 yards a game with 12 passing touchdowns.
Purdue has won four of the last five games against Iowa, including a 24-7 victory last season at Kinnick Stadium, and it's been due mostly to Iowa failing to slow down Purdue's explosive spread offense under head coach Jeff Brohm.
Purdue torched Iowa for 377 passing yards last season.
And while it certainly helps that receiver David Bell has moved on to the NFL after having shredded Iowa in two games, his departure also has created opportunities for others, and Charlie Jones apparently feels that playing for Purdue is a better opportunity to showcase his receiving skills for the NFL than staying at Iowa for his final season.
Jones talked after spring practice about wanting to accumulate as much tape as possible as a receiver for the NFL to evaluate.
Jones knows how hard it is to make the NFL as just a return specialist, so maybe he figured that being the backup behind Nico Ragaini at Iowa wouldn't be his best option, especially if Purdue wants him.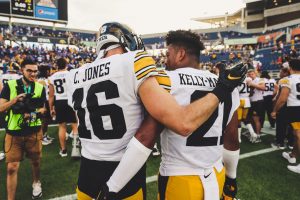 Jones caught 21 passes for 323 yards and three touchdowns last season, which is respectable, but probably not enough productivity to impress NFL scouts.
So, maybe Jones, who is from Deerfield, Illinois, didn't want to risk having a similar season from a statistical standpoint if he stayed at Iowa.
Iowa has been more successful than Purdue in football for most of the past two decades. But Jones only has one season remaining, so he's looking more short term, and doing what he feels is in his best interest as a receiver.
This will undoubtedly create some hard feelings, but hopefully, Jones sat down with Iowa head coach Kirk Ferentz and explained exactly why he was leaving because Ferentz deserves that much at least.
Kirk Ferentz gave Jones the opportunity to walk-on at Iowa after Jones had spent two seasons at Buffalo, and then Kirk Ferentz also put Jones on scholarship after Jones had proven himself.
Some might accuse Jones of being disloyal to Iowa, but in fairness, Jones came to Iowa without a scholarship and then had to prove himself on the field.
His decision to transfer from within the conference, even with the portal, still creates awkardness and hard feelings because some might question Purdue's tactics.
But until Jones speaks publicy about his decision, his motives are all speculation.
The Purdue Rivals website broke the news Friday, but Jones wasn't quoted in the story.
But if Jones is transferring due partly to Iowa's offensive woes, it would do him no good to say it publicly.
Because why criticize a division rival that gave you a chance on the big stage?
Jones will now be reunited with former Iowa receiver Tyrone Tracy Jr., who transferred to Purdue in December.
Tracy's decision to transfer didn't come as a surprise, however, and was easy to explain since he lost his starting position to freshman Keegan Johnson during the 2021 season.
Tracy also grew up near Indianapolis, so he also has now moved closer to home to finish his college career.
Tracy was expected to be a key threat for Iowa on offense last season, but it just never materialized, partly due to him dropping some passes, and because Iowa offensive coordinator Brian Ferentz quit featuring Tracy in the game plan.
Jones' decision on the other hand, is harder to explain due mostly to the timing with the 2022 season set to start in just three months.
But maybe it's as simple as Jones just wanting to play in a better passing attack because it can't be disputed that Purdue has a better passing offense.
Some like to say that Iowa won the Big Ten West Division last season in spite of its offense.
Adding two Iowa receivers to the Purdue roster will certainly add to the drama when the teams meet again on Nov. 5 in West Lafayette, Indiana, and also probably to the trash talk from both fan bases in the days leading up to the game.
By the time he uses up his eligibility, Jones will have spent three years and two seasons playing for Iowa and only about six months practing and playing for Purdue.
That might have seemed strange three or four years ago, but is now just a sign of the times.