By Pat Harty
IOWA CITY, Iowa – Nico Ragaini lost a lot more than a teammate and fellow receiver when Charlie Jones transferred to Purdue earlier this month.
"With the transfer portal I feel like everybody is transferring, but I definitely was upset," Ragaini said Thursday afternoon. "That's my guy. I love Charlie.
"He's taught me a lot since we've been together. We've been super tight."
Jones's decision to transfer surprised a lot of people, including Ragaini, who didn't find out until the day before Jones entered the portal.
"I think he told me when he told all the coaches here, so he let me know," Ragaini said. "Stuff happens."
Jones was expected to play a key role for Iowa as a sixth-year senior receiver and return specialist next season.
He was named the Big Ten Return Specialist of the Year this past season and he handled both kick and punt returns, which is rare.
Jones also set an example with his work ethic, focus and daily lifestyle.
"He carries himself like no one I've ever seen before," Ragaini said. "He lives every day like a professional. He does everything right. He eats like one-hundred percent clean and does extra stretches and does core work every single day.
"So, just learning from him has been an honor, honestly. He's a great guy and I wish him the best of luck."
Jones hasn't said publicly why he chose to leave Iowa so late in the year.
He participated in spring practice and told the media on the final day of practice on April 23rd that he was looking forward to his senior season and to improving his stock as a potential NFL receiver.
However, barely one month later Jones entered the transfer portal and is now a Boilermaker.
There is speculation Jones transferred to Purdue because he wants to play in an offense that relies more on its passing attack than what Iowa does.
Purdue averaged over 350 passing yards per game last season under head coach Jeff Brohm, while Iowa barely averaged 180 passing yards per game.
Purdue also has to replace some key receivers from last season, including David Bell, who skipped his senior season to enter the 2022 NFL draft.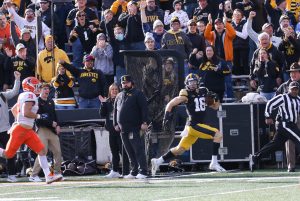 So, there should be opportunities for Jones to contribute as a receiver.
Jones is also friends with Purdue quarterback Aidan O'Connell as they both grew up near each other in the Chicago suburbs.
But whatever his reasons were for transferring, it still came as jolt to Ragaini because he and Jones had spent so much time together.
Jones played his first two seasons at Buffalo before transferring to Iowa in 2019 as a walk-on. He sat out the 2019 season before making a significant contribution in both the 2020 and 2021 seasons, mostly as a return specialist.
Jones is now using his free covid year to play this fall.
It was during the peak of the global pandemic in 2020 when Jones and Ragaini became close friends.
"We spent all of our quarantine together just working out together," Ragaini said.
Jones is one of two former Iowa receivers that now play for Purdue with Tyrone Tracy Jr. being the other.
Tracy transferred shortly after the end of last season, but it came as no surprise since Tracy lost his starting position to freshman Keagan Johnson during the 2021 season.
Tracy also grew up near Indianapolis, so playing for Purdue allows him to be closer to home.
Jones, on the hand, was expected to be a huge part of the Iowa offense next season. He was listed behind Ragaini on the depth during spring practice, but both were expected to play key roles as receivers.
"It'll be funny," Ragaini said of playing Purdue next season.
Iowa has lost several receivers to the transfer portal since Ragaini joined the team in 2018, including former Iowa City West standout Oliver Martin, who now plays for Nebraska.
Ragaini, who is from New Haven, Connecticut, said he holds no grudges against the receivers who have transferred, and he still stays in touch with Martin and Tracy.
In fact, Tracy attended Iowa's final spring practice at Kinnick Stadium just so he could be around his former teammates.
Tracy and Ragaini also shared a hotel room on the night before games, and their parents also became friends.
"Me and Tyrone came in together, so seeing him go was sad," Ragaini said. "We had been roommates at the hotel the past couple years. We were pretty close. And me and Charlie we're like brothers."
Ragaini said Martin often returns home where he has a boat, and Ragaini sometimes accompanies Martin on the boat.
Ragaini also still talks with Jones on a regular basis, usually by texting.
"I wish them all the best of luck, Ragaini said. "They're all my guys still."
And though he misses his friends and former teammates, Ragaini looks forward to being a veteran leader on the team.
"Selfishly, he lets me be the only grandpa on the team," Ragaini said of Jones. "But I wish him the best of luck. It just leaves more opportunities for other people to step up. And all the younger guys are eager for that opportunity and I'm happy to take on the role as the grandfather receiver by myself and just coach up all the younger guys as best as I can and lead them as best as I can."