By Pat Harty
IOWA CITY, Iowa – Quarterback is widely recognized as the most important position in team sports.
The team with the best quarterback doesn't always win, but no position impacts a football game on a regular basis more than quarterback, especially in the modern era.
The position has evolved perhaps more than any other position from the days of single wing offenses when quarterbacks mostly just ran or blocked to pro-style pocket passers to dual-threat quarterbacks that are now so popular.
The way in which the position has changed was taking into consideration when ranking the top 10 quarterbacks in the history of the Iowa football program.
If the rankings were based solely on passing statistics, there wouldn't be a quarterback on the list that played at Iowa before 1980.
So, remember that as you read the list.
Iowa had some outstanding quarterbacks that played before 1980, way before in some cases, and three of them made the list.
Wilburn Hollis was also well on his way to making the list until he suffered a season-ending wrist injury just two games into the 1961 season.
Chuck Long, 1981-85 – This was easy as the Wheaton, Illinois native checks all the boxes based on his individual and team success.
He was the first quarterback in NCAA history to pass for more than 10,000 yards in a career, and he finished runner-up as a senior for the 1985 Heisman Trophy, losing to Auburn running back Bo Jackson in the closest race in the award's history.
He also made first-team All-Big Ten three times, was the Big Ten Most Valuable Player as a senior, and he threw a Freedom Bowl record six touchdowns passes in the pouring rain against Texas in 1984.
He also led Iowa to the 1985 Big Ten title, to a No. 1 ranking for six weeks during the 1985 season, and to four consecutive bowl games.
Again, ranking Long first was a no-brainer.
But now comes the hard part, rankings two through 10.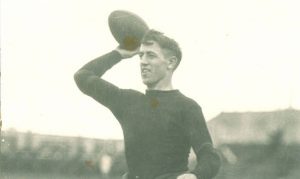 2. Aubrey Devine, 1919-21 – The Des Moines native was a consensus All-American in 1921, and he made first-team All-Big Ten three times.
He won the Big Ten Conference Medal for Excellence in athletics and academics and is a member of the National Football Foundation Hall of Fame.
He also led the Hawkeyes in rushing, passing and scoring in 1919 and 1921 and he drop-kicked a field goal to beat Notre Dame 10-7 in 1921, breaking Notre Dame's 20-game winning streak.
Iowa finished 17-4, including 7-0 in 1921, with Devine as the starter for head coach Howard Jones.
3. Brad Banks, 2001-02 – This came down to choosing between one spectacular season or the body of work of two other candidates.
His incredible rise from being a backup in 2001 to the Heisman Trophy runner up in 2002, and his versatility, gave Banks a slight edge.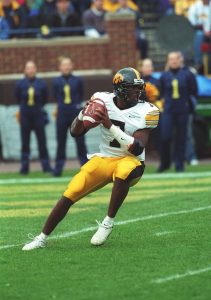 It could be argued that Banks brought more to the quarterback position as the starter in 2002 than any other quarterback in program history, including Long.
What made Banks unique and special is that he was a dual-threat quarterback and there haven't been many of those at Iowa.
In addition to passing for 2,573 yards in 2002, the Belle Glade, Florida native also rushed for 423 yards and accounted for 31 touchdowns.
Banks also led Iowa to the 2002 Big Ten title as the team finished undefeated (8-0) in conference play for the first time in 80 years and 11-2 overall.
4. Randy Duncan, 1956-58 – Another Des Moines native, he also finished runner-up for the Heisman Trophy as a senior in 1958 and twice made first-team All-Big Ten.
He was named the 1958 Big Ten MVP, won the Walter Camp Award and was selected as a consensus first-team All-American.
Duncan is one of two Iowa quarterbacks to a win a Rose Bowl as the 1958 squad capped a spectacular 8-1-1 season by crushing California 38-12 in the 1959 Rose Bowl.
Iowa led the Big Ten in passing and the nation in total offense in 1958, while Duncan led the nation in completion percentage and passing yardage.
5. Ken Ploen, 1954-56 – He has the distinction of being the first Iowa quarterback to lead his team to a victory in the Rose Bowl.
The Ploen-led Hawkeyes defeated Oregon State 35-19 in the 1957 Rose Bowl to cap a 9-1 season, and they served notice that Iowa was becoming a national power under head coach Forest Evashevski.
Ploen, who was born in Lost Nation, was named the 1957 Rose Bowl MVP and scored the game's first touchdown on a 49-yard run in the first quarter. He also completed 9-of-10 passes.
Ploen led Iowa to its first Big Ten regular-season title in 35 years in 1956, and was named Big Ten Player of the Year and a first-team All-American.
6. Chuck Hartlieb, 1985-88 – The Woodstock, Illinois native had to beat out star recruit Dan McGwire to finally get on the field for Hayden Fry.
But once it happened there was no looking back as Hartlieb would go on to pass for 6,934 yards and 37 touchdowns in just two seasons as a starter.
He also still holds the Iowa single-season record of 3,738 passing yards, which he set as a senior in 1988.
He made first-team All-Big Ten in both of his seasons as a starter in 1987 and 1988, and he ended his career with a 63.8 completion percentage.
Hartlieb completed 512 passes as a Hawkeye, and by far his most famous completion was the 28-yard game-winning touchdown pass to tight end Marv Cook on 4th-and-23 at Ohio State in 1987.
7. Matt Rodgers, 1988-91 – The Massachusetts native led Iowa to the Rose Bowl as a junior in 1990 and to a 10-1-1 season as a senior in 1991.
He also made first-team All-Big Ten in 1990 and 1991, finished his career with 6,725 passing yards and 41 touchdowns, and was a three-year starter under Hayden Fry.
8. Drew Tate, 2003-06 – The Baytown, Texas native was named the Big Ten Offensive Player of the Year as a sophomore in 2004.
He also led Iowa to a share of the Big Ten title and to a 10-2 record that season despite having a woeful rushing attack.
If Hartlieb's pass to Cook isn't the most famous play in program history, then Tate's 56-yard touchdown pass to Warren Holloway that defeated Louisiana State as time expired in the 2005 Capital One Bowl might be.
Tate is currently third on Iowa's all-time passing list with 8,292 yards and 61 touchdowns.
9. Ricky Stanzi, 2007-10 – He became the full-time starter five games into the 2008 season and never let go of the position.
He is currently ranked fourth on Iowa's all-time passing list with 7,377 yards and 56 touchdowns.
Iowa was 9-0 and Stanzi was having a strong season in 2009 when he injured his ankle against Northwestern and then missed the final two regular-season games. Iowa would go on to lose to Northwestern 17-10 at Kinnick Stadium, and to Ohio State the following week without Stanzi.
The Ohio native returned for the 2010 Orange Bowl where he led Iowa to a 24-14 victory over Georgia Tech to cap an 11-2 season. He completed his first eight passes in the Orange Bowl and completed 17-of-19 passes overall for 231 yards and two touchdowns.
Iowa finished 3-0 in bowl games with Stanzi as the starting quarterback, also defeating South Carolina 31-10 in the 2009 Outback Bowl and Missouri 27-24 in the 2010 Insight Bowl.

10. C.J. Beathard, 2013-16 – The Tennessee native led Iowa to an undefeated regular season (12-0) as a junior in 2015, and to the Rose Bowl that season for the first time since 1991.
He made second-team All-Big Ten in 2015 and finished his career with 5,562 passing yards and 40 touchdowns.
He also rushed for 429 yards over two seasons as a starter.
Also considered: Wilburn Hollis, Nate Stanley, Matt Sherman, Gordy Bohannon.