By Pat Harty
IOWA CITY, Iowa – For the past two decades, I've written the Iowa football preview for Athlon Sports' annual preseason magazine.
Accompanying the preview is a section titled "Scouting the Hawkeyes" in which an unidentified coach sizes up Iowa.
The magazine, which came in the mail this past Friday, has a scouting report that quotes an anonymous coach for every team from a Power Five conference, and this year's breakdown of Kirk Ferentz's 24th Iowa team is spot-on.
Especially this part: "They do what they do. They do it well and they do not care if you think they should do it different. They've got total support, too. So, if everyone is calling for the OC's (Brain Ferentz) head, it doesn't really matter. This program moves at its own pace."
Here is another part of the scouting report that is accurate: "The issue is going to be production at the quarterback position. They're going to let those guys battle it out."
And another: "They command games, even with less talent."
And finally, one more: "This program is the definition of overachieving in this sport. Yes, they probably need to be more creative on offense, but they're not listening to the outside, trust me."
It all seems fair and accurate.
The offense could without question use some creativity, what happens at the quarterback position with Spencer Petras, Alex Padilla, and maybe even Joey Labas, will play a significant role, and Kirk Ferentz isn't listening to the outside world.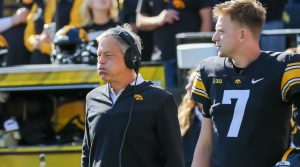 He might listen every now and then – he likes to read newspapers on Wednesdays during the season – but Kirk Ferentz doesn't have to concern himself from a football standpoint with outside noise because it has no influence over what he does.
Because he has the complete faith, trust, respect and admiration from Iowa Athletic Director Gary Barta, a contract that runs through the 2029 season and 10 wins in two of the past three seasons.
The fallout from the racial unrest from the summer of 2020 still lingers with Brian Ferentz a defendant in a discrimination lawsuit filed by seven former Iowa black players.
But Kirk Ferentz seems to have weathered the worst of that storm, although, it's hard to know for sure with the lawsuit still pending.
From a football standpoint, however, Kirk Ferentz is on solid ground.
He also has the support of most of the fans whose only complaint is his son's sputtering offense.
Iowa won the Big Ten West Division last season despite its offensive woes, and is considered one of the favorites to win it again this coming season, thanks mostly to a vaunted defense that includes two Athlon Sports first-team preseason All-Americans in senior linebacker Jack Campbell and fifth-year senior cornerback Riley Moss.
The offense, obviously, has room plenty of room for improvement, but while fans and some in the media believe the offense needs upgraded, modernized or even overhauled, Kirk Ferentz believes it's just a case of having to do what we do better.
And at this stage, it's hard to see him budging.
It's also hard to see him ever firing or demoting his son, especially if Iowa keeps winning at its current pace, which is a 26-9 record since the start of the 2019 season.
Naysayers would say that the offense is keeping Iowa from being elite, and there probably is some truth to that.
But Kirk Ferentz could counter by saying we're 26-9 over the past three seasons, and couldn't have done it without some help from the offense.
The anonymous coach in the Athlon preview seems to be saying that the Kirk Ferentz-led Hawkeyes do enough things well, and in some cases real well, to compensate for the awkward situation on offense where the head coach's son is struggling as the coordinator.
From Athlon Sports; what an opposing coach says about Kirk Ferentz and the 2022 Iowa football team. pic.twitter.com/hNx3oIqkiM

— Pat Harty (@PatHarty) July 2, 2022