By Pat Harty
IOWA CITY, Iowa – Fran McCaffery apparently believes that it's better having two Sandfort brothers on the Iowa men's basketball team than just one.
Iowa secured a verbal commitment from 2023 small forward Pryce Sandfort as he announced his decision on Twitter Saturday afternoon.
Pryce, who is listed at 6-foot-7, is the younger brother of Iowa sophomore forward Payton Sandfort and a native of Waukee.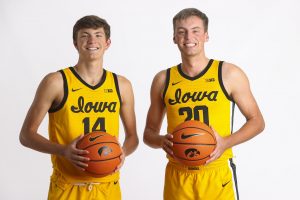 Pryce picked Iowa over scholarship offers from Clemson, Seton Hall, Drake, Washington State and Nebraska.
Iowa had been considered the favorite to land Pryce Sandfort, so Saturday's announcement hardly came as a surprise.
Pryce Sandfort is the third player to commit to Iowa's 2023 recruiting class, joining 6-10 forward Owen Freeman and 6-0 point guard Brock Harding, both of whom are from Illinois.
Pryce Sandfort is ranked as a three-star recruit by Rivals and 135th nationally in his class.
Fran McCaffery is used to having brothers on his team, including his sons Connor McCaffery and Patrick McCaffery. Connor is a 6-5 senior guard, while Patrick is 6-9 junior forward.
Iowa also had the Murray twins – Keegan and Kris – on the team in each of the past two seasons.
Keegan Murray, a 6-8 forward, earned consensus All-America honors as a sophomore last season and has since moved on to the NBA where he was selected fourth overall in the 2022 NBA draft by the Sacramento Kings.
Kris Murray, also a 6-8 forward, tested the NBA draft process this spring before deciding to return to Iowa for his junior season.
Iowa is also considered one of the favorites to land 6-11 post player J.P. Estrella, who along with Pryce Sandfort made an official visit to Iowa last week.
Estrella, who attends Brewster Academy in New Hampshire, has since visited Syracuse.
https://twitter.com/prycesandfort/status/1555992346281611267?s=20&t=6KNlOz2tNiVpTaeSh1arVg