By Pat Harty
IOWA CITY, Iowa – With practice having started this past week, and with the Iowa football team's 2022 season opener in less than a month, this rainy Sunday morning in Iowa City seemed a good time to make my game predictions.
Iowa will face FCS power South Dakota State in the season opener on Sept. 3 at Kinnick Stadium, and will have the support of a sellout crowd.
In fact, all seven of Iowa's home games are sold out, marking the first time since 2011 that has happened.
Fans are obviously fired up for some football and have reason to be optimistic with Iowa having won the Big Ten West Division and 10 games overall last season despite having the 121st ranked offense in the country.
Imagine what Iowa could accomplish if the offense could just be average.
Okay, so after peering into my crystal ball, here are my predictions for each game and a brief description of how each game will unfold:
Date, location, score, summary
Sept. 3, Kinnick Stadium: Iowa 31, South Dakota State 17: Trailing 10-7 at halftime, the Iowa players are booed as they leave the field to regroup in the locker room.
Iowa offensive coordinator Brian Ferentz then decides, of course, with permission from his father, Kirk Ferentz, to play more up tempo in the second half and take more chances downfield in the passing game.
Iowa's aggressiveness catches South Dakota State by surprise as the Hawkeyes score touchdowns on their first two possessions of the third quarter to seize control.
The Iowa running game, after an unproductive first half, starts to assert itself in the second half, allowing quarterback Spencer Petras to use more playn action.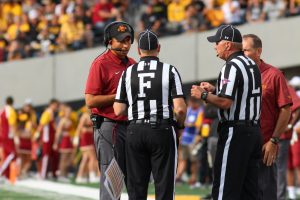 2. Sept. 10, Kinnick Stadium, Iowa 27, Iowa State 14: Matt Campbell's record falls to 0-6 against Iowa as the Hawkeyes score touchdowns on a pick six by Terry Roberts, a fumble recovery in the end zone by Lukas Van Ness and a touchdown pass from Spencer Petras to tight end Sam LaPorta.
Iowa's starting kicker, who has yet to be determined, also makes two field goals to help secure the win.
Iowa State fans then say afterwards that Campbell wasn't hired to beat Iowa, but to win conference titles, which the Cyclones haven't done since 1912 when they finished 2-0 as a member of the Missouri Valley Athletic Association and 6-2 overall.
3. Sept. 17, Kinnick Stadium, Iowa 38, Nevada: 10: Steve Alford delivers an emotional pep talk to the Nevada players prior to them traveling to Iowa City, but it has little to no effect because Alford mostly just talked about himself, and because Iowa has better players.
Iowa rushes for over 200 yards, giving Petras the luxury of having play action, and he responds by throwing touchdown passes to Keagan, Luke Lachey and walk-on tight end Johnny Pascuzzi.
4. Sept. 24, Piscataway, New Jersey, Iowa 20, Rutgers 10: This win will show why Iowa defensive coordinator Phil Parker is being paid $1.3 million annually, and why Jack Campbell is considered one of the top linebackers in college football as the Iowa defense dominates from start to finish.
Campbell finishes with 15 tackles, two pass break-ups and one fumble recovery, while Tory Taylor averages 48 yards on five punts.
5. Oct. 1, Kinnick Stadium, Iowa 21, Michigan 20: This prediction will probably be dismissed by Michigan fans as coming from the mixed-up, messed-up mind of a Hawkeye homer after what happened in last season's Big Ten Championship game when the Wolverines crushed Iowa 42-3 in Indianapolis.
Okay, maybe so.
But this marks a new season matching two different teams and the game will be played at Kinnick Stadium, which is Jim Harbaugh's kryptonite.
So here's how I see it unfolding:
Michigan scores a touchdown late in the fourth quarter and has a chance to tie the game until Iowa defensive tackle Yahya Black uses his long arms to block the point-after kick.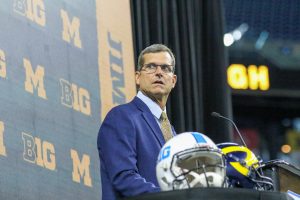 Iowa then runs out the clock to keep Harbaugh, a former Michigan quarterback, winless at Kinnick Stadium as a head coach, and as a player.
Harbaugh then says afterwards that nothing good ever happens to him in Iowa City, pointing out that he was also hit by a car as kid while living in Iowa City when his father was an assistant coach under Frank Lauterbur, who finished 0-11 in his final season as the Iowa head coach in 1973.
6. Oct. 8, Champaign, Illinois, Iowa 30, Illinois 17: As a show of unity, Bret Bielema just prior to kickoff has his tiger hawk tatoo removed in a painful procedure using acid and no pain killers.
His players feed off Bielema's toughness and emotion to take a 10-0 lead in the first quarter, but then Keagan Johnson in true Charlie Jones fashion helps to shift the momentum to Iowa's side by returning a kick 100 yards for a touchdown late in the first quarter.
Iowa goes on to improve 6-0 and climbs to seventh in the national polls.
7. Oct. 22, Columbus, Ohio, Ohio State 28, Iowa 10: Tired of hearing about Iowa's 55-24 victory when the teams last met in 2017, the Ohio State players, none of whom participated in th 2017 loss, shift the narrative by winning convincingly.
Ohio State improves its record to 35-5-1 against Iowa since 1963.
The lone bright spot for Iowa is punter Tory Taylor, who avearages nearly 50 yards on his eight punts.
8. Oct. 29, Kinnick Stadium, Iowa 25, Northwestern 16: Pat Fitzgerald loses to Iowa for the third time in the last four games, causing him to wonder if he's lost his magic touch in owning the Hawkeyes.
9. Nov. 5, West Lafayette, Indiana, Purdue 29, Iowa 27: Jeff Brohm defeats Iowa for the fifth time in the last six games, and does so with help from two former Iowa receivers – Tyrone Tracy Jr. and Charlie Jones, and with a spread offense that just seems to befuddle Phil Parker oddly enough.
10. Nov. 12, Kinnick Stadium, Wisconsin 20, Iowa 17: Wisconsin running back Braelon Allen rushes for over 150 yards, while Iowa rushes for fewer than 50 yards as a team.
Kirk Ferentz gives high praise to Wisconsin afterwards, while saying that his team played hard, but it still ultimately comes down to being better at what you do on offense rather than making significant changes.
11. Nov. 19, Minneapolis, Iowa 24, Minnesota 21: Iowa defeats the Gophers for the eighth time in a row despite being out-gained by more than 100 yards on the ground, despite not calling one timeout, and despite P.J. Fleck being carried on to the field by his players just prior to kickoff, and to start the second half.
12. Nov. 25, Kinnick Stadim, Iowa 27, Nebraska 25: Iowa prevails on a last-second field goal by a kicker that has yet to be determined. That same kicker then turns to the Nebraska bench after seeing the ball clear the uprights and waves to Nebraska head coach Scott Frost and to his players, much to the delight of Hawkeye fans.
However, Frost was too distracted to notice the kicker waving because he was too pre-occupied with thinking of excuses for why his record fell to 0-5 against Iowa.
Record: 9-3, 6-3 Big Ten