By Pat Harty
IOWA CITY, Iowa – The Iowa football team held its annual Kids Day practice on Saturday at Kinnick Stadium and here are five observations from what transpired on the field.
There is no quarterback competition: If somebody with absolutely no knowledge about the Iowa football team had watched Saturday's practice, they would've thought that Spencer Petras is the best quarterback on the team.
Petras didn't get a lot of reps, but he made the most of them while working almost exclusively on third-down plays.
He was accurate, even when throwing into some tight windows downfield, and he made the right throws at the right time.
Petras performed like a fifth-year senior who has a firm grasp of the offense, while backups Alex Padilla and Joey Labas also had their moments.
And though Petras still has to do it consistently in games, he seems to be in a good place both physically and mentally with the season opener just three weeks away.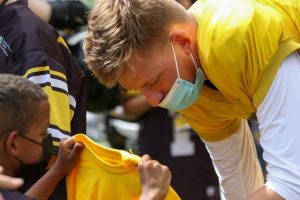 Some fans will undoubtedly say I'll believe it when I see it from Petras after having watched him struggle in each of the past two seasons.
And fair enough.
But the starting job is clearly his at this point, and the gap seemed pretty apparent on Saturday.
"He's had a lot good reps in camp already and he's played a lot, so we know more about him," Iowa coach Kirk Ferentz said of Petras's workload on Saturday. "I like what we've seen, and I like what we saw today.
"So, now you're just trying to move everybody else a little bit forward, too. But the tricky thing about quarterbacks is we know there's only one of them. So, it's not like the linemen where you can get the reps in there and steal reps."
2. Youth movement: Based on Saturday's practice, there are at least five true freshmen who seem ready and able to contribute.
The five are safety Xavier Nwankpa, defensive lineman Aaron Graves, running backs Kaleb Johnson and Jaziun Patterson and tight end Addison Ostrenga.
Nwankpa showed some of the skills that made him a five-star recruit coming out of Southeast Polk High School, especially on the play in which he made a leaping interception near the sideline.
He also showed his toughness on a couple plays in which he made bone-jarring hits.
Kirk Ferentz said Nwankpa has benefitted from having enrolled at Iowa this past January because that allowed him to participate in spring practice.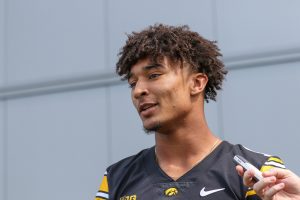 "All the guys that got here in January, it's coming at them fast in the spring," Ferentz said. "And it's a credit to them. They did a good job. But it's still like a different language.
"So, now he's had all summer to digest things and now he's had 10 practices under his belt. So, my guess is we'll see him start to kind of gain ground each and every day. He's a good football player, a great young guy. He'll be a good football player for us."
Graves was disruptive in the trenches while playing defensive tackle. He played with a lot of energy and just looked as if he were ready to contribute.
"Just the way he is practicing, it would be crazy to say that we're going to redshirt him," Kirk Ferentz said of Graves. "That would be stupid on our part right now.
"At some point, we might say that. He's got a lot to learn, but boy, his tempo, he belongs on the field with the older guys. He goes hard and makes them work, which makes us have better practices."
Ferentz also spoke highly of his two freshmen running backs, both of whom saw extensive action on Saturday, partly due to injuries at the position, but also because Ferentz wanted to see how they would handle the circumstances.
Iowa's top two running backs are Gavin Williams and Leshon Williams (no relation), but Gavin missed Saturday's practice due to an injury, as did another running back, Deavin Hilson.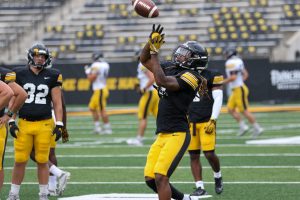 The opportunity was there for both of the freshmen running backs to make an impression on Saturday, and they both rose to the occasion.
"They've been practicing really well since they got here," Kirk Ferentz said of Johnson and Patterson. "I think I said this last spring, I was concerned about our depth. I really feel good about our one and two uys. But once you get past Gavin and Leshon, we have no experience. And Deavin has been hurt. He's missed a lot of time.
"So, I'm really anxious to see both Jazz and Kaleb. They've been practicing really well and they appear to be really mature young guys for first-year guys. So, I thought today was a positive step."
Ferentz felt the same about Ostrenga's performance.
Ostrenga, who was previously committed to Iowa baseball team before switching his commitment to football, made several nifty catches in Saturday's practice, including one that resulted in a touchdown.
He is competing for the No. 3 tight end spot behind Sam LaPorta and Luke Lachey.
"Injuries create opportunity, or lack of depth, either one," Kirk Ferentz said. "So, it's a position that's open. He's handled things pretty well. He doesn't seem overwhelmed. So, he's in the mix."
3. Too close to call: Iowa's top two kickers – sophomore Alex Blom and freshman Drew Stevens – combined to make all 15 of their field-goal attempts in Saturday's practice.
They are competing to fill the spot vacated by third-team All-America kicker Caleb Shudak, who used up his eligibility last season.
Kirk Ferentz will eventually have to make a tough decision about a competition that appears too close to call at this point.
"It means we have two kickers, that's how I look at that if we can continue," Kirk Ferentz said. "They've been doing a good job, the previous nine days they've been doing well."
Saturday's perfection was a drastic change from this past spring when all the kickers struggled during an open practice.
"Last spring, it was not real encouraging," Kirk Ferentz said. "The touch was there, but not the consistency.
"So, now the challenge is to be able to do it on Saturdays when it counts. But it's a good step for them. That was a real good takeaway from today."
4. Thin at receiver: All-Big Ten tight end Sam LaPorta might have felt as if he were back in high school on Saturday when he played receiver because of how often he lined up as a receiver.
That was due partly by design because LaPorta knows the offense well enough to handle the additional responsibility, but also because Iowa is so thin at receiver right now.
Three of Iowa's six receivers on scholarship didn't participate in Saturday's practice due to injuries.
There were many instances in which three walk-on receivers were on the field at the same time.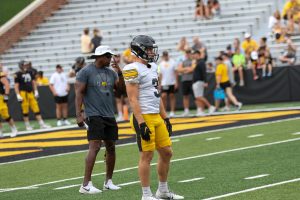 "He has that ability, and that's good for us," Ferentz said of LaPorta, who led Iowa with 53 catches and 670 receiving yards last season. "He can handle it mentally, as well as the physical part.
"It gives us a little more flexibility depth wise for sure. So, we'll keep toying around with that. And if we've got to use it, we'll use it."
5. Cooper DeVersatile: Sophomore defensive back Cooper DeJean is expected to play a key role this season.
But the question is where?
He practiced at cornerback on Saturday, but he also has played safety and the cash position, and he's competing to be the starting punt returner.
"We're playing him a lot of positions, but he seems to handle that well," Kirk Ferentz said of DeJean. "Ultimately, it's about getting the best four then the best guys ready to roll."
Iowa is expected to have one of the Big Ten's top defenses this season despite having to replace three starters in the secondary.
"Before we announce ourselves ready to roll on defense, we've still got some work to do," Kirk Ferentz said.