By Pat Harty
IOWA CITY, Iowa – Yes, it was just one practice three weeks before the season opener, so, it would be silly to make any bold statements about the 2022 Iowa football team.
Iowa's annual Kids Day practice is always a feel-good event because it shines a light on what really matters in life, and because it means the season is just a few weeks from starting.
However, there have been times when the performance on the field left something to be desired from an execution and from a tempo standpoint.
But that hardly was the case on Saturday.
Kirk Ferentz acknowledged that his 24th Iowa team still has a lot of work to do, but he also made it known that he was happy with what he saw Saturday.
"Just overall, I'm actually kind of pleased with what I saw today," Ferentz said. "I thought the guys moved around pretty well and I thought they had good attitude and good focus.
"We had a good day yesterday that way. Guys really came out, it was a non-contact day and the guys really handled it well. I thought they were where they should be."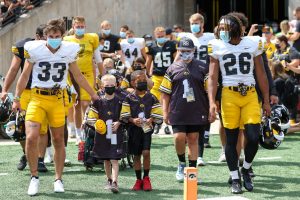 Ferentz has spoken highly about the leadership and maturity on his current team, and one example of good leadership is when a team practices well.
Ferentz often uses the word tempo when talking about what makes a good player, and a good team, and the tempo throughout Saturday's practice was impressive, as was the performance level in many cases.
Iowa kickers Alex Blom and Drew Stevens, who is a true freshman, combined to make all 15 of their field-goal attempts on Saturday, while fifth-year senior quarterback Spencer Petras threw with good accuracy and timing in limited duty.
True freshman defensive back Xavier Nwankpa also showed why he was a five-star recruit coming out high school.
It was just good overall performance, a step forward at a time when making steps is critical.
And while it was just one practice, performing well in practice sure beats laying an egg, especially with fans in the seats.
The kids got to meet the players and get autographs, but they also saw a team that seems locked in and focused on the task at hand.
Three weeks still is a lot of time to get better and the best way to do that is to make each practice a step forward.
The only downside to Saturday's practice were the number of key players that were out due to injuries.
But that also allowed some of the younger players to have a more significant role, or in the case of third-year sophomore running back Leshon Williams, a lead role.
With starting running back Gavin Williams out with an injury, Leshon took advantage of the extra work by running hard and with patience.
He always seemed to have the right pad level and was leaning forward when hit. But he also showed patience when waiting for a hole to develop.
Iowa fans saw glimpses of that in the Citrus Bowl when Leshon Williams rushed for 42 yards on 10 carries in the 23-20 loss to Kentucky.
"Leshon, I mentioned a year ago is when he really started to ascend in my opinion," Kirk Ferentz said. "And he's done nothing but get better.
"It's a fun part about football, watching guys get better. But it starts with their work habits and their attitudes. And Leshon has a great work ethic and a great attitude, as does Gavin."
The lack of depth at receiver, caused partly by injuries, is a major concern. But Iowa also has one of the best tight ends in the country in Sam LaPorta, who played receiver in high school.
LaPorta often lined up as a receiver on Saturday, and if that is what it takes to help compensate for the lack of depth, then Kirk Ferentz said he's willing to do that.
Another storyline that emerged from Saturday's practice is that Iowa could receive a major boost from the 2022 freshman class.
Star defensive back Xavier Nwankpa was expected to contribute as a true freshman, but he might have several classmates in the same position based on Saturday's practice, most notably defensive lineman Aaron Graves, whose motor never seems to stop.
Fans are ready to embrace this team with all seven home games sold out for the first time since 2011, and it was easy to embrace Saturday's effort and execution.
Iowa is coming off a season in which it won the Big Ten West Division and 10 games overall, so there is reason to be optimistic, even with an offense that has struggled.
But this is also a new season with new challenges and obstacles standing in the way.
Each team is unique, and right now the 2022 Iowa team is showing signs that it's taking care of business the right way by making each day and each practice count.
Again, it was just one practice, but the vibe was positive before, during and after Saturday's practice.
Kirk Ferentz doesn't just hand out praise to control the narrative with the media.
He gives praise to those who earn it, and his players earned it on Saturday by taking a key step forward.
The challenge now is to keep taking steps forward because practice is a lot different than facing Wisconsin or Ohio State, or even South Dakota State for that matter.