By Pat Harty
IOWA CITY, Iowa – Iowa freshmen running backs Jaziun Patterson and Kaleb Johnson both want the same thing, and sometimes, that's enough to cause tension or hard feelings because playing time is precious and everyone has an ego.
They could let the competition drive a wedge, but in this case, Patterson, who is from Florida, and Johnson, who is from Ohio, instead have chosen to rely on each other to get better on the field, and to help each other adjust to their new surroundings far away from home.
"I don't see it as competition. Me and Kaleb, we're like brothers, so it does definitely help," Patterson said at media day this past Friday. "We're roommates, too. So, we teach each other a lot. We go through formations and our playbook a lot, teaching each other pass protections and everything. So, I feel like it's a great situation."
Iowa fans got their first glimpse of the two freshmen running backs at the annual Kids Days practice this past Saturday at Kinnick Stadium.
They both saw extensive action, partly due to injuries at running back, but also because they both have made a strong impression so far in preseason camp, and that was the case again on Saturday.
They both ran hard, and they protected the football while sharing time at running back with sophomore Leshon Johnson, who is listed as the backup to injured starter Gavin Williams.
Redshirt freshman Deavin Hilson also missed the Kids Days practice, along with Gavin Williams, due to an injury.
"They've been practicing really well since they got here," Kirk Ferentz said of Johnson and Patterson. "I think I said this last spring, I was concerned about our depth. I really feel good about our one and two guys. But once you get past Gavin and Leshon, we have no experience. And Deavin has been hurt. He's missed a lot of time.
"So, I'm really anxious to see both Jazz and Kaleb. They've been practicing really well and they appear to be really mature young guys for first-year guys. So, I thought today was a positive step."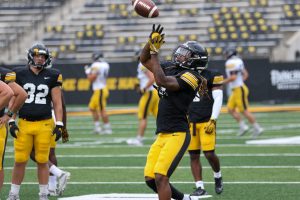 Patterson and Johnson both had multiple scholarship offers from which to choose, and Johnson was previously committed to California-Berkeley before switching to Iowa.
"Be honest with you, when I committed to Cal, they were still on me," Johnson said of the Iowa coaches. "That's when I really think about love, how they didn't care where I was going and how they were going to keep trying to get me."
Iowa's persistence and dedication, coupled with the presence of Iowa running backs coach Ladell Betts ultimately convinced the 6-foot, 212-pound Johnson to be a Hawkeye.
Betts, a former Iowa running back, has instant credibility as Iowa's second all-time leading rusher with 3,686 yards and he also played nine seasons in the NFL.
"It's really good because he has experience," Johnson said. "He played in the NFL. He was here. So, I feel like whatever he's saying I'm really going to think about what he's saying and adjust on the field because he's been there and understands what he's talking about. That's one of the main reasons I came here, too."
Both freshmen running backs are having to learn the playbook quickly while practicing every day against what is considered one of the top defenses in the Big Ten.
"It's really going to be a big thing for me, too, because I'm going against the number one defense in the Big Ten and then in a game when I actually get in, I feel like it'll be easier for me," Johnson said. "I don't want to say easier, but I will know what a great defense is."
And though all the running backs want to be the starter and get most of the carries, the quest for individual greatness hasn't hurt the chemistry in the running back room.
"I feel like we're all holding each other accountable, and we all want to see each other be great," Patterson said "So, I just feel like we're all working to be the best version of us that we can be. We help each other with the playbook and formations, learning the formations on defense, the concepts."
When asked about his knowledge of the Iowa playbook, Johnson said:
"I'm getting there. I'm getting there. Gavin, Leshon, Deavin Hilson, all the people that are in my group are really helping as well. So, I'm really understanding it.
"Coach Betts especially, he's helped me very well going over the plays, my pass protections and all that stuff. I've got the runs down. My pass protections and my routes and stuff, I'm just working on that."
Betts, who was hired as the Iowa running backs coach in 2021, said his two freshmen running backs are both "coming out here and busting their butts everyday and trying to do what we asked them to do."
Each has shown a strong work ethic and maturity, on and off the field.
"I think honestly the biggest difference is really on the field because what we ask them to do is more complex as far as offensive schemes, routes, those types of things," Betts said of the adjustment from high school to big-time college football. "So, they're probably being asked to do a whole lot more than they've ever been asked before.
"But of those guys stick around after practice, stick around late at night just trying to get a little extra reading time. So, they're coming along fine, and they're doing their part."
Johnson and Patterson were both asked at media day if they've had a welcome to Big Ten football moment in practice, and if so, which player welcomed them with a bone-jarring hit.
For Johnson, it was senior defensive back Kaevon Merriweather, while Patterson said sophomore defensive lineman Luka Van Ness extended his welcome.
"I had one with Kaevon. He came down and hit me and it really woke me up," Johnson said. "So, it was like, this is just football. I like competition."
Patterson had a similar moment with Van Ness, who weighs about 270 pounds.
"I got hit by Lukas Van Ness and it woke me up," Patterson said.
Both of these moments gave each of the freshmen running backs a glimpse of what to expect playing Big Ten football.
"It's a different experience coming out of high school, but it's been great for me, every day learning a routine and learning to be responsible and accountable," Patterson said. "They've taught me how to be a better player."