By Pat Harty
IOWA CITY, Iowa – Alec Wick's rapid climb up the Iowa football team's depth chart is an inspiring, feel-good story about a young man who has defied the odds.
A lot of walk-ons never make the two-deep roster at Iowa, but Wick made it as a redshirt freshman receiver.
The former multi-sport star from Iowa City Regina knew almost from the moment he was offered a chance to walk-on at Iowa that he would pursue that path.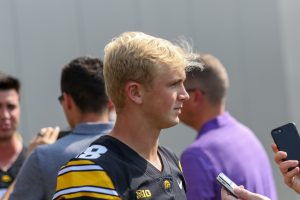 "It was like three days, and I was like, yeah, I want to play for Iowa," said Wick, who is listed behind sophomore receiver Keagan Johnson on the depth chart. "It was kind of surreal to come and play in Iowa City for a team I grew up watching."
It's a good thing Wick did choose to walk-on because Iowa probably will need him to contribute in Saturday's season opener against South Dakota State at Kinnick Stadium.
Iowa needs Wick, and maybe one or two more walk-on receivers, to help plug some holes at a position that is severely lacking from a depth and experience standpoint.
Wick certainly deserves credit and praise for making the depth chart regardless of the circumstances.
But the circumstances also have a lot to do with Wick making the depth chart so quickly because it's hard to think of a time when Iowa has been this thin at receiver.
There are 14 receivers listed in the 2022 Iowa media guide, but eight of them are walk-ons, and seven of the walk-on receivers are either true freshmen, redshirt freshmen or sophomores.
The one exception is junior Jackson Ritter, but he is out for the season due to an injury.
Redshirt freshman Diante Vines is one of the six receivers on scholarship, but he could miss the season opener due to a wrist injury.
There is also a rumor that another receiver on scholarship will miss at least the season opener because of an injury.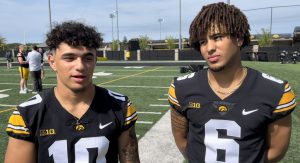 That would leave Iowa with just four receivers on scholarship for Saturday's season opener, and that could be a major problem for an offense that only averaged 180.1 passing yards per game last season.
Fifth-year senior quarterback Spencer Petras needs all the help he can get as he tries to lift his performance to a higher level.
Petras has yet to complete 60 percent of his passes for a season, and he also has been hampered by an inconsistent running game, and sometimes by conservative play calling.
Receiver rarely has been a strength for Iowa for reasons that seem pretty apparent.
Iowa, even though it struggles to sustain a productive ground attack, is known more as a running team under veteran head coach Kirk Ferentz.
Iowa still uses a fullback and shows no signs of transitioning to a spread offense under Kirk Ferentz, whose offensive coordinator is his son, Brian Ferentz.
That isn't to suggest that Kirk Ferentz is wrong for sticking with the same offensive philosophy because his record over 23 seasons speaks for itself.
But it's also fair to say that his offensive philosophy might be a concern for some receivers when it's time to pick a college.
There is no mystery to how Iowa became depleted at receiver.
It's due to a combination of attrition and injuries, but mostly attrition.
Since 2020, Iowa has lost receivers Calvin Lockett, Desmond Hutson, Quavon Matthews, Oliver Martin, Tyrone Tracy Jr. and Charlie Jones to the transfer portal.
Martin and Jones both transfered to Iowa from Michigan and Buffalo, respectively, in the summer of 2019.
However, Martin, who graduated from Iowa City West High School, transferred to Nebraska after playing sparingly in just one season for Iowa in 2019, while Jones transferred to Purdue this past June; his reason being that he wanted to play in a more productive passing offense.
Tracy also transferred to Purdue shortly after the end of last season.
So, that's six scholarship receivers that have left the program in barely two years.
That would be a lot for any program to have to endure, but especially a program such as Iowa that sometimes struggles to sign receivers.
In each case, however, playing time appears to have been the biggest factor in leaving.
Tracy, for example, lost his starting position to Keagan Johnson about midway through last season, while Lockett, Hutson and Matthews never made the depth chart at Iowa.
Keagan Johnson and fellow sophomore receiver Arland Bruce IV both played significant roles last season, and much will be expected from them this season.
Jones was the Big Ten Return Specialist of the Year last season, but he played behind Nico Ragaini at receiver and still was listed behind Ragaini throughout spring practice.
But with attrition comes opportunities for others, and that's where Wick figures into the mix.
Fellow walk-ons Kaden Wetjen and Jack Johnson also could be factors at receiver this season. Wetjen is from Williamsburg and attended Iowa Western Community College for one season, while Jack Johnson graduated from West Des Moines Valley.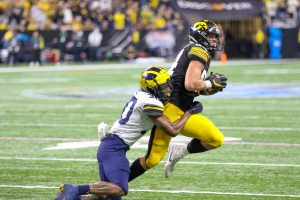 Iowa always relies heavily on the tight end to contribute to the passing game, and with senior Sam LaPorta, Iowa has one of the best tight ends in the country who played receiver in high school.
LaPorta lined up as a receiver on numerous plays in the Kids Days practice earlier this month at Kinnick Stadium, and he could help fill the gaps at receiver.
But there is only so much LaPorta can do.
Iowa could also use two tight ends to help compensate with sophomore Luke Lachey having established himself.
But the receivers will have to do their part for the offense to function.
Iowa has a long and distinguished tradition of turning walk-ons into standout players, including at receiver.
Wick and the other walk-on receivers all came to Iowa because they felt they could compete at this level, and now some of them might have a chance to prove it, probably sooner than later.
Receivers on the 2022 Iowa roster
Jacob Bostick, 6-2, 171, Fr., Palatine, Illinois
Brody Brecht, 6-4, 217, #Fr., Ankeny, Iowa
Arland Bruce IV, 5-10, 198, Soph., Olathe, Kansas
Alex Eichmann, 6-2, 193, Fr., Sussex, Wisconsin
Graham Friedrichsen, 6-1, 183, Fr., Urbandale, Iowa
Jack Johnson, 6-0, 194, Soph. West Des Moines, Iowa
Keagan Johnson, 6-1, 194, Soph., Bellevue, Nebraska
Jordan Kumm. 5-9, 188, Soph., Ankeny, Iowa
Reese Osgood, 5-11, 176, Fr., Franklin, Wisconsin
Nico Ragaini, 6-0, 196, Sr., East Haven, Connecticut
Jackson Ritter, 6-3, 209, Jr., Frankfort, Illinois
Diante Vines, 6-0, 198, Soph., Danbury, Connecticut
Kaden Wetjen, 5-10, 191, Soph., Williamsburg, Iowa
Alec Wick, 6-1, 196, #Fr., Iowa City, Iowa
Scholarship receivers in bold
# – Redshirt freshman
Receivers on scholarship that have transferred since 2020
Calvin Lockett, Desmond Hutson, Quavon Matthews, Oliver Martin, Tyrone Tracy Jr., Charlie Jones.