By Pat Harty
IOWA CITY, Iowa – In previous seasons when the circumstances seemed dire and hopeless under Kirk Ferentz, I would sometimes write a column to remind fans that things rarely are as bad as they seem under Iowa's all-time winningest football coach.
I couldn't convince myself to do it this time, because for one, most fans probably don't want to hear that narrative and would dismiss it as being just misguided drivel.
Another reason I couldn't do it is because the situation does seem dire and hopeless on offense right now.
Iowa's defense is rock solid, and Tory Taylor is one of the best punters in college football.
If that weren't the case, Iowa would probably be 0-2 instead of 1-1 heading into next Saturday's game against Nevada, which is coming off a 55-41 loss to Incarnate Word this past Saturday.
It's only been two games, but Iowa is showing signs of maybe having the worst offense amongst all the FBS teams.
Iowa's offense has produced just 316 yards and one rushing touchdown in two games.
Iowa was held to just 150 yards in Saturday's 10-7 loss to Iowa State, which is 16 fewer yards than Iowa had in its 7-3 win over FCS opponent South Dakota State in the season opener.
Iowa is averaging 158.0 yards per game, and just 2.8 yards per play.
Fifth-year senior quarterback Spencer Petras is completing just 45.1 percent of his passes and has thrown just one touchdown pass and nine interceptions in the last nine games dating back to last season.
Those are historically bad numbers, and when combined with a rushing attack that has produced just 162 yards in two games, and a 2.3 yards-per-carry average, this offense is showing signs of being the worst offense in 24 seasons under Kirk Ferentz.
And that's saying a lot because offense rarely has been a strength under Kirk Ferentz.
Iowa combined to finish just 4-19 in Ferentz's first two seasons as head coach in 1999 and 2000, but even those offenses weren't as inept as the current offense.
Former Iowa quarterback Scott Mullen passed for 426 yards against Indiana in 1999 and for 340 yards against Minnesota in that same season.
It might take Petras the entire month of September to pass for 426 yards at the rate he's going.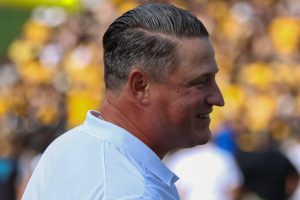 Iowa was overmatched in most of its games in 1999 when it finished 1-10 overall, but the offense did have its moments.
Mullen completed 36 passes against Indiana in 1999, while Petras only has 23 completions in two games this season.
It would certainly help to get starting receivers Keagan Johnson and Nico Ragaini back on the field.
But Iowa's problems on offense go way beyond the lack of depth at receiver.
Petras appears to be regressing despite having 21 starts under his belt, and Kirk Ferentz's reluctance to play another quarterback makes you wonder how the other quarterbacks are performing in practice.
Petras was clearly the best quarterback during the Kid's Day practice in August.
But that was also just one practice, and it was practice, not a game.
Fans are tired of hearing about how well Petras performs in the practice because it's not carrying to the games.
Iowa's offense has become the laughingstock of college football, along with Scott Frost's mess at Nebraska, which finally led to him being fired on Sunday.
It could be argued that Kirk Ferentz's unwillingness to evolve on offense is largely to blame for the current dysfunction on offense.
While many teams have shifted to a spread offense, Iowa still uses the same pro-style offense that Ferentz used to rebuild the program.
But that was over two decades ago and the game has changed significantly since then.
Defenses are faster and more aggressive, and having a pro-style quarterback such as Petras, who lacks mobility, and sacrificing a receiver in order to play a fullback, is just asking for trouble.
Fans have been clamoring for Kirk Ferentz to upgrade, or, some will say modernize the offense, but it just hasn't happened.
And while Ferentz doesn't answer directly to the fans, or owe them anything besides his best effort to win games, it's looking painfully obvious that his offense needs a serious upgrade or reboot or whatever you want to call it.
It was tough listening to senior tight end Sam LaPorta answer questions after Saturday's loss to Iowa State because he was hurting so much from an emotional standpoint.
He was angry and frustrated because a season that started with so much promise has quickly turned into a nightmare.
LaPorta showed that frustration while defending his quarterback.
"The average fan or the average reporter, you guys might (expletive) on him, but I don't," LaPorta said of Petras. "I see the work he puts in on film and everything."
LaPorta is usually upbeat and positive, a smile waiting to happen.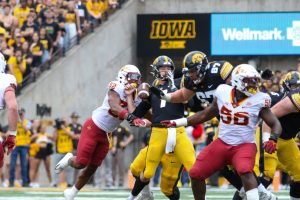 He has every right to defend his quarterback and close friend, but the media also has the right to ask tough questions about an offense that has been horrendous so far this season, and that wasn't very good last season when it finished ranked 121st nationally.
No disrespect to Nevada, but it appears to be the only game left on the schedule in which picking Iowa to win seems obvious, even with the problems on offense.
But the nine Big Ten games on Iowa's schedule now seem a lot tougher because of how poorly the offense has performed despite playing the first two games at Kinnick Stadium.
The anti-Brian Ferentz sentiment is at an all-time high, and that makes what is already a difficult situation that much tougher because he is Kirk Ferentz's son.
Kirk Ferentz took a risk when he promoted his son to offensive coordinator in 2017 because it set them both up for criticism, and for accusations of nepotism should the offense struggle.
And since the start of last season, the offense has struggled beyond what any fan could've imagined.
"Don't have many answers right now other than we go back to work (Sunday) and see what we can figure out and try to move forward," Kirk Ferentz said after the Iowa State loss, which ended Iowa's six-game winning streak in the series.
The hope was that the more outspoken Brian Ferentz would convince his father to make some changes, and there were signs of that happening after Brian joined the coaching staff.
Kirk Ferentz even earned the nickname "New Kirk" after he made C.J. Beathard his starting quarterback shortly after the 2014 season, and after Kirk started taking a few chances on offense.
But it didn't last.
Kirk Ferentz has been loyal to Petras, and some would say to a fault, but it wouldn't be shocking at this point if backup quarterback Alex Padilla were given a chance to start against Nevada, or at least a series or two to see if he could provide a spark.
That would at least send a message to fans that Kirk Ferentz is willing to makes changes.
Iowa received a verbal commitment from a 2024 quarterback from Florida on Sunday, and has a quarterback from New Jersey committed to its 2023 class,
So, there is help on the way, and the coaches still are attracting talent.
But that won't help the current offense.
Kirk Ferentz is in his 24th season as the Iowa head coach, and while the good has far outweighed the bad under his watch, the current situation on offense is alarming, and makes you wonder if Iowa has the right pieces in place to fix things.
This is as bad as the offense has ever been under Kirk Ferentz, and for it to happen in his 24th season as head coach just doesn't make sense.
Iowa's offense struggled during a 4-8 season in 2012, which was Greg Davis's first season as the Iowa offensive coordinator. But Iowa still averaged 310.4 yards per game in 2012, and 4.7 yards per play, which is significantly better than what the current offense is averaging after two games.
Kirk Ferentz is adored by most Iowa fans, but he's also vulnerable because the longer a coach stays in one place, the more is expected from him, and the angrier fans get when things unravel.
It was easy to doubt Kirk Ferentz when he lost 18 of his first 20 games as the Iowa head coach.
But he stayed the course, trusted his instincts and upgraded the talent to where Iowa has won on a pretty consistent basis over the past two decades.
There is doubt again, however, about whether Kirk Ferentz, who turned 67 in August, has what it takes to fix his sputtering, and some would say, outdated offense.
It certainly doesn't feel like he has the solution right now.