By Pat Harty
IOWA CITY, Iowa – The Iowa football team's Big Ten opener at Rutgers on Saturday could be a case in which punting is winning just as Tory Taylor's fundraising t-shirt says.
As strange as that seems, punting might actually be advantageous in a game where field position will be even more important than usual, and it's always important.
Iowa punter Tory Taylor, who is from Melbourne, Australia, versus Rutgers punter Adam Korsak, who also calls Melbourne, Australia home.
They're two of the best punters in college football, and by far the most intriguing individual matchup in this game, but Iowa and Rutgers also have two of the best defenses in the Big Ten from a statistical standpoint.
Both teams also have offenses that have struggled, and Rutgers also has concerns at quarterback where starter Gavin Wimsatt and backup Noah Vedral both are questionable for Saturday's game because of injuries.
Here is look at which team has the advantage at each position, starting with quarterback.
Quarterback: Sophomore Evan Simon would be the starter for Rutgers if Wimsatt and Vedral can't play.
Simon (6-3, 205) made his first career start in last Saturday's 16-14 victory over Temple and probably the best thing he did was avoid throwing an interception. Simon completed 9-of-15 passes for just 52 yards against Temple.
He recorded career highs with 10 completions and 151 passing yards in the 66-7 victory over Wagner, and he completed 8-of-13 passes for 63 yards in a 22-21 win at Boston College in the season opener.
Simon also played in six games last season, completing 16-of-28 passes for 145 yards.
So, he does have some experience, but Simon would also be third on the depth chart without injuries.
Wimsatt when healthy is a threat to run as he has rushed for 106 yards on 13 carries in the first three games.
Iowa will counter with one of the most experienced quarterbacks in the Big Ten in fifth-year senior Spencer Petras, who is starting for a third consecutive season.
However, it's been a rough ride for Petras, who's only completing 48.1 percent of his passes (37-of-77) for just one touchdown in three games. He also has thrown two interceptions and has yet pass for 200 yards in a game this season.
Petras and the offense showed some improvement in last Saturday's 27-0 victory over Rutgers as he passed for 175 yards, and he also completed his first touchdown pass of the season.
This was a tough choice to make because Petras clearly has the edge in experience, especially compared to Simon and Wimsatt, but Petras also has struggled.
Advantage: Rutgers                                                                             
Running back: This was another tough choice because neither team has a running back that has rushed for more than 140 yards in three games.
Al-Shadee Salaam leads Rutgers in rushing with 137 yards on 21 attempts, while true freshman Kaleb Johnson leads Iowa in rushing with 116 yards on just 14 attempts.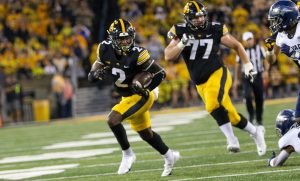 Johnson had a breakout performance against Nevada last Saturday as he rushed for 103 yards and scored two touchdowns on runs from 40 yards in the first quarter and 55 yards in the fourth quarter.
Sophomore Leshon Williams missed the last Saturday's game against Nevada due to the death of his father, but he is back and ready to go according to Kirk Ferentz. Williams started the first two games and has carried 38 times for 106 yards and one touchdown.
Fellow sophomore Gavin Williams (no relation) is also healthy after having missed the season opener.
Gavin Williams has 67 rushing yards and 34 receiving yards in two games.
This should be the first time this season that Iowa will be at full strength at running back.
Advantage: Iowa
Receiver: Aron Cruickshank and Joshua Youngblood start at receiver for Rutgers, and they have 101 and 56 receiving yards, respectively, in three games.
Those numbers hardly jump out at you, but Iowa's receivers haven't been much better.
Arland Bruce leads the Iowa receivers with 127 receiving yards on nine catches, while fifth-year senior Nico Ragaini has two catches for 56 yards, all of which came against Nevada last Saturday.
Ragaini missed the first two games because of a foot injury.
Bruce and redshirt freshman Brody Brecht are both listed as the starting receivers on this week's depth chart, but Ragaini will also play a significant role.
Brecht only has one catch for four yards.
Iowa is likely to be without sophomore receiver Keagan Johnson on Saturday. Johnson was expected to be a starter this season, but he missed the first two games for undisclosed reasons. He made his season debut against Nevada last Saturday and had two catches for 11 yards.
Advantage: Iowa
Tight end: Senior Sam LaPorta leads Iowa with 12 catches, but he only has 77 receiving yards and his longest reception gained just 11 yards.
Johnny Langan is listed as the starting tight end for Rutgers, but he does a lot more than just catch passes and block.
Langan rushed for a game-high 79 yards against Temple, and he has accounted for 19 career touchdowns (10 rushing, eight passing and one receiving).
LaPorta is off to a slow start by his standards, but he is also a proven star at this level after having led Iowa with 53 catches for 670 yards last season.
Iowa also has a quality backup tight end in 6-foot-6, 251-pound sophomore Luke Lachey.
Advantage: Iowa
Offensive line: Iowa appears to have settled on a starting five as left tackle Mason Richman, left guard Nick DeJong, center Logan Jones, right guard Beau Stephens and right tackle Connor Colby have started all three games this season.
They have been mediocre at best, although, they showed some improvement against Nevada last Saturday in both run blocking and pass blocking.
"From the first play, I just felt like we came ot ready to go with a physicality about us," Richman said. "We should be able to carry that into Rutgers, and I'm excited to face a Big Ten opponent."
Iowa is only averaging 92.3 rushing yards per game and just 2.9 yard per carry as a team.
Petras also has a minus-40 rushing yards due to being sacked.
The offensive line doesn't deserve all the blame for Iowa's poor rushing statistics, but they certainly deserve part of the blame.
Rutgers, meanwhile, has three senior starters on the offensive line, one junior and one sophomore. All five of Rutgers' starting offensive linemen also weigh at least 300 pounds, led by 6-7, 330-pound sophomore tackle Hollin Pierce.
Rutgers is ranked third in the Big Ten in rushing with an average of 227.3 yards per game, while Iowa is the only team in the conference averaging fewer than 100 rushing yards per game.
Rushing statistics say a lot about the performance of the offensive line.
Advantage: Rutgers
Defensive line: The fact that Rutgers leads the Big Ten in rushing defense, allowing just 32.3 yards per game, is due in large part to its defensive line.
Sophomore tackle Aaron Lewis has 14 tackles in three games, including three tackles for losses. Lewis had a career-high 11 tackles against Temple, and he also forced a fumble.
Lewis had multiple stops in seven games last season.
Defensive end Wesley Bailey leads Rutgers with 3.5 tackles for loss and 2.5 sacks.
Defensive end Kyonte Hamilton, who used to wrestle for Rutgers, has 2.5 tackles for loss, one sacks and two quarterback hurries.
Senior tackles Mayan Ahanotu and Ifeanyi Maijeh round out what it showing signs of being a soild defensive line.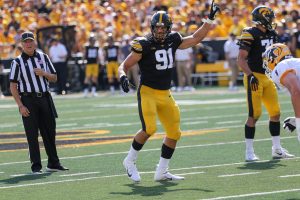 Iowa entered the season with what was considered one of the top defensive lines in the Big Ten, and so far, this unit has lived up to its reputation.
Sophomore Lukas Van Ness leads Iowa with four tackles for loss, and he is tied with Joe Evans for the most sacks on the team with two, despite not even being a starter.
Van Ness was named Big Ten Special Teans Player of the Week after blocking two punts against Iowa State.
Junior defensive tackle Logan Lee leads all the Iowa defensive linemen with 15 tackles, including 2.5 for losses.
Senior defensive end John Waggoner and senior tackle Noah Shannon, who has been slowed by an injury, have 11 and seven tackles, respectively. Waggoner also has three sacks and 1.5 sacks, while Shannon two sacks and two quarterback hurries.
Iowa's four starting defensive linemen – Waggoner, Shannon, Lee and Evans – have combined to start 55 games, led by Shannon with 18 career starts.
Advantage: Iowa
Linebacker: Rutgers uses a 4-2-5 defensive alignment with Deion Jennings and Tyreem Powell both starting at linebacker.
Jennings is ranked second on the team with 18 tackles in three games, while Powell is fourth on the team with 15 tackles, including two for losses.
Iowa will counter with one of the best linebacker duos in the Big Ten in seniors Jack Campbell and Seth Benson.
Campbell is ranked second in the Big Ten with an average of 10.3 tackles per game, while Benson is ranked sixth, averaging seven tackles per game.
"It's going to be a different environment," Campbell said of playing on the road. "We've been in Kinnick the whole time. The defense has had all the noise to now it's going to shift over to the offense and we're going to have to deal with that."
Iowa is expected to be without junior linebacker Jestin Jacobs for a second consecutive game due to an injury.
But Iowa often uses five defensive backs and two linebackers with linebacker Logan Klemp filling the void left by Jacobs, and with and defensive back Cooper DeJean playing the cash position.
Advantage: Iowa
Secondary: Defensive back is showing signs of being a strength for both teams.
Rutgers returned four starting defensive backs from last season, led by senior safety Aaron Young, who leads the defense with 45 career starts.
Senior Christian Izien, who also starts at safety, has 237 career tackles, including six games in double figures.
Senior cornerback Kessawn Abraham was named the most valuable player for Rutgers on defense last season, and he recorded his 10th career pass breakup against Temple.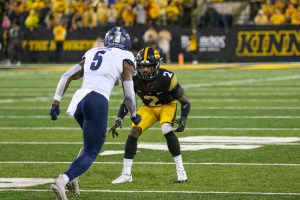 Sophomore cornerback Max Melton led Rutgers with three interceptions last season, and he recorded his fourth career interception in the win over Wagner.
He also had two pass break-ups and 1.5 tackles for loss in the win over Temple.
Iowa had to replace three starters in the secondary, and so far, that transition has been smooth, thanks largely to the performance DeJean at multiple positions in the secondary and Quinn Schulte at free safety.
DeJean leads the Iowa defensive backs with 17 tackles and two interceptions, while playing cornerback, safety and the cash position.
He and Schulte also lead the team with four pass break-ups.
Fifth-year senior cornerback Riley Moss has made 29 career starts and was named the Big Ten Defensive Back of the Year last season despite
missing three games because of a knee injury.
Senior strong safety Kaevon Merriweather has started 15 games and appeared in 36 games overall.
Senior cornerback Terry Roberts has locked down the other starting cornerback position, and he had six stops and his second career interception against Iowa State.
Roberts and DeJean also excell on punt coverage.
Advantage: Iowa
Special teams: Taylor and Korsak are both huge weapons at punter who have the ability to shift field position by pinning opponents deep in their own territory.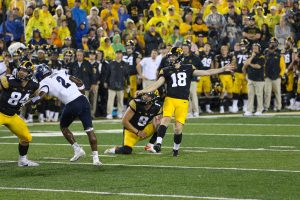 Taylor currently leads the Big Ten with a 48.2 average on 23 punts, while Korsak has played in 48 games as the Scarlet Knight's starting punter dating back to 2018.
Korsak has 136 consecutive attempts without a touchback, and he has just five touchbacks in his career. He also holds the school record with 12,526 career punting yards. He also has never had a punt blocked or returned for a touchdown in 286 career attempts.
Rutgers kicker Jude McAtamney has made 5-of-7 field-goal attempts this season, and he is 2-for-2 from 40 yards or beyond.
Iowa appears to have found its starting kicker as true freshman Drew Stevens made both of his field-goal attempts against Nevada from 33 and 43 yards. He also made all three of his point-after kicks.
Sophomore Alex Blom handled field goals in the first two games, but he missed two of his three attempts.
Aron Cruickshank gives Rutgers a dangerous punt and kicker returner, while Iowa's return game still is adjusting to being without Charlie Jones, who transferred to Purdue.
Advantage: Rutgers