By Pat Harty
IOWA CITY, Iowa – It probably is fair to say that never has the matchup at punter been the most intriguing storyline heading into an Iowa football game until right now.
Iowa versus Rutgers.
Iowa's 25-year old punter Tory Taylor versus Rutgers' 24-year old punter Adam Korsak.
Melbourne, Australia native versus Melbourne, Australia native.
It's also the Big Ten opener for both teams, and with a sellout crowd expected.
The media has been fixated on this unique storyline in preparation for Saturday's game between 2-1 Iowa and 3-0 Rutgers in Piscataway, New Jersey.
But Taylor, not so much.
"Honestly, I'm not really worried about the battle or anything like that," Taylor said Tuesday when asked about his matchup with Korsak. "I'll leave that up to you guys.
"But for me, I'm just worried about what I can do. There's a lot to improve on. But I've been really happy with what I've been doing so far this year."
Taylor has reason to be happy, considering he leads the Big Ten in punting, and ranks third nationally, with a 48.3 average on 23 punts. Eleven of his punts have traveled beyond 50 yards and 13 have been downed inside the opponent's 20-yard line.
Korsak also has reason to be happy because he's been punting at an incredibly high level since joining the Rutgers team in 2018.
He has 136 consecutive punts without having a touchback that dates back 24 games to the 2019 season.
Only five of his 286 career punts have resulted in touchbacks, while 118 of his punts have been downed inside the 20.
He also has booted 50 punts that have traveled at least 50 yards and 11 of 60 or more.
Korsak has only faced Iowa once, but he made quite an impression during a 30-0 loss in 2019 as he averaged 47.6 yards on 10 punts, two of which went beyond 50 yards with a long of 69 yards. In addition, seven of his punts were downed inside the 20-yard line and three were downed inside the 5-yard line.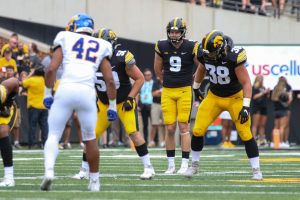 Iowa fans were so impressed with Korsak's performance that some were upset that he wasn't named the Big Ten Special Teams Player of the Week.
Taylor was asked a lot of questions on Tuesday about his individual matchup with Korsak, but Taylor reminded the media that Iowa special teams coordinator LeVar Woods has more to worry about than him.
"I know he's going to bring a lot of problems and issues for us, and not necessarily to me because I have nothing to do with it," Taylor said. "I feel coach Woods is thinking about that a lot. But he's a great punter. There's great punters in the Big Ten that we're going to face and he's one of them."
Taylor and Korsak are part of a growing trend in which Australia natives are coming to the United States to punt for college teams.
They both grew up playing Australia Rules Football, which is a contact sport played between two teams of 18 players on an oval field. Points are scored by kicking the oval ball  between the central goal posts.
Players learn how to kick the ball with pin-point accuracy, and with power.
That's why Taylor isn't surprised that Australia natives are having success as punters in the United States because of how so many of them were raised.
"I feel like I'm a little bit of smart ass when I say this, but that's something I've been doing for twenty years," Taylor said. "I know everyone kind of goes crazy when we put it inside the five, but really it's not that difficult of a punt to make. It's mostly just like that touch punt. It doesn't really have that much to do with technique.
"It really just comes down to Aussie rules, and I really think that's the reasons there are so many Australian rules guys over here doing what I'm doing just because of the success that we have with those plus-fifty punts."
Asked what impresses him the most about Korsak's rise as a punter, Taylor said:
"Just probably consistency. He's been doing it for a couple years now, no touchbacks, which is something I wish I could emulate."
Taylor repeatedly tried to downplay his matchup with Korsak when speaking to the media on Tuesday. Taylor was asked how he thought the matchup at punter would impact Saturday's game.
"I'm really not too sure on that," Taylor said. "It's kind of hard to predict the future. I'm no superhero or anything like that. But it's probably just going to come down to field position and defense, and the offense as well. I feel like the offense did a really good job Saturday night."
Iowa and Rutgers both have rock-solid defenses, but they also have offenses that have struggled.
Rutgers is ranked 13th in the Big Ten in total offense (369.3), while Iowa is ranked last by a considerable margin, averaging just 217.7 yards per game.
Saturday's game could come down to turnovers, but also field position. And that's why the matchup at punter could go a long way in determining which teams prevails.
"You've got two punters that can really alter the game," Kirk Ferentz said. "We spent a lot of time trying to come out of the end zone, I know that, last time we played against this punter.
"That's one more thing that's on the list. That really impacts a game. It's huge. If you can master that down — it takes a good punt, but it also takes guys on the coverage unit doing a nice job."
Prediction: Iowa 5, Rutgers 2