By Pat Harty
IOWA CITY, Iowa – Kirk Ferentz said to the media on Tuesday that he feels lucky and appreciative to be the Iowa football coach, and he should feel that way.
The Iowa job will never compare to being the head coach at Ohio State or Michigan in terms of stature and tradition.
But when it comes job security and having to meet certain standards, the 67-year old Kirk Ferentz has it made.
His contract runs through the 2029 season, and it includes a buyout that is currently worth about $45 million.
Ferentz also works for a boss that seems willing to do just about anything to keep Ferentz happy and to keep him as head coach.
Iowa Athletic Director Gary Barta has been accused of being too soft, too loyal and too submissive in how he conducts business with Kirk Ferentz.
But even if that were true, it isn't Kirk Ferentz's fault, nor is Ferentz's agent to blame.
Iowa has chosen to allow Kirk Ferentz to coach for as long as he pleases and without any micro-managing, and without questioning anything he does, at least publicly.
It seems Kirk Ferentz is his own boss in a lot of ways, and those who rank above him at the University of Iowa seem just fine with that.
None of this is meant as criticism against Kirk Ferentz, because again, nobody is forcing Iowa to be this loyal and dedicated to him.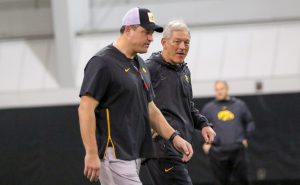 Iowa, which basically means Barta, also has shown incredible patience as Kirk Ferentz tries to fix the ailing Iowa offense, which is led by Ferentz's son, offensive coordinator Brian Ferentz.
Kirk Ferentz took a risk when he promoted Brian Ferentz to offensive coordinator in 2017, and that decision has mostly backfired and created an uncomfortable and delicate situation.
Some fans are fed up with Brian Ferentz and feel that he is benefitting from nepotism.
But as far as Iowa is concerned, it's business as usual and Kirk Ferentz ultimately knows what's best for his team.
Kirk Ferentz was asked at his weekly press conference on Tuesday, and with Barta sitting in the back of the room, if he has ever had conversations with UI administrators about the importance of patience and long-term thinking.
The question was asked as Ferentz talked about Wisconsin's decision to fire Paul Chryst as head football coach this past Sunday.
"I haven't really had to," Kirk Ferentz said. "That's one of the things I appreciate. I think I've been able to — I've been really lucky in my career if you think about it. I've been places where people are pretty reasonable and they understand competition and they help you work through things, and to me there's only two ways to do it if you hit adversity: Just trash the thing and then start over again, or you try to work through it.
"For whatever reason, it's just kind of worked out and I'm appreciative of that. I've always been appreciative of working in a good, stable environment. Don't take it for granted."
It's worked out because Ferentz, who is Iowa's all-time winningest head coach, and the Big Ten's fourth all-time winningest head coach with 181 victories, has won enough games over the years to keep his job, but also because Iowa is incredibly loyal and so willing to make him happy.
Iowa also seems not necessarily content with winning seven or eight games in a season, but pleased enough to make that an acceptable standard for Kirk Ferentz.
Iowa is 3-2 overall and 1-1 in the Big Ten heading into Saturday's game at Illinois.
And though the offense has performed woefully for most of the season, the team's goals still are within reach with seven conference games remaining.
There is certainly nothing wrong with being loyal, unless it's being loyal to a fault.
It's just so rare in big-time sports these days where lots of money is involved.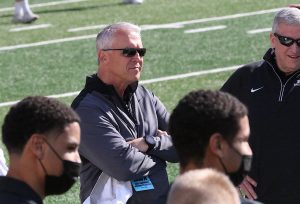 Iowa loves the fact that Kirk Ferentz is the longest tenured head coach at the FBS level because it points to continuity, loyalty and stability.
Kirk Ferentz's power and security was tested after multiple former black players accused the program of racial discrimination in the summer of 2020.
Ferentz couldn't save his close friend, Chris Doyle, from being fired as Iowa's longtime strength and conditioning coach as part of the fallout.
But Barta expressed confidence in Kirk Ferentz during those emotional days afterwards, saying that he felt Kirk Ferentz was the right person to fix the culture.
The current players, both black and white, say the culture has improved significantly, and what happened in the summer of 2020 rarely gets brought up anymore by the media.
However, there is a racial discrimination law suit still pending in which Brian Ferentz is a defendant that was filed by seven former black players.
What happened to Chryst at Wisconsin probably was hard for some Hawkeye fans to comprehend because it's so different than anything they're used to seeing at Iowa with Kirk Ferentz.
Iowa wears it like a badge of honor to have had just two head football coaches since 1979.
Hayden Fry and Kirk Ferentz are the only head coaches to lead a Division I program for at least 20 years consecutively.
That epitomizes stability and it makes Iowa feel good about itself.
Kirk Ferentz's philanthropic endeavors, which includes having donated $1 million to the University of Iowa Stead Family Children's Hospital in 2017, also makes Iowa proud, and for good reason.
The fans who are tired of Kirk Ferentz and want a new head coach are entitled to their opinion, but they're also not being realistic.
Kirk Ferentz certainly has some issues that will have to be addressed, starting with his offense.
But Iowa also won the Big Ten West Division last season, has a 29-11 record since the start of the 2019 season, and has won 10 games in two of the past three seasons.
So, it would be premature and inaccurate to say that Iowa has been loyal to a fault with Kirk Ferentz.
It could turn out that way, but that still remains to be seen.