By Pat Harty
IOWA CITY, Iowa – Kris Murray was talking at media day on Wednesday about playing basketball without his twin brother, Keegan Murray, for the first time in his life when he made the following statement:
"It's about time we went our separate ways," Kris Murray said. "He's enjoying his time in Sacramento and I know he loves it over there, and I'm enjoying my time in Iowa City for a year."
This season will mark the first time since Kris Murray and Keegan Murray learned to dribble a basketball that they won't play together, and they won't be together on a regular basis.
Kris Murray, a 6-foot-8 junior forward, is expected to be one the key pieces for an Iowa basketball team that has to replace 6-8 forward Keegan Murray, who is a now a promising rookie for the Sacramento Kings.
Keegan Murray earned consensus first-team All-America honors as a sophomore last season and was picked fourth overall by Sacramento in the 2022 NBA draft, while Kris Murray was a key part of Iowa's supporting cast last season.
Kris was often overshadowed by his brother's ascent to stardom, but that won't be the case this season as Kris steps into the spotlight, and into a leadership role.
"I'm really excited just to show people what I can do this year," Kris Murray said. "Playing with Keegan, though, made the game a lot easier, so that'll be a little bit different.
"But we've got really good players on this team. I think they'll help me show my skillset and we'll have a lot of success this year."
In addition to replacing Keegan Murray, Iowa also has to replace point guard Jordan Bohannon, who played as a sixth-year senior last season and ended his career as the Big Ten's all-time leader in 3-point field goals, and as Iowa's all-time leader in assists.
Keegan Murray and Bohannon are two significant losses, but everyone else returns from a team that won the Big Ten Tournament championship last season and 26 games overall.
Some on the outside might have doubts that Iowa can sustain the same level of success without Keegan Murray, but that was also concern a year ago when Iowa had to replace 2021 National Player of the Year Luka Garza at center.
The fact that Iowa lost to Richmond in the first round of the 2022 NCAA Tournament also might cause some to doubt this year's team.
Iowa coach Fray McCaffery wrote a letter to members of the media that was distributed at the press conference on Wednesday.
In the letter, Fran McCaffery listed some of Iowa's accomplishments over the past five seasons, including having a consensus first-team All-American in each of the past three seasons, having won at least 20 games and having led the Big Ten in scoring in each of the past four seasons, and becoming the first Big Ten team in 52 years to have a player lead the conference in scoring three consecutive seasons.
Luka Garza and Keegan Murray both set incredibly high standards during their ascents to stardom.
And while Keegan and Kris are identical twins who are almost exactly the same height and weight, their skillsets and personalities are different.
Kris also shoots left-handed, while Keegan is right-handed,
"We're two really different players in my opinion, and I think you're going to see that a lot," Kris Murray said. "We're going to do different things. I'm not going to average 23 points like he did. I might average around 15 to 20, but I'll have four or five assists a game. That's just where are games are different. And I think you'll see that a lot this year."
Kris Murray tested the NBA draft process this past spring and early summer before deciding to return for his junior season.
Some believe that with a strong junior season Kris Murray could also be a first-round draft pick like his twin brother.
Kris Murray said Wednesday that it didn't take very long to adjust to being without his twin brother.
The Murray brothers grew up in Cedar Rapids and are the sons of former Iowa basketball player Kenyon Murray.
"Keegan and I we're pretty individual people, we like our own space," Kris Murray said. "And I think Keegan was getting kind of sick of it living with him.
"We talk a couple times a week and that's really all we need. We're both pretty busy right now,"
Fran McCaffery thinks Kris Murray benefitted from testing the NBA draft process because it helped his confidence.
"He's a very even-tempered guy, but he's also really smart," Fran McCaffery said. "So, he knows what he's capable of, and he knows what our team needs from him.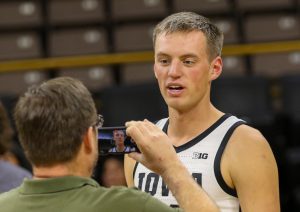 "He's accepting that responsibility. He's been way more aggressive offensively. Not that he wasn't last year; he certainly was. But I think defensively he's always in the right place."
Iowa returns five of its top seven scorers from last season and three full-time starters.
So, Kris Murray should have plenty of help on both ends of the floor.
And with fifth-year senior forward Filip Rebraca and sixth-year senior guard Connor McCaffery, who is Fran McCaffery's son, Iowa has two of the oldest and most experienced players in the conference.
Rebraca played for three seasons at North Dakota before transferring to Iowa last season, while Connor McCaffery played both basketball and baseball at Iowa for over three years, but he is now focused solely on basketball.
Rebraca started at center last season, but power forward might be his best position.
A lot will depend on matchups from game to game, but Rebraca, who was a double-digit scorer at North Dakota, is ready to contribute more on offense this season.
"I know I have that. I've shown that before," Rebraca said. "I didn't show it last year here, but I know I have that ability."
Connor McCaffery said Wednesday that he thought about moving on from college, but he didn't want to regret not playing for one final season.
"Everybody kind of said like, hey, don't leave college early," said the 6-5 Connor McCaffery. "Like if it's possible I would have taken all the time in the world if I could go back to college and take one more year.
"Ultimately, that is kind of what it came down to."
Connor McCaffery said Wednesday that he feels healthy after having had hip surgery, and he is benefitting from focusing solely on basketball.
"Everything is good," Connor McCaffery said. "No complaints on my hips, nothing. I'm in the best shape I've ever been in. I'm a little leaner, but my weight's still up."
Connor McCaffery is capable of playing both guard positions and small forward. He also can guard multiple positions on defense and is one of best passers in the conference.
His younger brother, Patrick McCaffery, also will play a significant role as a 6-9 junior forward whose first instinct is to score.
"I think for him, you're going to see a guy that's, I think, more complete offensively," Fran McCaffery said of his son, Patrick McCaffery.
Replacing Bohannon at point guard is one of the biggest concerns, but Fran McCaffery seems pretty optimistic about the combination of junior Ahron Ulis and true freshman Dasonte Bowen.
Junior Tony Perkins is yet another option at point guard, although, his best position is shooting guard.
Sophmore Payton Sandford is yet another option in the backcourt.
"Ahron Ulis has been really good, Desonte has been really good," Fran McCaffery said. "I've put Tony there some. Then we put Payton at the 2 spot, and we can go that route if we want to. Connor can play it.
"So, we have a number of different options there that I'm very comfortable with.
"I've been really impressed with Ahron Ulis's professionalism and his mental approach from the end of last year until now."
Sandfort, who now stands almost 6-8 after having grown close to one inch over the past year, will also see his role increase this season.
Sandfort might be the best 3-point shooter on the team, and he only missed one free throw last season and one free throw as a high school senior.
"He fires, and I love that because if you're open, shoot it," Patrick McCaffery said of Sandfort. "I don't care if you miss eight in a row. And he doesn't care, either. I just love that he's got no conscious and he's always coming in ready to fire. He can come in a blow a game open on his own."
Sandfort's perimeter shooting, and his ability to make free throws, could be key factors as Iowa adjusts to playing without Bohannon.
"If I get up to the free throw line, it's going in," Sandfort said. "If it misses, it's an unbelievable anomaly. But it's something I've been doing my whole life."
Sandford also worked hard during the offseason on weight training and conditioning, and the progress was noticeable on Wednesday.
"I'm still at the same weight as I was last year, but it's a lot more muscle than baby fat," Sandfort said. "I'm a lot faster, a lot quicker and able to guard really the one through the four."
Iowa has two players competing for minutes at the post position in junior Josh Ogundele and sophomore Riley Mulvey.
There could be games when Iowa will need a post player on the floor to matchup against some of the best post players in the conference.
"I believe I'm playing my best basketball right now," said Ogundele, who has struggled with conditioning in the past. "I'm competing, running up and down and sprinting, rebounding and blocking shots and scoring."