By Pat Harty
WEST LAFAYETTE, Indiana – As the final seconds ticked off the clock on Saturday at Ross-Ade Stadium, and with the Iowa football team leading Purdue by 21 points, I thought about Bill Brashier and how he would've loved the performance of the Iowa defense.
To hold any Big Ten opponent to just three points is a worthy accomplishment.
But to do it against Jeff Brohm's explosive spread offense is absolutely incredible and a testimony to just how good the Iowa defense is under defensive coordinator Phil Parker.
The Iowa offense also did its part during Saturday's 24-3 victory over the Boilermakers, finishing with 376 yards, including 184 rushing yards, and scoring three touchdowns.
True freshman running back Kaleb Johnson was outstanding as the Ohio native rushed for 200 yards and scored on a 75-yard run on the second play from scrimmage in the third quarter.
But to hold Purdue to just 255 yards and zero touchdowns is the kind of performance that would've made Brashier so proud as a defensive mastermind.
News broke Saturday morning that Brashier had passed away at the age of 93.
It didn't necessarily come as a surprise given his age, but it was still devastating news because of what Brashier means to the history and tradition of Hawkeye football.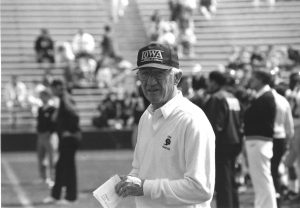 He was Hayden Fry's devoted sidekick as Fry's defensive coordinator at Iowa from 1979 to 1995, and he made it so Fry didn't have to spend much time worrying about his defense.
Brashier and Fry were both born in Eastland, Texas and were close friends in addition to being talented football coaches.
They didn't have much in common from a personality standpoint as Fry loved the spotlight and was a joke waiting to happen, while Brashier was quiet and unassuming.
Brashier could've easily been a head coach, but he was just fine being Fry's defensive coordinator.
Phil Parker also probably could be a head coach, but he has stayed loyal to current Iowa head coach Kirk Ferentz since joining his staff at Iowa in 1999, including being the defensive coordinator since 2012.
Iowa has only had four defensive coordinators since 1979 with Brashier, Bobby Elliott, Norm Parker and Phil Parker the only members of that select group.
Brashier was soft-spoken, but his words always carried a loud message according to those who played for him.
His knowledge of the game, coupled with his ability to inspire and relate to his players made Brashier special.
He didn't need the spotlight or the attention as he just wanted to coach defense and help mold his players into quality young men off the field.
I've never heard a person say a bad word about Bill Brashier. He was like former Iowa trainer John Strief in that he was beloved by everybody, humble, dedicated and loyal.
Brashier lived in the same house on the east side of Iowa City since moving from Texas more than 40 years ago.
Brashier is survived by his wife, Ann, sons Randy and Scot, daughter Lee Ann, grandchildren Lea, Taylor, Madison, Zachariah, Aiden and Bailey, and one great grandchild, Nealony.
His wife was a teacher, and many of those who were fortunate enough to learn under her say that while she was demanding, she was also fair, and she had a knack for helping students reach their potential.
In other words, she was just like her husband.
Maybe it was just a coincidence that the Iowa football team played by far its best game of the season just hours after learning that Bill Brashier had passed away.
But something tells me it wasn't just a coincidence.
Iowa DL Lukas Van Ness or "Hercules" to some, on the performance of the defensive line today: pic.twitter.com/i4mxQySUJI

— Dallas Jones (@DallasJonesy) November 5, 2022