By Susan Harman
IOWA CITY, Iowa – Portland, Ore., in late November isn't Cancun or the Bahamas or even Florida's gulf coast. But the Iowa women's basketball team understands what a great opportunity this weekend's two Phil Knight Legacy games present.
The Knight Legacy and Invitational tournaments each include four Nike-sponsored women's teams. Ninth-ranked Iowa (4-1) plays Oregon State (4-0) Friday at 7:30 (ESPNU) in the Legacy, and Duke plays No. 3 Connecticut at 5 p.m. (ESPN2). The championship and 3rd-place games are Sunday.
"This tournament coming up is an amazing opportunity," senior McKenna Warnock said. "We haven't been there before, so that's super exciting. We're excited and honored to go."
"This is a week that at the beginning of the year you've kind of circled," Iowa coach Lisa Bluder said. "It's very prestigious to be invited to this tournament, and obviously the opposition is very, very good. These are the things that you want to do when your program gets national respect. This was a no-brainer. It was we're invited to go out there, and it's like, 'Yes."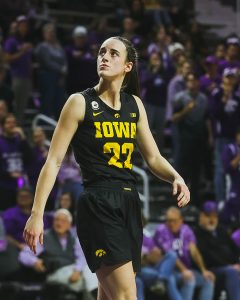 The two programs have more connections than you'd think. Bluder and OSU coach Scott Rueck coached together on a Pan-Am games team.
"I know how good of a coach he is; he game-plans very well," Bluder said.
Both Warnock and Caitlin Clark were recruited by the Beavers, and Iowa recruited 6-foot-9 post Jelena Mitrovic, a redshirt sophomore, and Raegan Beers, a 6-4 McDonald's All-American.
"They're a good team, a deep team," Bluder said.
It appears that the game will provide a contrast of strengths and styles. Oregon State has tremendous size in its starting lineup and Beers coming off the bench. Beers is averaging four offensive rebounds per game and is a big, strong presence in the paint.
"(Monday) coach (Jan) Jensen was trying to find a step stool so somebody could stand on it try to shoot over the top," Bluder said. "(Mitrovic) is a legitimate 6-9. It's hard. I've tried to tell the team, you cannot just turn and try to shoot a jump shot. You've got to be creative with your post moves.
"We have to make sure that we are boxing out because they will go over the back."
The good news for Iowa is that it might be able to run against this team, assuming it can get some rebounds or that the Beavers are tardy in retreating back down the floor.
Iowa, like every other team, is still trying to get its on-court chemistry just right. Iowa's five starters return, but it is getting significant help off the bench from newcomers like guard Molly Davis, forward Hannah Stuelke and a strengthened bench.
One thing the Hawkeyes need to find, especially when teams decide to gamble and double team  Monika Czinano inside, is production from other sources. Against Belmont Clark scored 33 and no other player reached double figures. That formula is probably not sustainable.
Clark averages 26.8 points and Czinano 19.2. Warnock is next at 9.8 ppg. Then come Stuelke (8.4) and Davis (6.4). Starters Gabbie Marshall (4.6) and Kate Martin (4.2) do other things for the team, but their scoring is down from a year ago. Of course it depends on who is getting the minutes, and Bluder has been frank that matchups will help make that determination.
Davis said the team is definitely working on spreading the scoring.
"Since our Kansas (State) game we've really touched on moving the ball a lot," Davis said. "If we move the ball on offense we can generated open shots for others. Also when other people get the ball, making sure they take advantage of every opportunity that they get."