By Pat Harty
IOWA CITY, Iowa – Kirk Ferentz faced Nebraska in his first game as the Iowa football coach in 1999 and lost 42-7 at Kinnick Stadium.
The game was a mismatch in every sense of the word as Nebraska was ranked fifth nationally and still was clinging to its dynasty, while Iowa was rebuilding following the retirement of Hayden Fry.
Nebraska had a significant advantage in talent and depth, and probably had the advantage at every position heading into the game.
Times have certainly changed as these position breakdowns will show in preparation for Friday's game between Iowa and Nebraska at Kinnick Stadium.
Iowa is playing for a second consecutive Big Ten West title, while Nebraska is playing the role of spoiler as it tries to win for just the fourth time this season, and tries to end a seven-game losing streak to the Hawkeyes.
And though Iowa has won the last seven games in the series, the last four games have been decided by seven or fewer points.
The Nebraska players have dealt with a lot of distractions this season, most notably, of course, the firing of head coach Scott Frost after just three games.
Former Nebraska quarterback Mickey Joseph was promoted to interim head coach and the team is 2-6 under his watch, although, Iowa coach Kirk Ferentz praised the Nebraska players for staying the course, and for continuing to play with high effort.
"Our opponent, they've been really I think impressive if you consider the changes that have been to the program," Kirk Ferentz said. "They've had a couple injuries, quarterback in and out. Just continue to play and compete and do really well. Upgraded their roster over the course out of season. They got a lot of transfer guys in, a lot of guys that are dangerous, productive players.
"But the biggest thing is they've continued to compete. All you got to do is look back at last week, they had a 14-3 lead on Wisconsin, who had to really work hard to pull that out at the end. We know firsthand how difficult it is to beat Wisconsin. It's never been easy.
They're playing well. They're competing hard. We expect a tough, tough ballgame here Friday needless to say."
Here is a look at which team has the advantage at each position
Quarterback: Texas transfer Casey Thompson has played in nine games for Nebraska and has 2,129 passing yards, 14 touchdowns and a 146.7 efficiency rating, while Spencer Petras has played in 11 games for Iowa and has 1,716 passing yards, five touchdowns and a 111.5 efficiency rating.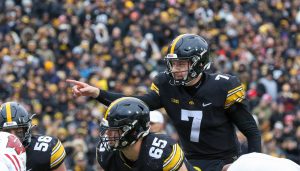 So, based on just statistics, this really isn't close.
But quarterbacks are also judged on wins and losses, and in that case, Petras has a huge advantage with a 20-10 record as Iowa's starting quarterback.
His critics will say that the Iowa defense and special teams won most of those games, and while that is true to an extent, Petras is playing some of his best football right now, and when it matters the most.
Petras also has thrown just five interceptions, while Thompson has been intercepted 10 times.
This was a tough call, but quarterbacks are judged largely on wins and losses.
Advantage: Iowa
Running back: To show just how far the Cornhuskers have fallen, this isn't a complete mismatch.
Nebraska is only averaging 129.9 rushing yards per game, when it used to run for that many yards in a quarter.
But Iowa is even worse at 94.8 rushing yards per game.
Anthony Grant leads Nebraska with 909 rushing yards and six touchdowns, and is averaging 4.5 yards per carry, while true freshman Kaleb Johnson leads Iowa in rushing with 653 yards and five touchdowns, and is averaging an impressive 5.2 yards per carry.
Iowa has a better second option with sophomore Leshon Williams, who has rushed for 367 yards and has 10 catches for 10 yards.
Based on just statistics, Nebraska is slightly better than Iowa, but neither ground attack has been very effective, although, Iowa has shown some improvement with the Johnson's emergence.
Advantage: Nebraska
Receiver: Nebraska senior Trey Palmer has 62 catches for 878 yards and seven touchdowns, while the seven receivers for Iowa that have caught at least one pass this season have combined for 64 catches for 689 yards and two touchdowns.
Palmer spent three seasons at Louisiana State University before transferring to Nebraska.
He has 1,336 career receiving yards and has scored 10 touchdowns overall.
Palmer sacrificed some victories by transferring from LSU to Nebraska, but he has certainly benefitted from an individual standpoint as one of the Big Ten's top receivers.
The Cornhuskers also have a talented second option in Marcus Washington, who has 28 receptions for 419 yards.
Iowa City native Oliver Martin, who transferred from Michigan to Iowa to Nebraska has 10 catches for 188 yards and one touchdown.
Senior Nico Ragaini leads the Iowa receivers with 25 catches for 305 yards, and he has one of Iowa's five touchdown catches.
Advantage: Nebraska
Tight end: This would be a no-brainer if Sam LaPorta were playing for Iowa, but that isn't realistic according to what Kirk Ferentz said on Tuesday.
So, assuming LaPorta doesn't play, this basically comes down to a competition between Iowa sophomore Luka Lachey and Nebraska senior Travis Vokolek.
And it's close.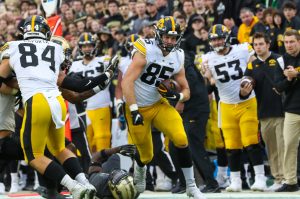 They both have similar statistics and are similar in size with Lackey listed at 6-foot-6 and 252 pounds and Vokolek listed at 6-7 and 260 pounds.
Vokolek, who transferred from Rutgers in the summer of 2019, missed the North Dakota and Georgia Southern games earlier this season due to injuries, but when healthy, he's a key piece to Nebraska's passing attack with 20 catches for 240 yards and two touchdowns.
Senior Chancellor Brewington has played in every game for Nebraska this season and has 10 catches for 90 yards and one touchdown.
Lachey, meanwhile, has played in all 11 games this season and has 18 catches for 273 yards and a team-best two touchdowns receptions.
True freshman Addison Ostrenga became the second option at tight end after LaPorta was injured against Minnesota.
It ultimately came down to the tight end position having a more significant role in the Iowa offense, with Iowa's tight ends combining for 72 catches, including 51 by LaPorta. The role of the Iowa tight end won't change just because LaPorta is unavailable.
Advantage: Iowa
Offensive line: Both teams have three sophomores listed as starters on the offensive line on this week's depth chart.
Sophomore Turner Corcoran, who is from Kansas, has started 22 games at left tackle for Nebraska, while sophomore Mason Richman, who is also from Kansas, has started 20 games at left tackle for Iowa.
Bryce Benhart, a 6-9, 315-pound sophomore, has started 10 games at right tackle for Nebraska this season and has played in 34 games overall.
Seven different offensive linemen have started games for Iowa this season, including fifth-year senior Jack Plumb, who has started the last four games at right tackle.
Plumb became a starter when sophomore Connor Colby switched from right tackle, where he started the first seven games, to left guard, where he has started the last four games.
This was another close call that ultimately came down in large part to rushing statistics and pass protection.
Advantage: Nebraska
Defensive line: The Cornhuskers have struggled mightily on defense this season, but to no fault of senior defensive end Garrett Nelson, who leads the team with nine tackles for loss and 5.5 sacks. He also has 61 tackles overall to rank fourth on the team.
Junior defensive end Ochaun Mathis, who transferred from Texas Christian University, has 47 tackles, five tackles for loss, 3.5 sacks, two pass breakups and three quarterback hurries.
Defensive tackles Colton Feist and Ty Robinson have 44 and 22 tackles, respectively for Nebraska, while Iowa's two starting defensive tackles – Logan Lee and Noah Shannon – have 41 and 38 tackles, respectively.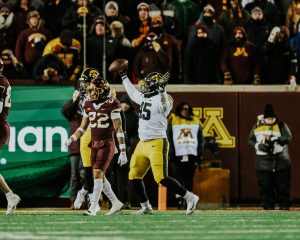 Iowa's four starting defensive linemen, which also includes senior defensive ends John Waggoner and Joe Evans – have combined for 87 starts and have played in 147 games overall.
Sophomore Lukas Van Ness doesn't start for Iowa, but that's about all he doesn't do. Van Ness has played in 25 games overall and 32 tackles, 9.5 sacks, six sacks and four quarterback hurries this season.
Sophomore defensive end Deontae Craig and sophomore defensive tackle Yahya Black help to give Iowa quality depth both inside and outside. Craig has 26 tackles, 5.5 tackles for loss, 4.5 sacks, three quarterback hurries, two forced fumbles and one fumble recovery this season.
Advantage: Iowa
Linebacker: Junior Luke Reimer leads Nebraska with 86 tackles in 10 games, while senior Jack Campbell leads Iowa with 110 tackles in 11 games.
Campbell is now widely regarded as the best linebacker in the Big Ten, and one of the best in the country, while his sidekick at linebacker, senior Seth Benson, is also pretty good with 105 tackles this season and 32 career starts.
Iowa allows just 108.91 rushing yards per game, while Nebraska allows a whopping 195.0 yards per game to rank last in the Big Ten.
That statistic says a lot about these two units.
Ernest Hausmann and Caleb Tannor also start at linebacker for Nebraska and have 48 and 39 tackles, respectively.
Junior Jay Higgins has also been a key contributor for Iowa at linebacker in the wake of Jestin Jacobs's season-ending injury. Higgins has 37 tackles and made his first career start against Wisconsin.
Advantage: Iowa
Secondary: Nebraska starts two sophomores and a freshman in its secondary, and to say that the results have been mixed would be an understatement.
Nebraska is ranked 10th in the Big Ten in pass defense efficiency and only has eight interceptions in 11 games this season, while Iowa is ranked third in the conference in pass defense efficiency and has 13 interceptions.
Junior cornerback Quinton Newsome has started 23 consecutive games for Nebraska and leads the team with eight pass breakups this season.
Sophomore Myles Farmer has made 10 starts at safety for the Cornhuskers and is second on the team with 68 tackles.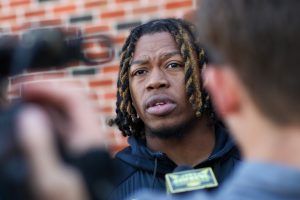 Mississippi native Malcolm Hartzog became the first true freshman to start at cornerback for Nebraska since 2016 and he leads the team with three interceptions and has started the last seven games.
Meanwhile, a case could be made for Iowa having the best secondary in the Big Ten.
Sophomore Cooper DeJean is a rising star, while fifth-year senior Rily Moss has started 37 games and played in 52 games overall. Moss was also named the Big Ten Defensive Back of the Year last season.
As for DeJean, he is ranked third on the team with 67 tackles, and he leads the team with four interceptions, including two pick sixes.
He currently starts at cornerback, but he has also played the cash position this season.
Senior strong safety Kaevon Merriweather has started 23 games and played in 44 games as a Hawkeye. He has 45 tackles, three interceptions and returned a fumble 30 yards for a touchdown against Rutgers.
Junior Quinn Schulte has started all 11 games at free safety and is fourth on the team with 63 tackles, and he also has six pass breakups and one interception.
Junior Sebasian Castro has 24 tackles, two tackles for loss, two forced fumbles and three pass breakups while playing the cash position this season.
Advantage: Iowa
Special teams: Nebraska has a history of struggling on special teams, but you wouldn't know it from how its kicker and punter have performed this season.
Timmy Bleekrode has made 8-of-10 field-goal attempts, and 31-of-32 point-after kicks, while Nebraska punter Brian Buschini is averaging 44.5 yards on 62 punts, with 16 of his punts having traveled at least 50 yards.
Iowa has one of the best kicker/punter combinations in the country in true freshman Drew Stevens and junior Tory Taylor.
Stevens has made 15-of-17 field-goal attempts this season with a personal best from 54 yards. He also has made all 19 of his point-after kicks and he also handles kickoffs with 26 of his 43 kicks resulting in touchbacks.
The 25-year old Taylor, who is from Melbourne, Australia, is averaging 45.3 yards on 69 punts, with 22 of his punts having traveled at least 50 yards and with 28 downed inside the 20-yard line.
Iowa fans were upset when Taylor didn't make the 10 semifinalists for the Ray Guy Award, and they had a right to be upset, considering how much Taylor's ability to flip field position has meant to the team this season.
Advantage: Iowa