By Pat Harty
IOWA CITY, Iowa – This time of year is always extremely busy for Iowa Hawkeye athletics as the sports calendar year shifts from the fall to winter.
Men's and women's basketball, along with wrestling, are in full swing, while football still has a bowl game left to play.
There is a lot happening on a daily basis, especially in the transfer portal for football, and here are just a few of the storylines that are unfolding:
**********
Kirk Ferentz doesn't normally rely on the transfer portal to fill key voids on his football team, but the current times are far from normal.
The Iowa offense is a mess and Kirk Ferentz really has no choice but to use the transfer portal for a quick fix.
Iowa landed a pretty big fish on Thursday when Michigan quarterback Cade McNamara announced that he would transfer to Iowa.
Iowa desperately needs a proven quarterback with Spencer Petras nearing the end of his career, and with Alex Padilla having entered the transfer portal earlier this week.
McNamara led Michigan to the 2021 Big Ten championship over Iowa, and to the college football playoff.
But he lost his starting position to sophomore J.J. McCarthy this season, and it was assumed that McNamara would hit the portal at some point.
He only lasted for about three days in the portal before commiting to Iowa.
That says a lot about the salesmanship of those associated with Hawkeye football because it took a group effort to land McNamara, who almost certainly had other options.
Iowa offers a chance for immediate playing time for a team with a rock-solid defense, reliable special teams and a devoted fan base.
Kirk Ferentz is also the third all-time winningest coach in Big Ten history, and the longest tenured coach in the country with this being his 24th season as the Iowa head coach.
Iowa has only had two losing seasons since 2001 and is on the verge of earning its 20th bowl game invitation since 2001 on Sunday.
So, all that tradition and stability combined with what is reportedly a pretty sweet NIL package was enough to convince McNamara to join an offense that leaves much to be desired.
Iowa only has four receivers on scholarship at this moment, but that could change by the time you finish reading this column due to the transfer portal always being there and ready to strike.
It took a community for Iowa to land Cade McNamara, and those who made it happen, which includes the coaches and donors, deserve praise for a job well done, and for realizing that it needed to happen.
Some are saying that Kirk Ferentz is only using the portal to create a distraction for his son, embattled offensive coordinator Brian Ferentz, who some fans would like to see replaced.
And while maybe Kirk Ferentz is motivated by trying to help his son, Iowa needs an infusion of talent on offense ASAP. And at this point, the portal is really the only place to go for immediate help.
**********
Drew Stevens started the 2022 season as Iowa's backup kicker for field goals, and now 12 games later, he has put together one of the best seasons ever for an Iowa kicker.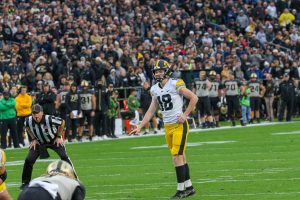 And he's just a true freshman.
Stevens has made 16-of-18 field-goal attempts, including both of his attempts from beyond 50 yards, and he is 21-for-21 in point-after kicks. He also has handled kickoffs throughout the season and has 29 touchbacks on 51 attempts.
Sophomore Aaron Blom handled field goals in the first two games this season, but was replaced by Stevens after missing two of his three attempts.
Stevens, who is a walk-on from North Augusta, South Carolina, would go on to seize the opportunity and has since solidified the kicker position for seasons to come.
So, he probably won't be a walk-on for much longer.
**********
One word that comes to mind when watching Kris Murray play basketball is effortless because he makes everything look so easy, and he does so with a mostly calm and stoic demeanor.
But what he is doing, which includes scoring 31-points and grabbing 20-rebounds against Georgia Tech this past Tuesday, is far from easy.
Kris Murray has a different style than his twin brother and former high school and Hawkeye teammate, Keegan Murray, on and off the court, but the results are pretty much the same, on and off the court.
Kris did struggle to make shots against Clemson and Texas Christian University in the Emerald Coast Classic, but the 6-foot-8 forward still finished with 10 points and 12 rebounds in the 74-71 victory over Clemson, and he had 11 points and 10 rebounds in the 79-66 loss to TCU.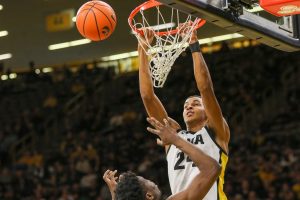 He still found a way to make a significant contribution in both games despite not shooting well, and that's what star players do.
Kris Murray isn't as physical as Keegan is on the court, but that doesn't stop Kris from being a force on the boards as he uses his length, quickness and anticipation to get rebounds.
Kris also doesn't hunt for shots, nor did Keegan as a Hawkeye.
Both brothers have flourished within the framework of the offense, and that's great not only from an execution standpoint, but also from a team chemistry standpoint.
**********
Spencer Lee is making progress according to Iowa wrestling coach Tom Brands.
Iowa's three-time national champion at 125 pounds is returning from having surgery on both knees, and he has a chance to make history as he tries to become Iowa's first four-time national champion.
Lee already has achieved legendary status after having dominated his competition at the 2021 NCAA Championships despite having a torn anterior cruciate ligament.
He then took a medical redshirt last season in order to get healthy.
Brands is being careful not to rush his star senior from Pennsylvania because the main focus is to have Lee ready to compete in March.
Second-ranked Iowa will face Iowa State on Sunday at Carver-Hawkeye Arena, but almost certainly without Lee in the lineup.
**********
Colorado State would make sense as a possible landing spot for Iowa quarterback Alex Padilla.
The campus in Fort Collins is about an hour from Padilla's home in Greenwood Village, which is near Denver, and Colorado State's head coach is former Iowa defensive back Jay Norvell.
Norvell just finished his first season as head coach with a 3-9 record and the performance by his quarterbacks left much to be desired.
Three different quarterbacks, all of whom were redshirt freshmen, started for Colorado State this season and the results were mediocre at best,
Padilla will be a fifth-year senior next season and has faced Big Ten competition, although, his body of work is pretty small.
He had his moments while playing for Iowa, and with two years of eligibility, Padilla isn't just a one-and-done situation.
**********
Iowa defensive lineman Lukas Van Ness has yet to start a game for the Hawkeyes, but that hasn't kept him from making multiple 2023 NFL mock drafts, with some predicting he could go as high as the first round.
Van Ness is a third-year sophomore, so that would make him eligible for the 2023 NFL draft. The rule states that a player must be at least three years removed from high school to be eligible for the NFL draft.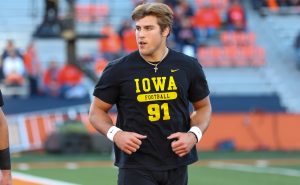 A native of Barrington, Illinois, Van Ness leads Iowa with 9.5 tackles for loss, and is tied for the team lead with six sacks despite playing on a limited basis as part of a deep rotation on the defensive line. He also has four quarterback hurries and has blocked two punts, both of which came against Iowa State.
Van Ness has played in 26 games overall as a Hawkeye and has 13 career sacks.
He recently downplayed the talk of him possibly declaring for the 2023 NFL draft, saying that he was happy at Iowa and that he has no plans on leaving.
That would certainly be great news for the Iowa defense, which might have to replace senior defensive ends John Waggoner and Joe Evans, and senior defensive tackle Noah Shannon if they choose not to use their free Covid year.
Van Ness at 6-foot-5 and 269 pounds has the power and force to play inside and the quickness and flexibility to play on the outside.
That's probably what makes him so attractive to NFL scouts, his versatility.
*************
The Iowa women's basketball team features one of the best inside-outside combinations in the country in fifth-year senior center Monika Czinano and do-everything guard junior gaurd Caitlin Clark.
Lisa Bluder's team can score points with the best of them, and with Clark, Iowa has one of the most dynamic and impactful players in the country.
But even Clark can only do so much as Thursday's 94-81 loss to North Carolina State showed as she scored 45 points, but still it wasn't enough.
Iowa struggled with North Carolina State's physicality and quickness, and it was more noticeable on the defensive end where the Wolfpack shredded Iowa in transition, and in half-court sets.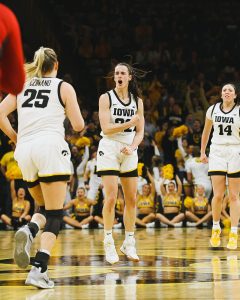 "Very disappointed in our defensive effort," Iowa coach Lisa Bluder said. "We started out good in the first quarter. The second, third and fourth were not good. We gave up 46 paint points. We usually own the paint. For us to give up 46 paint points is not good."
There is a lot to like about this Iowa team, but the woes on defense and a lack of depth are two concerns.
Iowa's five starters are now all starting together for the third consecutive season, which is extremely rare, and they've accomplished a great deal together, including winning the Big Ten regular-season and tournament titles last season.
But they also need help, and perhaps the biggest concern with Iowa at this stage would be its bench.
Iowa's bench only scored nine points in the loss to North Carolina State, including seven by freshman Hannah Stuelke. The bench players also had just one rebound.
Bluder used nine players in the 86-79 loss to UCONN, but none of the reserves played more than 6:01 minutes and only one reserve scored as Stuelke had two points.
Sydney Affolter was the only other bench player that attempted a shot against UCONN as she finished 0-for-1 from the field.
Bluder likes to play up tempo on offense and it helps to have a reliable bench to rely on for assistance, and for relief.
Of course, the good far outweighs the bad with the Iowa women's basketball team, but it's probably worth paying attention to how the bench develops this season.
**********
Yes, it's still early.
But the attendance for some of the recent Iowa men's basketball games at Carver-Hawkeye Arena has been disappointing to say the least.
It was so bad that Iowa senior guard Connor McCaffery, who is the son of Iowa head coach Fran McCaffery, shared his frustration on Twitter after the victory over Omaha on Nov. 21 at Carver-Hawkeye Arena.
Iowa had won at Seton Hall 83-67 in its previous game, so there was hope that it would convince more fans to show up for the Omaha game despite the outcome being pretty much a foregone conclusion.
In fairness to the fans. however, the competition so far at home has left much to be desired and the Georgia Tech game didn't start until about 8:07 p.m. on a Tuesday night.
Carver-Hawkeye Arena will be packed for the Iowa State game next Thursday, and will have strong attendance for most of the Big Ten games, unless the team unravels, which seems unlikely.
Hawk Fans that came tonight thank you this is not @ u and this is not a complaint at all but this was probably the worst regular season crowd we have had in my career here coming off a huge road win.. we have some big games coming up please help us out w the energy you bring🙏🏼

— Connor McCaffery (@connor_m30) November 22, 2022