By Pat Harty
IOWA CITY, Iowa – Cade McNamara has been a Hawkeye for not even a week, but he might already be the most popular Iowa quarterback since C.J. Beathard.
Social media makes it easy to get carried away with superlatives and there has been a lot of it since McNamara announced his commitment to Iowa this past Thursday.
But in fairness to Iowa fans, they've been through a lot from watching an offense that has been historically bad for most of this season, due partly to the struggles at the quarterback position.
McNamara represents a ray of hope, or as he said on his Twitter account, a new beginning.
He gets to stay in the Big Ten Conference, and he joins a program that has a rock-solid defense, reliable and game-changing special teams, a devoted fan base, the Big Ten's third all-time winningest head coach and a growing list of donors that helped to fuel the NIL deal for McNamara.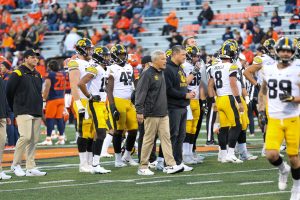 With the plight of the offense under Brian Ferentz being such a big story this season, it's easy to forget, or overlook, the good things about Hawkeye football under his father, Kirk Ferentz.
Iowa also doesn't play Michigan in the 2023 regular season, so the only way McNamara would face his former team next season would be in the Big Ten Championship game.
And if that were to happen, he already would be a Hawkeye legend for having led the way on offense.
Some have called the addition of McNamara a program-changing event, the difference between competing for a Big Ten title or not competing for a Big Ten title.
That seems a little dramatic, but there is no denying that McNamara fills a huge void.
Those who are trying to minimize his decision to transfer to Iowa, which mostly means fans from other schools, have said that Iowa is simply getting a backup quarterback, so calm down.
But that isn't fair.
McNamara will forever have the distinction of having led Michigan to the 2021 Big Ten title, and to the four-team college playoff.
He passed for 2,576 yards and threw 15 touchdown passes last season, while throwing just six interceptions.
McNamara operated the offense efficiently and he won games, including a 42-27 victory over Ohio State, and 42-3 shellacking of Iowa in the Big Ten Championship game.
He ultimately lost the starting position to former five-star recruit J.J. McCarthy earlier this season, and McCarthy has since led the Wolverines to a second consecutive Big Ten title and to a 13-0 record heading into the playoff.
So, both fan bases are happy.
And yes, McNamara left Michigan as a backup, but he is far from a typical backup.
What remains to be seen is if McNamara can perform at the same level with a different supporting cast around him.
He played behind one of the best offensive lines in the nation at Michigan, and he also had Hassan Haskins, Blake Corum and Donovan Edwards as his three running backs.
Iowa is sitting pretty well at running back right now with Kaleb Johnson and Leshon Williams, but the Iowa offensive line is vastly inferior to Michigan's offensive line.
Spencer Petras hasn't helped with his lack of mobility in the pocket, but Iowa's fifth-year senior quarterback also has faced pockets that have collapsed throughout the season.
Iowa will learn its bowl destination on Sunday and Kirk Ferentz will provide an update on the situation quarterback where Petras is dealing with an injury that caused him to miss the last three quarters of the Nebraska game, and with Alex Padilla having entered the transfer portal.
But once the 2022 season ends, McNamara will be expected to step in at quarterback and provide a boost for an offense that so desperately needs one.
Some things might not come as easy for McNamara as a Hawkeye as they did for him as a Wolverine.
Iowa has to land at least two receivers from the portal to help restock a position that currently has just four players on scholarship.
The portal is much like recruiting in that both cause a tremendous amount of hype, conjecture and bold predictions, sort of the storm before the storm.
Cade McNamara is now at the center of the storm.