IOWA CITY, Iowa – Cornerback Terry Roberts is the latest member of the Iowa football team to enter the transfer portal.
His decison to enter the portal was first reported by Adam Rittenberg from ESPN.
Roberts, a senior from Erie, Pennsylvania, is the eighth Iowa player to have entered the portal since Monday, which was the first day players could officially enter the portal.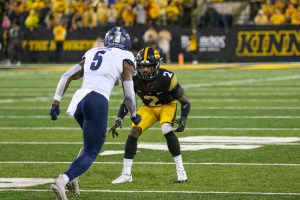 He is also the second defensive back to leave the team, the other being junior safety Reggie Bracy.
Junior linebacker Jestin Jacobs also has entered the portal after having played in just two games this season because of an injury.
Roberts has been a force on special teams when healthy, but he also has been hampered by injuries that caused him to miss seven games this season.
He still had 13 tackles, one interception and three pass breakups despite missing more than half of the regular season.
Roberts came to Iowa in 2018 and was redshirted as a true freshman.
He then saw action in 12 games in 2019, and in all eight games during the 2020 Covid-shortened season.
But then Roberts missed six of the last seven games of the 2021 season because of an injury.
He started three games at cornerback this season before suffering yet another injury, this time to his foot.
Roberts won the Team Hustle Award for special teams in 2021 and 2018.