By Pat Harty
IOWA CITY, Iowa – In my last two trips to the grocery store, a total of three people said jokingly to me that they plan to enter the transfer portal.
That's where we are folks.
The transfer portal is impacting life almost as much as Elon Musk and inflation, and it's sort of fascinating, sort of annoying and sort of funny to watch it all unfold.
Being in the portal is like being recruited all over again, and the websites that specialize in tracking recruits are now doing the same with players in the portal.
This past Monday was the first day that players could officially enter the portal, and there were over 700 that did so on the first day, including 63 quarterbacks.
The Iowa football team has lost eight scholarship players to the portal, including five on offense, and has added one in Michigan quarterback Cade McNamara.
It was seven players in the portal when I started writing this column Tuesday afternoon, but then a few minutes into writing it, Iowa cornerback and special teams standout Terry Roberts had entered the portal as first reported by Adam Rittenberg from ESPN.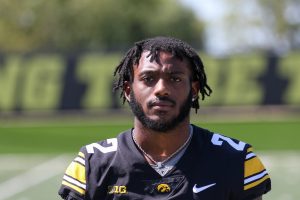 Iowa has now lost two defensive backs to the portal, the other being junior safety Reggie Bracy, who is from Mobile, Alabama.
And with cornerback Riley Moss and strong safety Kaevon Merriweather both being seniors, it's easy to see why Iowa defensive coordinator Phil Parker is expected to meet this week with Harvard cornerback Nate Washington, according to Hawkeye Report.
However, the most glaring hole on the roster is at receiver where Iowa currently only has four receivers on scholarship.
So, the search is on in the portal for help at receiver.
Hawkeye Report posted today that the Iowa coaches have contacted Western Michigan receiver Corey Crooms, who had over 800 receiving yards this season.
The Michigan 247Sports website also said that Michigan tight end Erick All is expected to join McNamara at Iowa.
The portal was started with good intentions as a way to give student-athletes more power and flexibility during the transfer process.
But now just a few years into the portal, it basically has turned into college free agency, and shows no signs of letting up, although, some blame the high number in the portal on the fallout from the global pandemic, and because it's still a relatively new thing.
Many of today's college athletes had their high school recruiting experience impacted by the pandemic because there was very little face-to-face interaction during most of the 2020 calendar year.
Perhaps there were cases in which some recruits made choices that they probably wouldn't have made under normal recruiting circumstances.
Whatever the case, the portal is busier than the Iowa City ped-mall at 2 a.m.
Here today on the roster.
Gone tomorrow.
The portal combined with name, image and likeness has changed the college sports landscape in swift and stunning fashion.
Kirk Ferentz has been taken from his comfort zone as he's being forced to use the portal to help fix his son't historically bad offense.
Ferentz would rather use players that he has developed rather than players that were developed somewhere else. But he can't afford to do that right now because there is a severe shortage of talent and experience on offense, especially at receiver.
The NCAA is mostly irrelevant now because it failed to act when there still was time to act in regard to the portal and NIL.
The NCAA saw this coming, but did nothing, and now it's helpless in an environment that goes against everything the NCAA has stood for since the beginning.
The kids now have the power with the portal, and with NIL, and where this power-structure change is headed is anybody's guess.
Okay, it's time to finish this column because one can only imagine what has happened in the portal since I last checked just a little while ago.
Thank you 💛🖤 pic.twitter.com/f4MP8VpZmj

— Jestin Jacobs (@jestinjacobs__) December 6, 2022