By Susan Harman            
IOWA CITY, Iowa – Minnesota has produced some of the best women's college basketball players in the nation. From UConn All-American Paige Beckers; to Rachel Banham, the Big Ten's second-leading career scorer; to Hall of Famer Lindsay Whalen, who took her team to the 2004 Final Four; to the Miller twins, Kelly and Coco, who took Georgia to the 1999 Final Four.
Minnesota's best teams have been the ones in which the Gophers have kept their top in-state players. And Whalen, the Gophers coach, has done exactly that with her last recruiting class.
Minnesota's freshman class was ranked 10th in the nation by ESPN W and features three four-star recruits: 6-foot guard Mara Braun, 5-11 guard Amaya Battle, 6-1 forward Mallory Heyer.
Braun, a skilled shooter who plays with poise, might well be the prize. She averages 20 points and 4.3 rebounds and shoots 94 percent from the foul line. She scored 34 points against Lehigh earlier this season. She averages 34 minutes of playing time.
A fourth four-star is redshirt freshman Katie Borowicz, who lost a year due to surgery on a Chiari malformation in the brain stem.
"She' a very good long-range shooter," Iowa coach Lisa Bluder said of Borowicz. "Amaya Battle, their starting off guard, is very athletic and a really good defensive player."
The Gophers lost highly touted freshman 6-0 power forward Niamya Holloway to a knee injury. She will not play this season. Minnesota lost seven players to the transfer portal including Sara Scalia (Indiana) and Jasmine Powell (Tennessee).
So Whalen is all in on the Gopher Kiddie Corps. Four of the freshmen start along with 6-2 sophomore Rose Micheaux to give the Gophers one of the youngest starting fives in the country.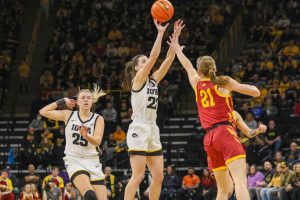 "It's a very talented group," Whalen said at Big Ten media day. "Very special. But they are freshmen. It will be exciting to see them grow and develop."
There's the rub. Tremendous talent, but they are freshmen. All played for high-powered club teams along with successful high school teams, but Division I basketball is different.
"They have all the parts but right now their record is 5-4 overall," Bluder said. "They're really, really talented but they're young, so they haven't always been able to put away these close games. They're having some ups and downs with turnovers and things like that."
Iowa (7-3) recruits Minnesota heavily, and its coaches are very familiar with the Gopher freshmen. As such Bluder is wary of this game on Saturday at Carver-Hawkeye Arena, which will be the only time the two teams meet in the regular season. Iowa has won the six consecutive games over the Gophers and haven't lost to them at home since 2007.
"They are playing better; they are much more up tempo," Bluder said. "We like that up-tempo style, but we've got to be cautious defensively. We've got to get back in transition because they will knock down threes in transition."
Psychologically the Hawkeyes have to come down from the high of beating Iowa State and get ready to play a Big Ten team they have readily handled. Finals week starts Monday and that poses its own distractions.
"I've warned our team about that. I said this is a trap game," Bluder said.
It's also at 8 p.m. Saturday, an unusual time dictated by the Big Ten Network. Bluder wasn't too concerned about the time and sees it as just another quirk that prepares a team for tournament play.
Bluder reported that Kate Martin is fully healthy after twisting an ankle after the ISU game. She said Gabbie Marshall's lost tooth, also from the ISU game, has been replaced. 
Minnesota vs. Iowa
When: Saturday, 8 p.m.
Where: Carver-Hawkeye Arena
TV: Big Ten Network