By Pat Harty
IOWA CITY, Iowa – The NCAA has gone from ruling with an iron fist and obsessing over rules and policies, some of which seem silly, to being mostly non-existent in this new age of name, image and likeness and the transfer portal.
And because of that, its people should be a shame for allowing the current landscape to look more like the Wild, Wild West with student-athletes entering the transfer portal at an alarming rate.
For decades, the NCAA has emphasized the importance of promoting amateurism in college athletics, but then along comes NIL and the portal, and the NCAA basically has said you're on your own and have it.
Instead of taking steps to prepare for this new age in college athletics, the NCAA washed its hands of any responsibility after the Supreme Court voted 9-0 in favor of NIL, and now there is basically free agency in college sports with some basketball rosters being completely overhauled from one season to the next.
Iowa men's basketball coach Fran McCaffery saw this coming, and wonders why the NCAA didn't see it.
"You know, and that was poor foresight by the NCAA. They blew it, bottom line," Fran McCaffery said Thursday at a press conference. "You can't put the portal and NIL together and say it's not going to become pay for play. Who didn't see that coming? Anybody in this room, anybody on planet earth saw that coming, okay.
"This is where we are. It's not the players' fault. They want a piece of the pie. They can read. The incredible dollars that are generated by their performance, so they need to be compensated."
The players often get blamed for the problems with NIL, and with the portal, but Fran McCaffery is right to say they shouldn't be blamed.
There was plenty of time to prepare for this new way of life in college athletics, but the NCAA either has lacked the vision or wasn't willing to take the necessary steps to help monitor the new landscape.
"Is there a right way to do it? Probably," Fran McCaffery said. "Can everybody agree to that? Probably not. But we'll see where we end up because we're not in a very good place right now.
"But I can tell you this: Our guys are locked in. They're making some money. Nobody is getting rich, but they're understanding the importance of what NIL was supposed to be, as you pointed out. It was supposed to be opportunity to grow in the business world. I keep saying this, but one of the positives of it all is it really requires your student-athletes to be great citizens or else they're not going to make any money."
Fran McCaffery has made it abundantly clear that he would prefer to reward his current players with NIL money rather than use it to entice players to join his program.
In other words, Fran McCaffery would prefer to do it the way it was supposed to be done from the beginning.
Iowa football coach Kirk Ferentz has taken a similar approach in that he would also prefer to share NIL money with the players on his current roster.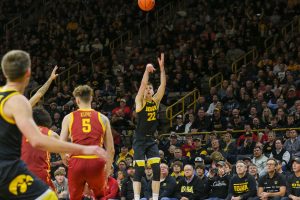 The problem for Iowa, however, is that some other programs don't see it that way and will use NIL money to entice recruits to join their program.
Fran McCaffery fell short in landing a couple players from the portal, and from the high school ranks, during this past recruiting cycle, and NIL money was believed to be a key factor in at least three cases.
The players certainly deserve the freedom and flexibility to change schools at least once in college without facing any obstacles, and they deserve to make money on their name, image and likeness.
But they also could benefit from having more structure and supervision.
Iowa is using NIL to promote its presence in the community, and as a way for its student-athletes to raise money for themselves and for charities at the same time.
"We have great kids," Fran McCaffery said. "They'll represent companies well if they hire them. I encourage companies to reach out and engage in communication and hire our guys, and I want our guys to know and understand and appreciate those opportunities that are coming their way."
There are now reports of some players wanting to transfer at mid-season in basketball and then be able to play right away in the spring semester.
"That would just be crazy," said Iowa forward Patrick McCaffery, who is Fran McCaffery's son. "What are we, ten games in and then just kind of adding somebody into the fold that expects to play a lot.
"We've been practicing together since June. So, it just would be kind of insane now to just add in a whole new player to a whole new whatever."
Patrick McCaffery explained his father's feeling about the portal.
"He's not against transfers, but he's locked in on what we have in our locker room," Patrick McCaffery said. "Maybe if we were like really bad, he would try to being guys in. I don't know. But we're not. So, he doesn't have to worry about that."
Fran McCaffery added senior forward Filip Rebraca from the portal before the start of last season, and Rebraca has proven to be an ideal fit for the program, on and off the court.
Iowa is 7-3 overall and 0-1 in the Big Ten heading into Saturday's game against Southeast Missouri State at Carver-Hawkeye Arena.
Junior forward Kris Murray, who leads Iowa in scoring and rebounding, will miss his third straight game due to a lower body injury, while junior point guard Ahron Ulis is making progress after having missed last Sunday's 78-75 loss to Wisconsin because of a hip contusion.