By Pat Harty
IOWA CITY, Iowa – Patrick McCaffery calls them "goofy shots" and he's right because they are goofy.
You know, like the times when he fades to his left and then shoots off one leg, or when he drives through the lane and then does a 180-degree spin before shooting an off-balance fadeaway jumper.
Patrick McCaffery has had a scorer's mentality ever since he started playing basketball, and though he has grown to 6-foot-9, he still seems most comfortable getting the ball on the perimeter and then attacking the basket, or he might just shoot a 3-pointer because that part of his game continues to improve.
Whatever the case, Patrick McCaffery's first instinct is to score, and he goes about it in his own unique way.
It might cause his father – Iowa coach Fran McCaffery – to shake his head sometimes because Patrick McCaffery will take an ill-advised shot, or two.
But the good still far outweighs the bad with Patrick McCaffery's approach to playing offense.
"Obviously, I'm playing off two feet more and I'm taking less goofy shots," Patrick McCaffery said Thursday before practice.
In fairness to the goofy shots, that's just who Patrick McCaffery is as a player.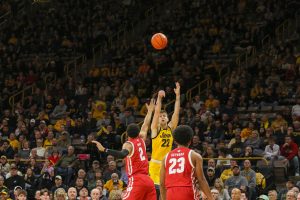 He took those kinds of shots throughout his career at Iowa City West High School where he is now the school's all-time leading scorer after having made a lot of goofy shots.
"I've always kind of taken goofy shots and I make them a lot of the times," Patrick McCaffery said. "I've always kind of made goofy shots like that."
Patrick McCaffery said he had a conversation with former Iowa assistant coach Kirk Speraw this past fall about taking the goofy shots out of his game.
"And he was like, but you make those shots, and I was like, 'I know,'" Patrick McCaffery said. "But they're harder.
"So, I've been working on playing off two feet and not having to take as many of those shots. I can still take those shots, like if I have to if it's a late-clock situation and there's no other option. But I've been trying to kind of eliminate those shots more and take more on-balanced and higher percentage shots and I think it's been good for our team."
Patrick McCaffery is coming off a game against Wisconsin last Sunday in which he scored a career-high 24 points in a 78-75 overtime loss at Carver-Hawkeye Arena.
He had a chance to send the game into double overtime, but his shot from 3-point range bounced off the rim.
Iowa has played short-handed in the last two games without its leading scorer and rebounder, Kris Murray, who is recovering from a lower body injury.
Junior point guard Ahron Ulis also missed the Wisconsin game due to a hip contusion, so Iowa needed players to step up on offense and Patrick McCaffery rose to the occasion.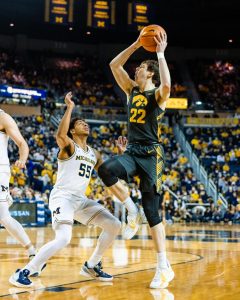 Patrick McCaffery is averaging 13.9 points and 4.1 rebounds per game heading into Saturday's game against Southeast Missouri State at Carver-Hawkeye Arena.
Kris Murray is also expected to miss Saturday's game, putting more pressure on Patrick McCaffery to fill the scoring void.
Fran McCaffery said part of the challenge for his son is to play more off two feet, but without losing his aggressiveness.
"We try to get him to play off two feet a little bit more," Fran McCaffery said. "He's done that. That's a fine line because sometimes you've just got to go and you've got to attack, and if you're always playing off two feet, you're not always attacking the basket.
"But he is, I think, making good decisions in terms of when to go, when not to go, go, it shuts down, find somebody else, make a play for somebody else. He's never been a big turnover guy, and he's very unselfish. That's what we want from him, and that's how we want to play."
Patrick McCaffery is living out a childhood dream by playing for his father, and with his older brother, sixth-year senior guard Connor McCaffery.
Patrick McCaffery has worked hard to reach this point, and has had to overcome a horrible and frightening obstacle.
He had a malignant tumor removed from his thyroid in 2014, and it's been a struggle at times for Patrick to gain weight and add strength.
But Patrick McCaffery seems in a good place right now as a fourth-year junior, both physically and mentally, and his game is progressing nicely.
"I work at this every single day," Patrick McCaffery said. "I took like two weeks off after the season, and then every single day after that I was doing something. I really work at this. It's something that I've always wanted to do, play at a high level."
Getting stronger was a priority for Patrick McCaffery this past offseason, and it's now paying dividends, especially when he posts up near the basket.
"I really worked on getting stronger so I'm not going to get moved out of my spots as easy," Patrick McCaffery said.
As for Saturday's opponent, Southeast Missouri State started the season 5-1, but has lost five consecutive games, including its most recent outing at Arkansas State Wednesday evening (68-61).
The Redhawks lead the Ohio Valley Conference in scoring defense (68.4) and 3-point attempts per game (24.3).
Iowa (7-3) vs. Southeast Missouri State (5-6)
When: Saturday, 7:31 p.m.
Where: Carver-Hawkeye Arena
TV: Big Ten Network
Radio: Hawkeye Radio Network