By Susan Harman
IOWA CITY, Iowa – Finals week can interrupt the momentum that teams build during the non-conference season. But when the Iowa women's basketball team returns to the court Sunday for a 2 p.m. game against Northern Iowa (5-3), players will be feeling pretty good.
The biggest lift came with knowing Kate Martin is back and expected to play. Martin, a key defender and lately a 3-point threat, injured her shin in a scary knee-to-shin encounter with a Minnesota post. After several minutes she was helped off the court and returned on crutches with an ice pack on her leg. Coach Lisa Bluder said the first X-ray of Martin's shin showed a deep bone bruise but no fract
 That diagnosis was confirmed the next day. Martin didn't practice until Wednesday, but Bluder said she is ready to go against UNI.
So a full-strength Iowa (8-3), having won its last three games (Iowa State, Wisconsin and Minnesota) will try to rekindle the good vibes against a Panther team that is capable of a challenge. The Panthers' only losses came to Iowa State, Creighton and South Dakota State. Two of those teams are ranked in the top 20, and SDSU is very capable.
Iowa State escaped Cedar Falls early in the season with a 3-point win after the Panthers shot .555 percent from the field and .455 from 3-point range. Both figures are way above average for UNI, but it shows what kind of challenge the Panthers can present if they get hot or the defense isn't up to snuff.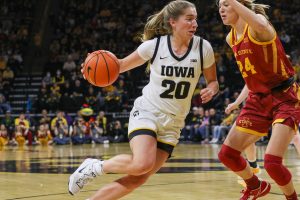 Bluder has been pleased with her team's defense lately. She thought the ISU game was Iowa's best performance overall. There have been some quarters that stood out as well, but she's looking for consistency.
"The kids understand the importance of it; they work hard at it," Bluder said.
UNI has a balanced lineup, but 6-foot-1 sophomore Grace Boffeli and 5-6 sophomore guard Maya McDermott lead the way. Boffeli leads the team in scoring (15.9 ppg) and rebounding (8.0 rpg). McDermott averages 13.8 points and shoots 39 percent behind the arc.
"Maya is extremely fast; she has great court savvy," Bluder said. "She hits threes at a very good rate. She can also penetrate. Grace Boffeli is a hard matchup. She's strong as a post, but if you put a post on her she'll drive. If you put a guard on her she'll post you up."
Guard Kam Finley averages 10.5 points and guard Emerson Green 9.7. Kayba Laube comes off the bench and shoots 42 percent from behind the arc.
The battle in the post will pit Iowa's Monika Czinano against UNI's 6-3 Cynthia Wolf, a matchup that Bluder likes.
This is the last game among the in-state Division I schools for Iowa, which has defeated Drake and ISU. UNI has 10 players from Iowa on its 12-player roster, and there's always a little more juice for these rivalry games than there is for most non-conference matchups.
"It's always fun. These in-state rivalry games bring a lot of emotion," Bluder said. "I think it's really good for your players to learn how to play with that extra emotion."