By Pat Harty
IOWA CITY, Iowa – Kaevon Merriweather has played his final game as an Iowa football player.
That became official when Merriweather announced Saturday on Twitter that he would skip the Music City Bowl against Kentucky on New Year's Eve to prepare for the 2023 NFL draft.
My immediate response upon seeing the news was more power to him.
His absence certainly won't help the Iowa defense because replacing a second-team All-America strong safety who has made 24 starts, which is the case with Merriweather, will be a daunting task.
But this is one time when Merriweather is putting himself before the team, and he has earned the right do that with his performance on and off the field.
As he says in his statement, the Iowa coaches took a chance on a basketball player from Michigan, and it was a decision from which both sides would benefit greatly.
Iowa was the only Power Five school that believed in Merriweather enough as a football player to offer him a scholarship.
Iowa defensive coordinator Phil Parker has a knack for seeing potential where other coaches don't see it and Merriweather is a perfect example.
Merriweather caught on quickly at Iowa, appearing in nine games as a true freshman in 2018, and then starting the 2019 season opener.
However, he injured his foot in practice the day before the second game of the 2019 season, and would go on to play in just two games before taking a redshirt.
Merriweather started five of eight games during the 2020 Covid-shortened season, and he has combined to start 19 games over the past two seasons, including all 12 games this season.
It was odd that he only made honorable mention All-Big Ten this season, while also being named second-team All-America by at least two major outlets.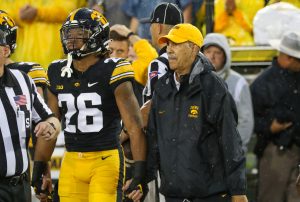 But those close to the Iowa program appreciate how much Merriweather has meant to the program, on and off the field.
He emerged as a team spokesperson and leader during the tumultuous summer of 2020 after multiple former Iowa black players had accused the Iowa football program of racial disparities.
Merriweather stood proud in his beliefs, and he tried to explain to Iowa fans on social media, and during interviews leading up to the 2020 season, his reasons for why he planned to kneel during the National Anthem.
Merriweather has been among a group of players that have knelt during the National Anthem over the past three seasons.
And though it has been upsetting to some fans, the team has made it work as players are now more receptive to different views and opinions.
Merriweather has helped to unify the team perhaps more than any player on the team.
His gift for gab, his high character and his unique perspective have made Merriweather the ideal spokesperson for the Iowa program in the wake of the racial controversy.
He also symbolizes Iowa football under Kirk Ferentz in that he was under-appreciated and lightly recruited, but would go on to prove the doubters and naysayers wrong, thanks to Phil Parker's vision and faith.
Reggie Bracy was listed behind Merriweather as the backup strong safety heading into the regular-season finale against Nebraska, but Bracy has since entered the transfer portal.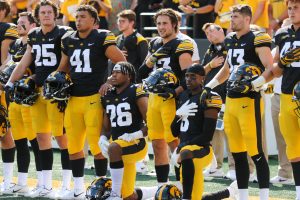 So, it could be Sebastian Castro or true freshman Xavier Nwankpa that gets to fill the void.
It was good to see so many positive responses from Iowa fans to Merriweather's tweet about skipping the bowl game.
There really is no right or wrong answer in cases like this where a substantial amount of money could on the line.
Iowa senior linebacker Jack Campbell certainly deserves high praise for deciding to play in the bowl game, but that doesn't mean Merriweather should be criticized for not playing.
Each player has to do what he feels is in his best interest.
Kaevon Merriweather has given his heart, soul and body to Hawkeye football for five years, but now he's doing what he feels is in his best interest.
Iowa and Kentucky will both be without multiple starters in the Music City Bowl, which is a sign of the times.
The portal is partly responsible for the roster departures, along with the 2023 NFL draft.
Kaevon Merriweather is chasing a dream that might have seemed beyond reach five years ago, and now his dream is evolving.
He could've easily left Iowa after the racial unrest, but he stayed the course and the program is in a better place now from a culture standpoint because of him.
Proverbs 3:5-6 – "Trust in the Lord with all thine heart; and lean not unto thine own understanding. In all thy ways acknowledge him, and he shall direct thy paths." pic.twitter.com/lEF6cWvTuT

— Kaevon Merriweather (@Kaevon02) December 17, 2022