By Pat Harty
IOWA CITY, Iowa – An Iowa fan, who asked to remain anonymous, was kind enough to share a holiday wish list consisting of 20 Hawkeye-sports-related wishes.
I found the list to be interesting and decided to share it with you readers.
So, in no particular order, this fan is wishing for:
Kris Murray to make a full recovery by the time the Iowa men's basketball team resumes Big Ten play against Nebraska on Dec. 29th in Lincoln, Nebraska. The 6-foot-8 junior forward, who leads Iowa in scoring and rebounding, wasn't using crutches, nor was he wearing a boot on his left foot as he watched last Saturday's game against Southeast Missouri State from the bench.
So, that would appear to be a sign of progress.
2. Senior linebacker Seth Benson and senior defensive linemen Joe Evans, Noah Shannon and John Waggoner to all decide to use their free Covid year and return next season because it'll be hard enough replacing linebacker Jack Campbell and defensive backs Kaevon Merriweather and Riley Moss on defense.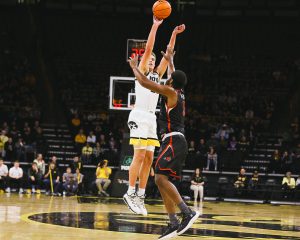 3. Payton Sandfort to break out of his shooting slump ASAP and become a valuable option for Iowa on offense.
Wait. That wish already came true, albeit for just one game as Sandfort scored a career-high 24 points in Saturday's 106-75 victory over Southeast Missouri State.
4. The Iowa football team to live up for a change to its undeserved reputation as a power running team. Iowa ended the regular season averaging just 97.3 rushing yards per game to rank last in the conference.
5. Cooper DeJean to expand his role next season by playing some at receiver. It takes a special player to contribute on both offense and defense at the Power Five level. But DeJean has shown signs of being special as a do-everything defensive back and punt returner, and Iowa desperately needs help at receiver.
6. Brian Ferentz to finally figure out how to make his father's offense work, so it isn't the worst offense in the country from a statistical standpoint, and a national punchline, and for his father to finally start to realize that the problems on offense go far beyond just playing better.
7. Cade McNamara to live up to the enormous hype that he is helping to feed.
8. Tight end Erick All to play at the same level for Iowa next season as he did for Michigan in 2021 when he had 38 receptions for 437 yards and two touchdowns for the Big Ten champion Wolverines.
9. Spencer Lee to stay healthy and become Iowa's only four-time national champion in wrestling.
10. Iowa men's basketball to reschedule a home-and-away series with both Drake and Northern Iowa.
11. Caitlin Clark to average a triple-double for a season.
12. The student-section at Carver-Hawkeye Arena to be moved to courtside and have the seats arranged horizontally rather than vertically as they are now.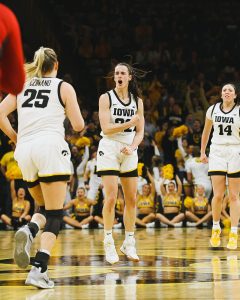 13. Heralded offensive lineman recruit Kadyn Proctor to do what is in his best interest, although, hopefully, and selfishly, he will stick with the Hawkeyes. But should he ultimately decide to flip to Alabama, as numerous recruiting gurus are now predicting, then good to luck him and sympathy for Hawkeye fans because this one will sting for a while.
But on the other hand, it's also just one player.
14. Nebraska fans to just once handle a head coaching hire in football with some reason and objectivity rather than proclaim that the former dynasty is now back again.
15. Iowa to land at least two proven receivers from the transfer portal that can come in and contribute immediately.
16. Junior center Josh Ugundele to develop to where he sort of makes the rotation and allows for Filip Rebraca to play some at power forward, which is his natural position.
17. The start of the college baseball season to be pushed back to April 1st.
18. Iowa women's basketball recruit Ava Jones to make a full recovery from the horrific accident that took her father's life, and in which she and her mother were seriously injured, and then actually play for the Hawkeyes at some point.
19. Iowa quarterback Spencer Petras to go on to have success and happiness in whatever he chooses to do after college.
20. The Iowa men's basketball team to either win the Big Ten regular-season title for the first time since 1979, or make it to the Sweet 16 for the first time since 1999. Or, better yet, both.