By Pat Harty
IOWA CITY, Iowa – Trailing by more than 20 points in the first half, and with one of its best players on the bench in street clothes, the Iowa men's basketball could've easily wilted under the pressure against No. 15 Indiana on Thursday.
But that didn't happen as Kris Murray and his cohorts orchestrated an incredible comeback that started late in the first half and carried to the second half, and the end result was a much-needed 91-89 victory at Carver-Hawkeye Arena that snapped a three-game losing streak and gave Iowa (9-6, 1-3) its first conference win.
Multiple players contributed to Iowa's comeback, but Murray and fifth-year senior forward Filip Rebraca and sixth-year senior guard Connor McCaffery led the way by scoring 30, 19 and 16 points, respectively.
This game was similar to Iowa's previous game at Penn State in that Hawkeyes also fell behind early against the Nittany Lions before storming back in the second half, only to fall short as Penn State prevailed 83-79 last Sunday at home.
Kris Murray scored 32 points against Penn State and the Cedar Rapids native has scored at least 30 point in back-to-back games.
"You've got to figure out a way to win some of them, and it's going to come down to a lot of times your veteran guys and the decisions they make and how they help the young guys along," said Iowa coach Fran McCaffery.
Iowa was leading 87-86 when Indiana brought the ball past half court and then called a timelout with 20.4 seconds left to play.
Freshman guard Jalen Hood-Schifino then had his shot blocked on a drive to the basket and Kris Murray grabbed the rebound and was fouled with 10.2 seconds remaining.
Murray then made both free throws to give Iowa an 89-86 lead.
Indiana answered with two free throws, and then Payton Sandfort was fouled with 6.5 seconds left to play.
The Waukee native made both free throws and that proved to be enough as Iowa completed the improbable comeback during what has been an emtional week with junior forward Patrick McCaffery, who averages 12.8 points per game, having taken an indefinite leave of absence due to his ongoing struggle with anxiety.
The game ended with Kris Murray tossing the ball towards the roof after having caught a long inbounds pass from Connor McCaffery.
Iowa was also in danger of falling to 0-4 in conference play, but the players refused to lose.
"It does a lot. We beat a really good team," said Rebraca, who also had 10 rebounds. "It shows us that we can play with the best teams in the country.
"Even though we were 0-3, we beat a really good team and now we understand that we can play with anyone."
Iowa will face another real good team when it plays at Rutgers on Sunday.
Kris Murray played the entire 40 minutes against Indiana after having played from start to finish against Penn State in the previous game.
He scored 21 of his points against Indiana in the second half and also finished with 10 rebounds.
"It was definitely a physical game and it's tough playing forty minutes like that, but I knew my team needed me to do it," Kris Murray. "I just had to dig down and find another gear to be able to finish on both sides of the ball, offense and defense."
The game in addition to being physical was also chippy at times, especially in the second half when Connor McCaffery had to be held back from confronting an Indiana player.
Fran McCaffery was called for a technical foul in the first half, and he also had to be restrained from approaching the Indiana bench during a heated exchange in the second half.
"It was definitely a chippy game," Kris Murray said. "It's one to those things, it's an emotional game and sometimes emotions get the best of you, especially us players."
And while Iowa's veteran players helped lead the way to a win on Thursday, freshman guards Josh Dix and Dasonte Bowen also made key contributions on both ends of the floor, while Sandfort scored seven crucial points in the first half when Iowa was struggling.
"His buckets early when we were struggling were a big part of this victory," Fran McCaffery said of Sandfort.
Iowa was trailing 23-4 when Sandfort hit a 3-point shot with about 14 minutes left in the first half.
That ended a 15-0 Indiana scoring, but the Hoosiers answered with five consecutive points.
Kris Murray then made a 3-point basket from near the top of the key that trimmed the deficit 35-26 with 8 minutes left in the first half.
His basket also brought the fans to their feet, as did a basket by Tony Perkins that cut the deficit to 45-37 with slightly more than 2 minutes left before halftime.
Rebraca then a made a traditional 3-point play that cut the deficit to 45-40 with 58.3 seconds left in the first half.
Carver-Hawkeye Arena was rocking at that point, but then Indiana scored the final five points of the first half and led 50-40 at the break.
The Hoosiers shot a blistering 65.5 percent in the first half, making 19-of-29 field-goal attempts, while Iowa made 16-of-37 shots in the first half.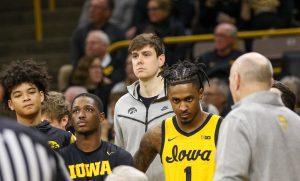 But for Iowa to only trail by 10 points at halftime after having trailed by 21 points was cause for some optimism.
Indiana also suffered a blow when starting forward Race Thompson was helped off the court with an apparent leg injury late in the first half and didn't return.
Thompson had made all four of his field-goal attempts and had nine points when the injury occurred.
Senior forward Trayce Jackson-Davis led the Hooisers with 30 points and nine rebounds.
Hood-Schifino was the only other Hoosier to score in double figures with 21 points, while Iowa had five players score in double figures as Sandfort and Tony Perkins finished with 11 and 10 points, respectively.
"Trayce is a handful," Fran McCaffery said. "They go to him, which anybody would. You're going to go to him. He's a veteran guy. He has tremendous athletic power, strength size and and strength.
Iowa also turned to its veterans with the game slipping away and they respended in impressive fashion, with help from the younger players.
"We got the Wisconsin game to overtime," Fran McCaffery said of the 78-75 loss to Wisconsin in the Big Ten opener. "We got the last possession and didnt score at Penn State.
"So, being able to finish one off and have sort of jubilant locker room I think is really important."