By Susan Harman
An old saying goes, "There are three kinds of lies: lies, damned lies and statistics."
So with that warning, here are some statistics that may partially explain Iowa's 90-86 loss at Illinois on Sunday.
Iowa's top scorers, All-American guard Caitlin Clark and All-Big Ten center Monika Czinano, took 44 of Iowa's 64 shots in that game. That's 69 percent of the shots. They scored 65 percent of Iowa's points.
Those numbers are anomalies.
"That's too many; that's a lot," Iowa coach Lisa Bluder said. "Obviously they are going to get a lot of our shots. But 70 percent is obviously too much. We're too easy to guard if we only have two players."
Every game is different in terms of matchups and what Iowa might want to try to exploit, and that's what initially determines where the shots will come from. A player can get hot, like Kate Martin did against Connecticut or McKenna Warnock did against Purdue, and her teammates try a little harder to get her more shots.
"That's what we've been trying to strive for all year long," Bluder said. "You don't want to be a two-person team. As soon as we can get Gabbie (Marshall) on track, obviously, that will help us out a lot."
Iowa thought it had an advantage in the post and kept feeding Czinano, who finished with 24 points. The Hawkeyes were not counting on Illinois senior post Kendall Bostic playing a near-perfect game, scoring 17 points while making all seven of her shots, blocking three and grabbing 12 rebounds.
Clark, who scored 32, made 7-of-14 threes but was 4-of-13 from inside the arc.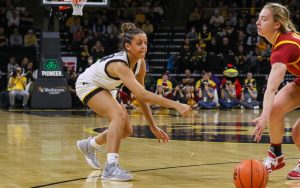 What Iowa didn't do was get enough shots for the other perimeter shooters like Martin, Warnock and Marshall or create inside for Hannah Stuelke. Some of that was Illinois' defense, but some was Iowa trying to force the issue.
Last season in Big Ten play, Clark and Czinano shot a combined 55 percent. They took .557 percent of Iowa's shots and accounted for .591 percent of Iowa's made baskets. Clearly Iowa wants these two stars to take the bulk of the shots, but it can't be as lopsided as it was at Illinois.
Without taking away from Iowa's need to run and score in transition, the Hawkeyes need to show some patience and ease up on the accelerator to eliminate forced shots or tempting threes early in the shot clock. Iowa had 14 turnovers that led to 18 Illinois points.
Bluder noted this same tendency after Iowa beat Northern Iowa.
"I love it when we push (the ball) because I think we are really good in transition, but we also have to understand, 'OK, if it's not there let's bring it out and dissect the defense.' And we didn't (adjust) the tempo from one speed to another," she said. "We were going one speed."
The other obvious culprit was Illinois' 22-10 run to close the second quarter, creating a lead the Fighting Illini never relinquished. The Illini scored in 10 of their last 11 possessions to close the half. That run included three 3-point baskets and several in transition.
Opponent quickness has been one of Iowa's bugaboos for some time, and Illinois has three guards that gave the Hawkeyes fits. Illinois beat Iowa down the floor and beat the defense to the basket in the half court.
"Our transition defense was not as good as it's been," Bluder told her radio show audience Monday. "We're not going to make ourselves faster, so we have to make ourselves smarter."
No. 14 Michigan (13-2), which plays host to 16th-ranked Iowa (11-4) Saturday, is built differently than Illinois, but the fundamentals that Bluder has stressed all year (rebounding, help-side defense, moving without the ball) will be paramount.
The last time Iowa saw Michigan it was in front of a sellout crowd that was able to celebrate a Big Ten regular-season championship with the 104-80 victory. That loss knocked Michigan out of the championship picture and gave Ohio State a share of the title. In that game Iowa made 16 3-point shots. While that's  unlikely to happen again, there are other ways to score and better ways to defend.
IOWA NOTES:  Bluder said Hannah Stuelke is now the top substitute in the post for Iowa. The Hawkeyes tried a number of players throughout the non-conference season, but the freshman has won the job.
"We just base it on who we think are the best players," Bluder said. "You want your best players on the floor. Right now Hannah has proved she's in our top six or seven. So we're just trying to find other ways, additional ways to keep her on the floor."