By Pat Harty
IOWA CITY, Iowa – It was near the end of our segment with Don Patterson on Wednesday when he was asked a question that sort of put him on the spot.
Does Kirk (Ferentz) need to get out of his comfort zone and say, yep, I need to modernize my offense? Or do you think if they execute, they can run Kirk's offense and play winning football?
"I think it would help if we expanded our offense and have more plays available to us," Patterson said on a rare Wednesday appearance on the Hawk Fanatic radio show and podcast. "We need to be more difficult to defend, and part of that is challenging the opponent with the plays that you run and how to get ready for them all.
"That's my opinion."
Patterson usually appears on Mondays during the football season, but he switched to Wednesday for his final show of the 2022 season since the national championship game was played just two days ago.
He talked about Georgia's 65-7 thrashing of Texas Christian University in the national championship game, about Iowa's performance in the transfer portal so far this season, and about the much-maligned Iowa offense that finished the 2022 ranked 130th among 131 teams in total offense.
Patterson believes strongly that the addition of Cade McNamara will help considerably on offense because McNamara has proven himself at the Power Five level after having led Michigan to the 2021 Big Ten title, and to the college playoff as its starting quarterback.
But Patterson, obviously, still has concerns about the Iowa offense and he was willing to voice some of those concerns on Wednesday's show, even though it wasn't easy for him because Patterson considers Kirk Ferentz a close friend and respects him dearly.
It probably was awkward for Patterson to discuss publicly the shortcomings on offense, especially since Kirk Ferentz's son, Brian Ferentz, is the offensive coordinator.
You won't find a bigger Iowa football fan than Don Patterson, who was a member of Hayden Fry's coaching staff throughout Fry's 20-year reign as the Iowa head coach from 1979 to 1998, including the last 10 seasons as offensive coordinator.
Patterson and Kirk Ferentz also worked together on Fry's staff at Iowa from 1981 to 1989 with Ferentz coaching the offensive line during those nine seasons.
Patterson still has access to Iowa football practices, and he admires Kirk Ferentz for what he has accomplished at Iowa, on and off the field.
But Patterson also sees an Iowa offense in disarray and he was willing to share how he thinks the offense could improve.
In addition to his time at Iowa, Patterson was also the head coach at Western Illinois from 1999 to 2009, and an assistant coach at both UCONN and Buffalo before retiring.
So, he certainly knows his share about running an offense and about calling plays.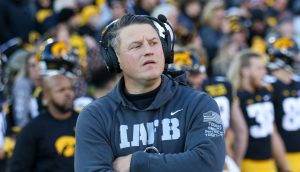 "I've been doing it for years, not just at Iowa, but also at Western Illinois and we were difficult to defend because we ran a lot of different plays," Patterson said. "You pick and choose. You don't prepare them all for any all games. You pick and choose which plays you're going to run from week to week.
"There were times in game six when we'd pull out a play that we had ran since game two. But we're going to use this weekend because it applies again, just like it did back in week two."
Patterson didn't go as far as to say that Kirk Ferentz should overhaul his entire offense, nor did Patterson say that Kirk Ferentz should make any coaching changes.
Patterson just wants the Iowa offense to be more difficult to defend and he believes that expanding the play calling would help in that regard.
There were times during the 2022 season when Patterson questioned Iowa's lack of aggressiveness and imagination on offense.
He was always careful not to be too critical because of his respect for Kirk Ferentz, and because of his loyalty to Hawkeye football.
However, it doesn't take a person with Don Patterson's knowledge to realize that Iowa has serious issues on offense.
Because right now, Iowa is way too easy to defend.