By Pat Harty
IOWA CITY, Iowa – Payton Sandfort was so determined to break out of a shooting slump that he recently reached out to Iowa women's basketball player Gabbie Marshall, who also was struggling to make shots.
"I was watching one of their games, and I was like, dang, every time she misses, I was like, yeah, I feel your pain," Sandfort said Wednesday before practice. "So, I reached out to her and we talked about it and we were going to come together and burn something, find something that works, a slump buster."
Sandfort said they wanted to burn something in Carver-Hawkeye Arena, but were advised against it since it would have obviously been a fire hazard.
"They said there was some fire problem," Sandfort said. "That does make more sense."
But even without burning something, Sandfort finally broke out of his shooting slump in last Sunday's 76-65 victory at Rutgers when he scored a season-high 22 points and made 4-of-5 shots from 3-point range.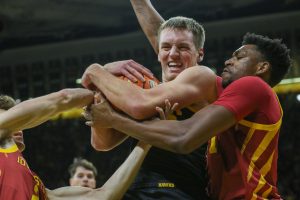 The 6-foot-5 Waukee native nows looks to stay hot against Michigan on Thursday at Carver-Hawkeye Arena.
Sandford credits his parents, his younger brother, Pryce Sandfort, and his grandfather for helping him to persevere during tough times.
Pryce Sandfort, a 6-7 high school senior, has signed a letter of intent with Iowa and will join his brother as a Hawkeye next season.
"I was talking to them on the phone like every night, and talked to my brother and stuff like that," Payton Sandfort said. "They kind of told me they still loved me, which is nice to hear.
"It was just really good. They were college athletes and have been through it. So, they had all the right words and they kept encouraging me and they knew it was going to break."
Sandfort also turned to his grandfather for support and guidance.
"I'd throw him in there with my parents because I talked to him all the time, too," Sandfort said of his grandfather.
The more shots that Sandford missed during his slump, there more pressure he felt.
"I was pressing pretty bad feeling like every shot had to go in and the weight of the world was on my shoulders," Sandfort said. "So, it was more of a mental battle than anything mechanical."
The challenge now for Sandfort is to build on his performance at Rutgers because Iowa needs him to be a perimeter scorer.
"I was listening to a lot of different people, but most of the battle was just personal, a lot of internal thoughts that were kind of weighing on shoulders every time I would catch the ball in rhythm," Sandfort said. "So, getting rid of those is still an ongoing battle, but I'm starting to win it."
One thing that didn't change during his shooting slump was Fran McCaffery's belief in Sandfort as a shooter.
"It's something special the confidence he gives his players," Sandfort said of Fran McCaffery.
"It was a weird stretch. It wa something I never really had gone through before. So, I'm kind of thankful for it. It kind of opened my eyes on some things that kind of needed some work.
"I'm really hard on myself, and it was nice to kind of have some people tell me like it;s going to be okay."
"There were a lot of different people, sports psycologiest, coaches, family members and it just came down to me connecting with who I am, connecting with God and connecting with what makes me who I am and getting back to that, and that opened up the basketball side of it."