By Pat Harty
IOWA CITY, Iowa – There apparently are some under-sized and over-matched players from the Iowa City Recreation Center that deserve at least part of the credit for Filip Rebraca's success this season.
"You have to put yourself in uncomfortable situations," Rebraca said Wednesday before practice. "I've been uncomfortable last year, and then you also have to do stuff that pushes yourself and slowly builds your confidence, which I did.
"I played at the Rec Center and played with like 5-feet-8 people. So, the level of competition wasn't the greatest last summer. But I slowly built up my skills and techniques and that's what gave me the confidence."
Rebraca knew that without former All-America forward Keegan Murray on the roster that he would have to play a bigger role for Iowa on offense this season.
And so far, the 6-foot-9 Rebraca has met the challenge in impressive fashion as he is averaging 14.5 points and 8.1 rebounds heading into Thursday's game against Michigan at Carver-Hawkeye Arena.
Rebraca has scored at least 15 points in five of Iowa's last six contests. And over the last eight games, he is averaging 18.8 points, 9.5 rebounds, 2.6 assists, 1.3 blocks, and 0.9 steals, while shooting an impressive 64 percent (59-of-92) from the field.
He also needs just four rebounds to reach 1,000 in his career.
Rebraca, who played his first three seasons at North Dakota, was asked Wednesday if this is the best he has ever played.
"I certainly would say yes just because of the level I'm at," Rebraca said. "Maybe at North Dakota I had games where I scored more, but just because I'm doing it against the best players in the country, I would say yes."
Rebraca started all 36 games for Iowa last season and was a force on the boards and as a defender for a team that won the Big Ten Tournament and 26 games overall.
However, he only averaged 5.8 points per game last season because he wasn't asked to do much on offense.
But with Keegan Murray having moved on to the NBA, and with point guard Jordan Bohannon having exhausted his eligibility, Iowa needed some players to step up on offense, and Rebraca so far has met that challenge to no surprise of Iowa coach Fran McCaffery.
"It was in there. He had already proven it at the collegiate level," Fran McCaffery said. "He just didn't prove it in the Big Ten from an offensive standpoint. From a defensive and rebounding standpoint, from an execution and basketball IQ standpoint, he was terrific last year. There's no way we win 26 games without him in the starting lineup.
"I think going through the league and having another summer with us, another couple cycles in the weight room, from his confidence and understanding of what this level is standpoint, he has it figured out."
Rebraca had the daunting task of replacing All-America center Luka Garza last season.
And while their games are different, Fran McCaffery still sees a lot of similarities between the two, starting with their work ethic.
"Very similar, and just kind of zero maintenance in that respect," Fran McCaffery said. "You didn't have to remind him, hey, are you getting shots up, are you getting a lift in.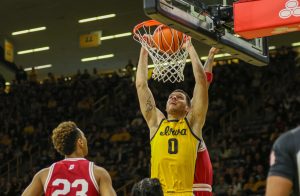 "They just take care of their business and just keep grinding. It's really a pleasure to coach guys like Filip."
Rebraca was flattered to hear that his head coach had compared him to Garza in terms of their work ethic.
"He's such a great player, I don't know what to say, really," Rebraca said. "It's really cool that he sees my work ethic like that."
Rebraca credits much of his success to his father, Zeljko Rebraca, a former center from Serbia who played in the NBA from 2001 to 2007 with three different teams.
Rebraca also credits growing up in Serbia for making him tougher as a basketball player.
"I feel like every morning I wake up there's a new spot that hurts," Rebraca said. "After Indiana, it was my right shoulder. After Rutgers, it was my left shoulder. And now they both hurt.
"So, I wake up every morning and there is a new spot that's sore. But you've just got to battle through it. I feel like that's where my Serbian toughness comes in."
Rebraca appears to have made his biggest strides on offense from a mental standpoint.
He had the skills to be a scorer when he came to Iowa, but he lacked confidence.
Rebraca also had to adjust to playing the center position when he is probably more suited to play power forward.
"I felt like last year I didn't have to do it," Rebraca said of scoring. "But also my confidence wasn't there to do it. And so that's what I've been talking about all summer, all year, it's mostly up here. So, that's one aspect that I've switched up and that's why I feel I've been a surprise in there."
As for Thursday's game against Michigan, Rebraca will be matched against one of the top centers in the Big Ten in 7-0 Hunter Dickinson.
"He's a really good player and you can't give him any angles," Rebraca said. "What's really hard is he's going to find those angles.
"So, you'v just got to always play him tough and physical. He's an amazing player with an amazing touch at that size."
Iowa has won back-to-back games against Indiana and Rutgers after starting 0-3 in Big Ten play.
Rebraca's contributions on both ends of the floor, and as a team leader, have been crucial in the turnaround.
"The only way you earn respect is by how hard you play," Fran McCaffery said. "Now, at some level you have to be somewhat productive, but you can be a little less productive if you're a worker and you're a character guy every minute of every day, which he is. But he also has a real good sense when he's communicating at the five-spot that he's communicating accurate information. We talk about that all the time. Don't be out there running your mouth if you're not 100 percent sure what you're saying and the information you're giving to your teammates is what we want.
"He was good last year, but he was probably quieter as he's trying to figure out where he's supposed to go. If you're going to tell everybody elsewhere to go, you'd better know where you're supposed to go."
Michigan (9-6, 3-1) vs. Iowa (10-6, 2-3)
When: Thursday, 6 p.m.
Where: Carver-Hawkeye Arena
TV: ESPN2
Radio: Hawkeye Radio Network
All-time series: Michigan holds a 98-66 edge in the series. The two teams split last year's two mee! ngs with each team winning on the opponent's home floor. Iowa owns a 40-38 edge in games played in Iowa City. The Hawkeyes hold a 19-15 advantage in games played in Carver-Hawkeye Arena. The Wolverines won last year's contest in Iowa City (84-79) on Feb. 17, 2022. Four of the last 11 Iowa-Michigan games played in Iowa City have gone to over! me, da! ng back to 2009.