By Pat Harty
IOWA CITY, Iowa – From 0-3 in Big Ten play to 3-3 and now soaring, the Iowa men's basketball team is on a mini roll, thanks largely to Payton Sandfort's offensive resurgence.
The sophomore from Waukee scored 24 of his career-high 26 points in the second half and overtime as Iowa erased a 10-point deficit in the second half against Michigan to prevail 93-84 on Thursday at Carver-Hawkeye Arena.
Iowa junior forward Kris Murray and Michigan freshman forward Jett Howard, who is the son of Michigan head coach Juwan Howard, both put on quite a show for the multiple NBA scouts that were in attendance as they finished with 27 and 34 points, respectively.
But it was the 6-foot-7 Sandfort who made the biggest plays with the game on the line.
Iowa was trailing 79-75 when Sandfort made a four-point play with 20.7 seconds left in regulation. He was fouled while making a 3-point shot from near the top of the key.
Sandfort also grabbed a shot by Kris Murray in overtime that was partially blocked and then made an off-balance putback shot.
"I knew the shot clock was low so I just kind of caught it and threw it up there and got my legs taken out," Sandfort said.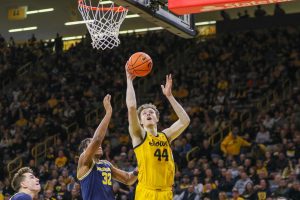 Sandfort then capped his offensive outburst by making two free throws with 14.3 seconds left in overtime to help secure the win as Iowa improved to 11-6 overall and 3-3 in the Big Ten heading into Sunday's game against Maryland at Carver-Hawkeye Arena.
Sandfort and his cohorts have come a long way since trailing Indiana by 21 points in the first half of a game that Iowa would go on to win 91-89 on Jan. 5 at Carver-Hawkeye Arena.
"Just getting us back to .500 in conference, I mean a week-and-a-half ago everybody was in the dumps," Sandfort said. "We were down what, 28-7 against Indiana.
"So, it feels a lot better now and we've just got to keep grinding. It's just one game, but it feels pretty good."
Sandfort had been mired in a shooting slump for much of the season, but he broke out of it in last Sunday's 76-65 victory at Rutgers when made four 3-point shots and scored 22 points.
"I'm just trying to stay with it and now I'm back in a groove in practice," Sandfort said. "I think everyone around me knew it was going to click at some point.
"So, I'm really proud of myself for sticking with it and I'm glad we got here."
Sandfort's teammates were also proud of his performance, especially Kris Murray.
"There's no one I'm more happy for than Payton," Kris Murray said. "He deserves every bit of it, clutch shot after clutch shot in these last two games, and especially the four-point play. It was huge."
Iowa had multiple players that made significant contributions, including freshman guard Josh Dix, who played a season high 31.11 minutes off the bench and scored 10 points and dished out five assists while playing both guard positions.
Dix also had just one of Iowa's six turnovers as a team.
"I just kind of played my role," Dix said. "Whatever they need me to do, I just go out and do."
Senior forward Filip Rebraca recorded a double-double with 13 points and 12 rebounds despite being in foul trouble, while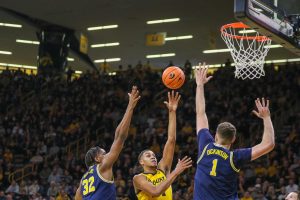 seldom-used sophomore center Riley Mulvey finished with four points, two rebounds and one steal.
The 6-foot-11 Mulvey also helped to defend Michigan center Hunter Dickinson, who scored 12 points, but only took six shots from the field.
The mood after Thursday's victory was a dramatic change from how the players felt after the 93-82 loss to Eastern Illinois on Dec. 21 at Carver-Hawkeye Arena.
Some wondered if the team was on the verge of unraveling, but those fears have been erased.
"I think we got a lot of our swagger back that we didn't have before," Kris Murray said. "Guys are playing well and just feeding off each other. The chemistry is great.
"It's a team that didn't stop believing, even when we went on a little skid."
There were six lead changes and five ties in the first half, which ended with Michigan leading 43-40, and with Jett Howard having scored 21 points on 8-of-11 shooting from the field.
Kris Murray also stuffed the stat sheet in the first half with 15 points, five rebounds and one block while playing the entire 20 minutes. Murray would go on to play the entire 45 minutes.
"I'll be laying horizontal for a lot of the day tomorrow," Kris Murray said.
Dix also played a key role in the first half with eight points, including two 3-point baskets.
However, he left the game late in the first half after taken a shot to the nose from Jett Howard as Howard drove to the basket.
Iowa fans clearly felt that Howard had committed a foul, but the officials felt differently.
Dix would prove to be okay, however, as he played over 23 minutes in the second half and overtime.
Both teams executed at a high level on offense in the first half, combining for just seven turnovers, including four by Iowa.
But both teams also struggled to get stops on defense as Michigan shot 52.9 percent from the field in the first half, while Iowa made 6-of-14 shots from 3-point range in the first half.