By Pat Harty
IOWA CITY, Iowa – Just two days after his older brother had torched the nets at Carver-Hawkeye Arena, Pryce Sandfort did the same thing across town at Iowa City High School on Saturday.
The 6-foot-7 senior made eight 3-points baskets and scored 40 points to lead Waukee Northwest to a 68-62 victory over the Little Hawks.
Pryce Sandfort scored 29 points in the first half, while his older brother, Iowa sophomore forward Payton Sandfort, scored 24 of his career-high 26 points in the second half and overtime of this past Thursday's 93-84 victory over Michigan.
"It was great. I'm looking forward to playing here more often," Pryce Sandfort said of playing in Iowa City.
Pryce Sandfort put on quite a show for Iowa head coach Fran McCaffery, who attended Saturday's game at City High.
"Some of my teammates told me he was here," Pryce Sandfort said. "But I never even looked in the crowd and saw him. But to know he was there, and I put on show a little bit."
Several Iowa players also attended Saturday's game, including, of course, Payton Sandfort, along with his parents.
"It was awesome that they all came out to support," Pryce Sandfort said. "It means a lot to me when all those guys come out like that."
Payton Sandfort has combined to score 48 points in Iowa's last two games after having been in a shooting slump for much of the season.
Payton Sandfort credits his family, including his younger brother and future Iowa teammate, for helping him to persevere during the slump.
Payton Sandfort will look to stay hot when Iowa (11-6, 3-3 Big Ten) faces Maryland on Sunday at Carver-Hawkeye Arena.
"He's such a great player that he was eventually going to come out of it," Pryce Sandfort said. "I just tried to keep his confidence up and tell him we're always there for him ,and eventually he's going to come out of it and he did."
Pryce Sandfort plans to attend the Maryland game on Sunday, along with his parents.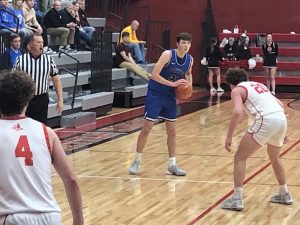 Iowa has won three games in a row after starting 0-3 in Big Ten play, and Payton Sandfort's resurgence on offense has been a key factor.
Pryce Sandfort watched the Michigan game at his house in Waukee, along with his girlfriend.
"My whole family was there, and it was just me and my girlfriend at home and I was just jumping up and down and screaming with the house by myself," Pryce Sandfort said.
Pryce Sandfort is among four high school seniors that have signed a letter of intent with Iowa.
The others are 6-10 forward Owen Freeman, 6-0 point guard Brock Harding and 6-8 forward Ladji Dembele.
Freeman and Harding are high school teammates in Moline, Illinois, while Dembele attends St. Benedict Prep in Newark, New Jersey.
Moline High School had a game on Saturday night in Moline, and both Sandfort brothers were planning to attend.
"I'm headed out there tonight to watch the game," Pryce Sandfort said. "I keep talking to (Owen and Brock) about their games and stuff.
"So, I'm excited to get to play with them. I'm looking forward to watching Ladji play, too."
And while he looks forward to being a Hawkeye, Pryce Sandfort still has some big goals to accomplish in high school.
"I'm really excited to get there, but I've got some unfinished business here first, and that's a state title and that's my main focus right now," Pryce Sandfort said.
Waukee Northwest won a state title two years ago when Payton Sandfort was a senior and Pryce a sophomore.
Pryce Sandfort's grandfather also still holds the Waukee single-game scoring record of 46 points.
"I'll eventually get there," said Pryce Sandfort, whose career high is 42 points.
Pryce Sandfort will likely play small forward at Iowa, but he could also play shooting guard because of his ability to make 3-point shots.
He is working on every facet of his game to help his high school team, and to prepare for being a Hawkeye.
"I'm just keep working on everything really, defensively, staying in front, getting quicker laterally, ball-handling and getting down hill more, and just finishing at the rim," Pryce Sandfort said.
Pryce Sandfort, obviously, has worked a great deal on his 3-point shot as he made it look easy on Saturday while draining threes from all over the court.
He was asked after Saturday's game who would win a 3-point shooting contest between him and and his brother.
"Me," Pryce Sandfort said without hesitating.