By Pat Harty
IOWA CITY, Iowa – College student-athletes are now finally getting a much-deserved piece of the financial pie in this new era in which they can make money from their name, image and likeness.
Unless you're Filip Rebraca and most foreign players.
College athletes from foreign countries have been left out of the rush for endorsement deals because student visa rules largely prohibit off-campus work while in the United States.
Rebraca, a 6-foot-9 senior forward on the Iowa men's basketball team, and a native of Sombor, Serbia, was asked before practice on Thursday if it's frustrating not being able to cash in on his name, image and likeness.
"Of course, it is," he said. "It's definitely frustrating because I kind of feel that I'm being left out of it all seeing other players, not just my teammates, but also other players around the country earning money here and there.
'I'd like to have a little of that as well and buy myself a nice pair of shoes every once in a while, stuff like that."
Rebraca played his first three seasons at the University of North Dakota before transferring to Iowa as a graduate student.
He will make his 55th consecutive start for the Hawkeyes when they play at Ohio State on Saturday, and is averaging 13.8 points and 8.7 rebounds per game.
Rebraca has reached double figures in scoring 11 of the last 12 games, including scoring at least 15 points in five of Iowa's last eight games. Over the last 10 games, Rebraca is averaging 16.7 points, 9.2 rebounds, 2.5 assists, 1.3 blocks, and 0.8 steals, while shooting  61 percent (63-of-104) from the field.
Rebraca also pulled down career rebound No. 1,000 last Thursday against Michigan.
With his success this season, and with how hard he plays, Rebraca has become a fan favorite, which is obvious every time he is introduced as a starter for home games as the fans cheer loudly.
"It is what it is, but I'm here primarily to play basketball," Rebraca said. "That's kind of my main focus, and it is what it is, and I know it's not going to get resolved while I'm still in college.
"So, I can't really fight it too much. I can bring awareness to it for future foreigners that maybe get paid. But for me, I don't think there is a solution right now. I'm too early to the whole NIL thing, I guess."
Iowa has an NIL collective called the Iowa Swarm that raises money for football and men's and women's basketball players. It has more than 1,500 members and money raised by the Swarm reportedly played a key role in the Iowa football team landing former Michigan quarterback Cade McNamara from the transfer portal.
There is a loophole that other foreign players are now using that allows them to profit off their name, image and likeness outside of the United States.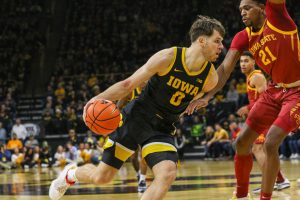 Rebraca referred to Kentucky center Oscar Tschiebwe as an example.
The Athletic recently reported that Tschiebwe will earn about $500,000 from deals in which he participated while in the Bahamas.
The Athletic also reported Tshiebwe applied for a different visa status — one meant for international celebrities rather than students.
So, there are loopholes and ways to work around the restrictions, but Tshiebwe is also the reigning Naismith National Player of the Year, and that gives him a lot of appeal and influence.
"If I were to leave the country and then come back, I guess I could do that and earn money outside of the US," Rebraca said. "But that is a big pain, and I'm guessing he had a lot of help.
"Of course, he's a lot bigger profile than I am. So, I'm sure he had a lot of help get around those things."
Foreign student-athletes can use their name, image and likeness to raise money for charities as Iowa star punter Tory Taylor did in raising $11,000 for a nonprofit called "Count the Kicks" that helps to raise awareness and prevent still births.
Rebraca said he considered going the charity route last season, but he had yet to establish a name for himself as a Hawkeye, while Tory Taylor has been one of the top punters in the nation over the past three seasons.
Rebraca averaged just 5.8 points and 5.6 rebounds per game last season.
"I was thinking of doing charity stuff, but last year I didn't have a great year to my standards," Rebraca said. "I wasn't really a fan favorite last year. I didn't think I should do that last year.
"But this year I thought about it, but I'm not really sure how to go about it. So, I maybe need more help with that."
Rebraca said he plans to investigate ways to profit off his name, image and likeness after he finishes college.
"We're going to try to find ways, not necessarily NIL stuff, but I don't know, collective stuff and try to figure out if I can earn some of that after I leave," he said. "But right now nothing. I get nothing. I don't get paid for NIL. I can't do NIL stuff."
As for how to change the rules that prohibit foreign players to make money from NIL, Rebraca said he isn't quite sure, but he hopes the United States government will step up.
"I don't know how it's supposed to be resolved because that's up to the US government," Rebraca said. "It's up to them to change the laws in order for (foreign) players to earn money."
Patrick McCaffery update:  Junior forward Patrick McCaffery has returned to practice and is making steady progress, according to Iowa head coach Fran McCaffery, who is also Patrick's father.
Patrick McCaffery has missed the last four games while on an indefinite leave of absence due to struggles with anxiety.
"He's doing a lot better," Fran McCaffery said. "He practiced the other day, and looked good, and he'll practice today.
"So, we'll see if he's ready to go."
Mini break: Iowa hasn't played since defeating Maryland 81-67 last Sunday at home, and will have had nearly a week to prepare for Saturday's game at Ohio State after its game against Northwestern this past Wednesday at Carver-Hawkeye Arena was postponed due to Covid-19 related health issues within the Northwestern program.
The Northwestern game has since been redscheduled for Tuesday, Jan. 31 at 8 p.m. at Carver-Hawkeye Arena.
"Just get ready for the next one," Fran McCaffery said. "We've done this before.
"Last year we couldn't go to Ohio State. The year before we had Nebraska. They got hit with COVID. No big deal."