By Pat Harty
IOWA CITY, Iowa – One of many reactions after watching the Big Ten's Network's documentary on Chris Street, besides being reminded about the overwhelming grief, is that Iowa was so fortunate to have Tom Davis as head coach at the time.
Davis coached at Iowa for 13 seasons from 1986-99 and led the Hawkeyes to nine NCAA Tournament appearances where he never lost a game in the first round.
He led Iowa to the Elite Eight in 1987 and that team also set the program record with 30 wins, a record that still stands to this day.
But as impressive as all that is from a success standpoint, Tom Davis did his best coaching and his best leading in those heartbreaking weeks following Chris Street's death in an automobile accident on Jan. 19, 1993 on the outskirts of Iowa City.
Because Davis wasn't just a head coach during those tough times.
He was a father-figure, a source of strength and courage, and a stabilizer in a world that had been rocked beyond belief.
The fact that Iowa would go on to finish 23-9 and make it to the second-round of the NCAA Tournament despite losing arguably its best player midway through the 1992-93 season speaks volumes about what Davis accomplished on the court.
It was what he did away from the court, however, that was most impressive.
The soft-spoken Davis held a group of young men together at a time when life seemed cruel and didn't make a lot of sense.
"I've said this many times that I think he's the only coach that could have got us through that," said Kenyon Murray, who was a freshman on the 1992-93 team, and one of Chris Street's closest friends. "Just from the standpoint coach always has the pulse of the team, whether it was what we needed to do in practice, what we needed to do in the games, and what we needed even after the season as far as engaging and being student-athletes.
"He just always knew what we needed as a team and what we needed to keep us together and kind of move us forward."
Davis would undoubtedly try to deflect this kind of praise because that's just the way he's built. He always tried to deflect attention away from himself to his players.
But make no mistake, Davis was the leader at a time when leadership was so desperately needed.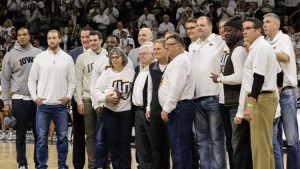 He was a pillar of strength from which the players fed off just to get through those brutal days after the tragedy.
Multiple players have said over the years that Tom Davis held the team together with his love, compassion and resolve.
Some also have said that Street's death changed Tom Davis forever.
Former Iowa player Jess Settles said that on the Hawk Fanatic radio show and podcast on Wednesday.
Settles wasn't on the 1992-93 squad, but he had signed with Iowa as a high school senior and spent a lot of time around the players and coaches.
Settles told a story on Wednesday about two players being late for practice during his freshman season.
That would have normally drawn the ire of coach Davis, but there was a new normal in the wake of Street's death.
Instead of being angry at his players, Davis was just relieved that they had made it to practice.
Davis said on the Big Ten Network's documentary that other coaches reached out to him in the years after Street's death for advice on how to handle tragedies.
Davis led by example in this tragic case.
He had a group of young men that were devastated and that needed love and guidance to help cope with the overwhelming sadness.
Tom Davis stepped up in the face of tragedy and excelled as a leader.
The University of Iowa should forever be grateful.