By Pat Harty
IOWA CITY, Iowa – Two teams headed in opposite directions will meet on Saturday when the surging Iowa men's basketball team faces the struggling Ohio State Buckeyes in Columbus, Ohio.
Iowa (12-6, 4-3 Big Ten) has won four games in a row, while Ohio State (10-8, 2-5) have lost five games in a row.
Iowa is tops in the Big Ten and ranked 17th nationally in scoring offense, averaging  82.0 points per game.
The Hawkeyes also are expected to add a key player with the return of 6-foot-9 junior forward Patrick McCaffery, who has missed the last four games while dealing with anxiety.
The son of Iowa head coach Fran McCaffery was averaging 12.8 points per game when he took an indefinite leave of absence.
"It's nice to see him back," said Iowa junior forward Kris Murray. "I think the whole team is excited just to see him on the court and playing with us again.
"I think when he comes back it'll be another scorer that we have on the court, another lengthy guy on the floor. It'll be good to have him back."
The Iowa players will have had nearly a week to prepare for the Buckeyes due to this past Wednesday's game against Northwestern having been postponed because of Covid-19 related health issues within the Northwestern program.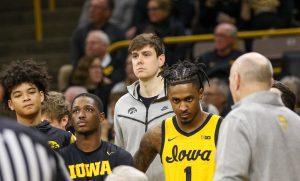 The Iowa-Northwestern has since been rescheduled for Jan. 31 at 8 p.m. at Carver-Hawkeye Arena.
Iowa hasn't played since defeating Maryland 81-67 last Sunday at Carver-Hawkeye Arena.
Four of Ohio State's last five losses have come by four points or less and by a combined 12 points (Purdue, 71-69; Minnesota, 70-67; at Rutgers, 68-64; at Nebraska, 63-60).
Iowa also suffered through a tough stretch in conference play, losing its first three games, including a 78-75 overtime loss against Wisconsin in the Big Ten opener on Dec. 11 at Carver-Hawkeye Arena.
Iowa also has won a conference game in overtime, defeating Michigan 93-84 on Jan. 12 at Carver-Hawkeye Arena.
"We could be undefeated or we could have five losses," Fran McCaffery said of his team. "Overtime win, overtime loss, they could go either way. Every team is in the same boat. A lot of these games are going to come down to two or three possessions because everybody is good.
"You hope to be on the winning side of those close games, but every team has got veterans. Every team has scorers, as you pointed out. You have to take care of the ball, most importantly, and then you have to rebound. Sometimes you have nights where you can't make a shot. You're going to lose those. We couldn't make a shot against Nebraska; give them credit for that, but shot the ball very poorly, and it's going to be hard to win."
Ohio State has one of the top freshman in the Big Ten in forward Brice Sensabaugh, who is fourth in the Big Ten in points (302) and fifth in field goals (110). He is also 10th in the conference in double-doubles with three. His last double-double was Wednesday at Nebraska (18 points, 10 rebounds).
Fran McCaffery said Thursday that he doesn't expect sophomore center Josh Ogundele to play in Saturday's game. Ogundele has missed the last six games due to a lower leg injury.
"It would be nice to get Josh Ogundele back," Fran McCaffery said. "I think he's getting closer, but he's not there yet."
Iowa vs. Ohio State
When: Saturday, 1 p.m.
Where: Columbus, Ohio (Value City Arena)
TV: Fox
Radio: Hawkeye Radio Network
Series: Iowa leads the all-time series between Iowa and Ohio State by a narrow, 83-82, margin. The two teams have split the last 10 meetings, dating back to 2017. Iowa has won three of the last four meetings, including winning last year's only contest, 75-62, in Columbus. Ohio State holds a 50-30 advantage in games played in Columbus. The Hawkeyes have won two consecutive contests in Columbus: 73-57 in 2021 and 75-62 in 2022. Iowa and Ohio State have not played an overtime game since 1983, the longest span without an overtime game for an Iowa Big Ten  opponent. The Hawkeyes were the first opponent to win at Value City Arena (1999).