By Susan Harman
IOWA CITY, Iowa – Most basketball games or games of any kind involve some good performances, some not so good and some that drive you to burn the videotape. Iowa's last game at Michigan State, an 84-81 overtime victory, was all three.
Consider that Iowa played the whole second half and overtime without McKenna Warnock, who was injured on an illegal screen. It played the final 2:08 of regulation, when MSU took a one-point lead, and all of the overtime without Monika Czinano, who fouled out. Czinano was 11-of-11 from the floor at the time.
Iowa committed a season-high 20 turnovers and had just six offensive rebounds, three by freshman Hannah Stuelke. Caitlin Clark made just 6-of-19 shots and 2-of-10 threes. Circumstances dictated that Stuelke had to play a career-high 24 minutes, 36 seconds.
With 5.3 seconds left in the overtime Iowa had an 82-79 lead and the ball. Clark was called for a dead-ball intentional foul when players were lining up for the inbounds play and she struck MSU's Kamaria McDaniel in the face. McDaniel made both foul shots and after an MSU timeout the ball was inbounded in Michigan State's end of the floor with a chance to win.
And yet, somehow, Iowa won the game.
It won because it made 10-of-11 free throws in overtime. It won because every time MSU took the lead in overtime Iowa responded. Stuelke's 3-point play cut a four-point lead to one, Clark hit a difficult fallaway jumper from the elbow. Molly Davis defended McDaniel's drive on MSU's last possession, never giving up the baseline and not fouling.
Clark made 12-of-14 free throws and finished with 26 points. Stuelke had nine rebounds. Stuelke and Davis combined for 14 points off the bench.
All of this is prelude to Monday's game at No. 2 Ohio State (19-0, 8-0). The Hawkeyes have probably used up this month's share of good fortune. The same kinds of mistakes in Columbus will cook the Hawks.
The Buckeyes are one of only three teams in the country that remain undefeated (South Carolina, LSU). They've already defeated Michigan, Illinois, MSU and won at Nebraska. They have yet to play Indiana or Maryland.
"Ohio State is the best team on our schedule that we've faced this year," Iowa coach Lisa Bluder said.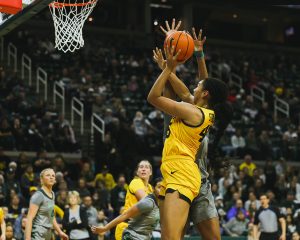 Ohio State has become one of the best teams in the country without its best player, guard Jacy Sheldon. Sheldon has played in only five games because of a leg injury. She is expected back soon. OSU also lost junior guard Madison Greene for the season with an injury, and yet it hasn't missed a beat.
"Without (Sheldon) they have four players in double figures, and that's really, really hard to guard," Bluder said. "They just have really talented athletes, and they have a lot of them."
The Buckeyes defense is carnivorous, and if it doesn't turn you over in the backcourt it eats time off the shot clock which impacts a team's ability to work for good shots. Ohio State holds opponents to 26 percent shooting behind the arc.
"They press, and when they press you don't have as long to shoot the ball, (get) in-and-out threes, reverse the ball," Bluder said. "They have great length. When your point guard is 5-10, your off-guard is 5-11 and then 6-foot, 6-foot… Their length also helps them defend when you get into a half-court setting."
Ohio State plays an unrelenting, physical style. After last season's game in Iowa City Bluder was left sputtering about the way the game was called and wondering if she could field a team for the next game. Iowa's outstanding perimeter defender, Gabbie Marshall, seemed to catch the brunt of the rough play.
"Always when you're playing Ohio State it's going to be a physical game," Bluder said. "It's going to be full-court pressing the whole time.
"You just can't back down. You have to be really strong with the ball. You can't back down because that's what they want you to do."
On Sunday Bluder said McKenna Warnock was still "day to day," after being leveled at MSU on an illegal screen. The Hawkeyes need her firepower and her rebounding.
Offensively OSU's Taylor Mikesell is a deadly 3-point shooter and has improved her versatility this season with an ability to take the ball to the basket. She scored 24 in last season's game.
Rebeka Mikulasikova, a 6-3 post, is a big presence inside and is shooting .373 from 3-point range, second only to Mikesell among the regulars. Czinano had a big game last year (23 points, 9 rebounds) against the Buckeyes, and they have been vulnerable to good post play.
The game is at 6 p.m. and is on ESPN2.