Pat Harty
IOWA CITY, Iowa – No matter what Iowa junior guard Cailtin Clark does for the sport of women's basketball as a generational talent, some critics just won't be impressed or care about it.
She could record 10 straight triple-doubles, score 50 points in a game, or make a three from beyond midcourt, and it just wouldn't move the needle for some sports fans, including veteran journalist Jason Whitlock, or whatever he is these days.
Whitlock complained on Twitter in the wake of Iowa's victory at No. 2 Ohio State this past Monday about ESPN having led SportsCenter with a report on Iowa's win, and on another women's game. He also questioned why ESPN would devote six minutes of coverage to women's college basketball.
"Who is paying for this, Whitlock asked in his tweet. "What percentage of sports fans does this serve?"
The responses under Whitlock's tweet were mixed, but sadly, many agreed with him, and they took it as an opportunity to bash women's basketball.
It's boring.
They play below the rim.
They can't dunk.
My team at the YMCA would destroy the best women's college teams.
Those were just some of the responses to Whitlock's tweet.
So, he seems to have accomplished his goal of criticizing and dismissing the women's game, while also pandering to the naysayers and keyboard warriors on Twitter.
But why even go there?
If women's basketball isn't your thing, fine.
To each his own.
But why tear it down just because ESPN led off one SportsCenter with a report about the 10th-ranked women's basketball team in the country, which is led by a transcendent player in Caitlin Clark, defeating the undefeated and second-ranked team in the country on its home court?
It seems petty, mean-spirited and narrow-minded.
Iowa women's basketball associate head coach Jan Jensen was a guest on the Hawk Fanatic radio show and podcast this past Wednesday and she had lot to say about this topic, and about Whitlock's tweet.
"I guess I was just raised a different way and I just so much believe in always seeing the positive," said Jensen, who has seen the women's game evolve up close as a former six-on-six star in high school, who would go on to become a star for Lisa Bluder at Drake before joining here as assistant coach. "Like that is just so foreign to me. Why do you have to put other people down to try to highlight what we believe in or what we like?
"So, it's obvious mister Whitlock is much more of an avid male sports fan. And that's cool, that's totally fine. But to have to just degrade another sport, or another sex if you will, or another race if we're getting into all the issues of society, it seems odd, and it just seems so unnecessary. They're just two totally different games."
Instead of always comparing the two games, and focusing on what the women's game is or isn't, why not try to appreciate what they both have to offer?
Or, if you refuse to do that, then just ignore the women's game rather than tear it down for attention, or to push a narrative.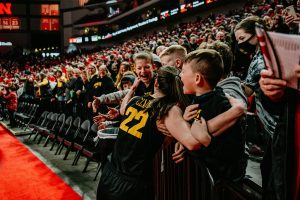 "I think women's basketball has evolved overall, but it's a real fun style, as long as you don't keep comparing it to what the men do," Jensen said. "We don't play above the rim. We're not going to play with as much power.
"But if you separate the games and just watch them and enjoy them for what they are, boy, it's come a long way from six-on-six to the early days of five-on-five. There's some great strategies. Unbelievable scoring. There's fast-paced, full-pressing philosophies, and to me, if you enjoy the drama of sport, and there's a good game on that's competitive and doesn't have a lot of sloppy play, I just don't think you should judge it by its gender."
A study from the National Research Group found 30 percent of respondents say they are watching more women's sports than they were five years ago.
The No. 1 reason given for the growth is that more women's sports are being broadcast.
The Iowa women's basketball team plays a very entertaining, fast-paced style that produces results as Caitlin Clark and her cohorts defeated Nebraska 80-76 on Saturday before approximately 10,000 fans at Carver-Hawkeye Arena.
Iowa improved to 9-1 in Big Ten play and 17-4 overall as Clark stuffed the stat sheet as usual with 33 points, 12 rebounds and nine assists.
Caitlin Clark will never have a dunk in a game, but that shouldn't take away from her brilliance as a shooter, passer and ball-handler.
It's just as fun and spectacular watching her drain a 3-pointer from beyond 30 feet, or, make a fancy no-look pass for an assist as it is a men's player, maybe even more fun because she is a woman.
"I've just always believed in seeing the good," Jensen said "So, a lot of these things that are happening now as the women's game gets popular, you still have a lot of misogyny with it. I just don't understand it. I think it's just another signal to society that we want to divide instead of unite."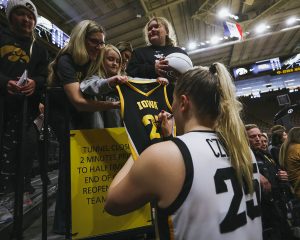 Women's basketball, obviously, doesn't have the same level of interest or financial drawing power as the men's game.
However, there is no denying the growth of the women's game, and maybe, that's what scares somebody with Whitlock's views.
ESPN made the decision to lead off SportsCenter with women's basketball and more power to them.
Caitlin Clark is cashing in big time from her name, image and likeness and that's because she appeals to enough people so that businesses want her to represent them.
"My argument to Jason Whitlock would be, we don't know if that leading story with a number two versus a number ten top ten ranking in NCAA, will make money for SportsCenter or not," Jensen said.,"But whoever the powers that be, whether they're doing it for money reasons, or doing it because of the peer pressure, at least we're in a time in society where let it play out. Let it play out for a few years and we'll see if the marketing dollars may make sense."
Jensen calls this an experimental phase for women's basketball as advertisers try to figure if they can profit from the game.
But to lash out at ESPN for leading off one SportsCenter with women's basketball is a weird hill to climb and step backwards.
It's yet another example of being rigged, exclusive and divisive rather than open-minded, inclusive and supportive.
ESPN SportsCenter just led tonight's episode with 2 stories on women's college basketball. The first 6 minutes, a regular season Big Ten and SEC game. Who is paying for this? What percentage of sports fans does this serve?

— Jason Whitlock (@WhitlockJason) January 24, 2023