By Susan Harman
IOWA CITY, Iowa – Lisa Bluder confessed that she didn't even know her star's shoes were cool. But it was hard not to notice Caitlin Clark's nearly neon green sneakers as she tore apart Nebraska Saturday in a grinding 80-76 victory.
"It was a win, but it wasn't a pretty win," Bluder said. "We did what we had to do to win, but we didn't really put the fear into them that I wanted to put into them today. We didn't shoot as well from two as we usually do, but we did a great job on the boards, outrebounded them by 11, got to the free-throw line."
But when Iowa needed Clark, she was there every time.
She finished with 33 points, 12 rebounds and nine assists. She made 5-of-12 threes, several from logoland.
Clark was a big contributor to Iowa's decisive first-half run, from which the Huskers never recovered. Iowa trailed 21-11 with 1:20 left in the first quarter when Iowa began a 20-2 run. Hannah Stuelke's post move and Clark's post up cut the lead to 21-15 at the end of the quarter.
Molly Davis scored on a three and a floater. Clark hit a long three and fed Monika Czinano for a layup and a 28-23 lead.
Just getting started, Clark hit another long three. Stuelke scored a three-point play off a fastbreak, made two free throws and had a rebound follow. Gabbie Marshall scored on a drive, and Clark finished the quarter with a 16-footer off a Czinano screen and then fed the post for a layup as the half ended. Iowa led 41-30.
As good as the offense was, Bluder and Clark both credited the switch to a zone defense in that quarter with sparking the run. While Iowa was off and running Nebraska missed eight shots and committed two turnovers.
In the first quarter Iowa had trouble controlling dribble penetration by Husker guards Sam Haiby and Jaz Shelley. So Bluder made the call to go zone, and Iowa held Nebraska to nine second-quarter points on 3-of-13 shots.
"Our zone defense was really good," Clark said. "We were getting tips and deflections in our zone. We were defending the 3-point line really well. I though Monika rebounded the ball really well. When you get stops that's when you get your transition going. We had some big threes in transition. The big thing is it started on defense with our zone."
"Second quarter was great offensively and defensively," Bluder said. "We went to a zone defense; I thought it was really effective. We got good shots in the second quarter."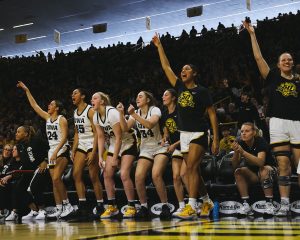 Nebraska's 3-point shooting has been inconsistent, but when it's good it's very good. Nebraska made 2 of 12 threes in the first half, but in the second the Huskers made 7-of-18. Nebraska finished shooting 36.4 percent behind the arc. The move to a zone is always risky if the offense gets hot from the perimeter, but Bluder was willing to take that chance.
"We told (the players) that if we hold them to 30 percent we'll win the game," Bluder said. "Because there's only been one game all year they've won when (shooting) under 30 percent. I know we gave some up at the end, but we were up multiple possessions at that point and they were in the (foul) bonus."
The Huskers had several effective post players besides 6-foot-3 sophomore star Alexis Markowski. Nebraska used 6-2 Isabelle Bourne, 6-5 Maggie Mendelson and 6-3 Annika Stewart. The Huskers' size probably impacted Czinano's shots. She made 7-of-10 but only had 10 shots, a fact that Bluder lamented.
"Monika shot 70 percent, which is tremendous, but I think Monika can get more than 10 shots," she said.
 Freshman Hannah Stuelke spent her time mixing it up with the Husker bigs.
"They are tall, so it was harder," she said. "We talked about going off the dribble more. That worked a lot better posting them up than trying to go over them."
Stuelke played 21 minutes and scored 12 points including 4-of-5 from the foul line. Her maturation has come at a valuable time for Iowa, which missed McKenna Warnock for the second game in a row with a rib injury.
"I think I've made a lot of progress," Stuelke said. "I used to get antsy and turn the ball over. I'm trying to calm down and just focus on the game. The game has slowed down for me."
Nebraska outscored Iowa by 13 in the fourth quarter and got within five points twice. Clark answered with a three and a fallaway jumper the first time. The second time she made the clutch free throws at the end of the game.
Czinano finished with 17 points and seven rebounds. Nebraska had five players in double figures.
Iowa (17-4) is tied with Indiana atop the Big Ten with a 9-1 record. Nebraska fell to 12-9, 4-6. Iowa next plays host to Maryland on Thursday at 7:30 p.m.
🚨🚨🚨@CaitlinClark22 x @MCzinano pic.twitter.com/A3pYFLVaFJ

— Iowa Women's Basketball (@IowaWBB) January 28, 2023