By Pat Harty
IOWA CITY, Iowa – On an emotional night in which the legend of Chris Street was honored, his former team paid its respect by defeating a vastly improved Northwestern squad 86-70 on Tuesday at Carver-Hawkeye Arena.
Iowa used a balanced offensive attack that included five players scoring in double figures, and a late run in the second half, to withstand the pesky Wildcats.
Sophomore guard Payton Sandfort was huge down the stretch as he made a 3-point basket that gave Iowa a 76-65 lead with 3 minutes, 36 seconds left to play.
Sandfort also drew a foul on that play, and then shortly thereafter Northwestern head coach Chris Collins was called for a technical foul.
Sandfort then made three straight free throws, two of which came from the technical foul on Collins, to give Iowa a 79-65 lead.
Sandfort made another 3-point basket, his fifth in the game, to give Iowa an 84-68 lead with 2:25 remaining.
His basket brought the fans to their feet, while some fans headed towards the concourse with the victory in hand.
Iowa improved 14-8 overall and 6-5 in the Big Ten, and will face Illinois on Saturday at Carver-Hawkeye Arena, while Northwestern fell to 15-6 and 6-4.
Tuesday's game was part of Chris Street Night at Carver-Hawkeye Arena as Iowa honored the former star forward, who was killed in an automobile accident on Jan. 19, 1993, and midway through his junior season with the Hawkeyes.
The Iowa-Northwestern game was originally scheduled for Jan. 18 at Carver-Hawkeye Arena, but was postponed because of Covid-19 related health concerns within the Northwestern program.
Street's parents, Mike and Patty Street, and his two sisters, met with the media prior to tip-off of Tuesday's game to reflect on their son's legacy in an emotional press conference.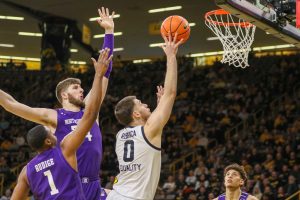 Mike and Patty Street also watched Tuesday's game from their usual seats and were recognized by the fans with a standing ovation during the first timeout in the game.
Parts of the Big Ten Network's documentary on Chris Street, which originally aired on Jan. 18, were also shown on the Jumbo Tron in the first half.
Sandfort and senior forward Filip Rebraca both led Iowa with 20 points, with Sandfort scoring 14 points in the second half, helping Iowa to pull away.
"We weren't losing this game," Rebraca said.
It was fitting in some ways that Northwestern was the opponent for Chris Street Night, partly because of the friendship that Chris Collins had with Chris Street.
Collins was hosted on his recruiting visit to Iowa by Chris Street and they remained close friends even though Collins ultimately signed with Duke.
"I was heavily recruited by Iowa and almost came to Iowa," Collins said. "And a big reason for that was because of Chris. He hosted me on my visit and we had a great weekend, a lot of fun because we had so much in common. We really hit off as friends.
Street played his final game against Duke on Jan. 16, 1993, and Collins was a freshman guard on that Duke team.
Duke defeated Iowa 65-56 in Durham, North Carolina, but Street earned the respect and admiration of the Duke fans with how hard he played.
"His last game in a Hawkeye jersey was against me and I'll never forget giving him a hug after the game," Collins said. "It was a great game. We beat them in a close game, and I remember giving him a hug and wishing him well."
Patty Street said Tuesday that she was looking forward to meeting Chris Collins for the first time prior to Tuesday's game.
Collins had the Wildcats playing well heading into Tuesday's game with defense the driving force behind their success.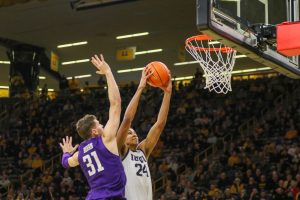 The game was tied six times in the first half, and there were also five lead changes.
Iowa was trailing 39-36 when Sandfort made a 3-point basket from near the top of the key right before the halftime buzzer.
Northwestern led by as many as nine points in the first half as Iowa struggled with foul trouble.
Filip Rebraca picked up his second foul with 6:14 left in the first half and then sat for the remainder of the half after having scored eight points.
Kris Murray was then called for a foul shortly after Rebraca had been lifted from the game and that didn't sit well with Fran McCaffery and he let the officials know it and was called for technical foul with 5:47 left in the first half.
Northwestern point guard Boo Buie made both free throws to give the Wildcats a 30-25 lead.
Kris Murray led Iowa with 10 points in the first half, but he was also called for two fouls in the first half and was on the bench with Rebraca when the half ended.
Murray finished with 16 points, while Tony Perkins and Connor McCaffery scored 12 and 11 points, respectively.
Iowa had a 33-24 advantage of the boards and also made 18-of-22 free throws and 10-of-21 3-point baskets.