By Susan Harman
IOWA CITY, Iowa – Iowa made sure it wasn't a Groundhog's Day repeat against Maryland.
"The first half was spectacular," Iowa coach Lisa Bluder said. "Any time you beat a top-10 team it's special. But I don't know how you cannot say that Caitlin Clark is the National Player of the Year. I don't know how you can say that. She was unbelievable tonight."
Sixth-ranked Iowa defeated eighth-ranked Maryland, 96-82, Thursday at Carver-Hawkeye Arena.
Clark was the prime reason Iowa didn't repeat last year's belly flop against the Terrapins. Clark and Monika Czinano.
"Anytime you can set the tone early on your home court it's hard to battle back," Bluder said. "I thought that was an outstanding beginning, and again, some of Caitlin's shots were crazy, but we got Monika some really high-percentage shots."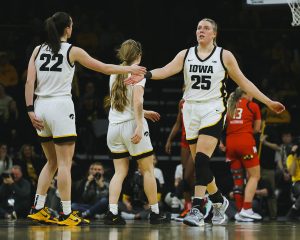 Iowa took off in the first quarter and built a 29-18 lead. Clark hit a long three to start Iowa's scoring and scored 11 of Iowa's 29 in that quarter. The second quarter was much the same. Clark had 24 points at halftime on 9-of-11 shooting, including 5-of-7 threes. She finished with 42 points that included at least four threes from the cable TV logo on Iowa's court.
"You've got to stay attached to that girl," Maryland guard Shyanne Sellers said.
Czinano had 18 first-half points on 9-of-11 shooting. Czinano finished with 28 points. Iowa's two stars made 27-of-37 shots and scored 70 of Iowa's 96 points. It may not be the ideal distribution of production, but it worked Thursday.
"Obviously we wanted to defend Clark and Czinano, and they had monster games," Maryland coach Brenda Frese said.
Maryland started slowly and really never recovered.
"A really rough, uncharacteristic start in the first quarter, which I thought obviously impacted the results of the game," Frese said. "Going 1-for-9 (from 3-point range) is really unlike us. The fouls to Diamond (Miller) really impacted our team. (The Hawkeyes) came out and were really aggressive. Obviously they were on fire in the first half."
Frese said her team tried to change things defensively and nothing really worked.
"In transition they really crushed us," Frese said. "Our trans-D, I think that's where our confidence got shook. That allowed for a lot of mistakes where we lost trust in our defense."
Frese cited Iowa's ability to "rim run" in transition, something Hannah Stuelke exploited in her 17 minutes of play for 13 points.
"When you run the court as hard as their bigs do, it gave us fits," Frese said.
"That's just always been preached since I stepped on campus," Czinano said. "If you buy into it, and you work on it, you get what we did tonight."
Clark credited Iowa's defense as being the key to kick-start the transition game that greatly aided Iowa's runs.
"We threw a lot of different stuff at them," she said. "But also they were in foul trouble; that's huge too."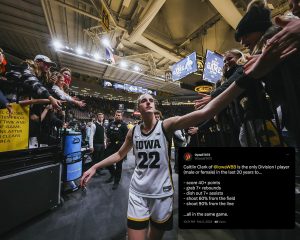 Bluder thought Iowa's 3-point defense was key, holding the Terps to 2-for-18 (.111). The Terps average 37 percent from behind the arc. Frese thought her team had good, open shots because much of the time Iowa was sagging off the perimeter to try to clog up the middle to keep Miller and Sellers at bay.
Maryland got within 10 points in the third quarter but baskets by Clark and Stuelke eased the pressure. Maryland was led by Miller with 27 and Sellers with 26. Abby Meyers added 15 and made the Terps' only two 3-pointers.
McKenna Warnock started and played 27 minutes after missing the last two games with a rib injury. She scored three points, had six rebounds and three assists.
"I wanted to get back as fast as I could, and what a great game to come back," she said.
Iowa (8-4, 10-1) plays at Penn State on Sunday. Maryland (18-5, 9-2) has Ohio State next.
Team effort 🫡 pic.twitter.com/Ne9e5Z7QlU

— Iowa Women's Basketball (@IowaWBB) February 3, 2023