IOWA CITY, Iowa – Friday's Hawk Fanatic radio show and podcast had two guests, including former Iowa basketbal star Adam Haluska, and former UI student Jake Spindler.
Haluska gave his thoughts on the Iowa women's basketbal team's 96-82 victory over No. 8 Maryland this past Thursday Thursday, a game in which Caitlin Clark scored 40 points, and he also looked ahead to the much-anticipated matched between the Iowa men's basketball team and Illinois on Saturday at Carver-Hawkeye Arena.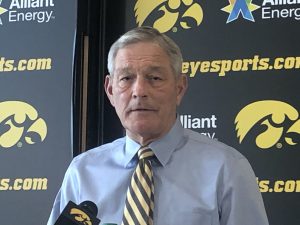 Haluska usually appears on the podcast once a week during basketball season.
Spindler is a UI graduate and a former member of the Hawks Nest. He shared some thoughts about how the student section at Carver- Hawkeye Arena could be improved, and about why he feels the student section should be moved to courtside.
Haluska's 35-minute segment starts at the beginning of the two-hour podcast, while Spindler's interview starts about 45 minutes into the podcast.
The final hour of the podcast was spent talking mostly about Kirk Ferentz's press conference from this past Wednesday when he announced that no coaching changes would be made .
We crammed a lot of information and opinions into two hours and appreciate Adam and Jake being our guests.