By Pat Harty
IOWA CITY, Iowa – When all the intangibles are in place, Carver-Hawkeye Arena can rock with the best of them.
That was obvious on Saturday as the Iowa men's basketball team fed off the energy from a sellout and energized crowd to defeat Illinois 81-79 in a game that was tied nine times and had nine lead changes.
The fact that Iowa played on a Saturday, and early in the afternoon, helped to create the hostile environment, but these kinds of opportunities have been rare for Iowa, much to dismay of Iowa head coach Fran McCaffery.
It also helped that a surging Illinois team was the opponent because Iowa and Illinois have an intense rivalry in men's basketball that dates back for decades.
"It's really different and I think it speaks to the competitive advantage in this league," Fran McCaffery said of playing on Saturday. "And I've said, we have to be cognizant of who's getting all the Saturday home games because sometimes you look down and one team has six and you have none. That's a problem, and I've voiced that loud and clear, and I will continue to do so.
"But I'm thankful we had this one because the crowd was definitely a factor."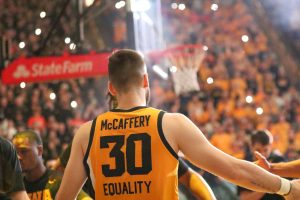 The game-day atmosphere inside Carver-Hawkeye Arena has faced a lot of scrutiny and criticism over the years because there are times when the energy is low, the student section is half empty and the home-court advantage leaves much to be desired.
But that was far from the case on Saturday with the student section packed and with the fans often standing and cheering.
Junior guard Tony Perkins fed off the energy from the crowd as he finished with a career-high 32 points, including 25 in the second half.
One of the neatest moments came in the first half when kids from the Boys and Girls Club of Cedar Rapids were recognized at halfcourt and received a standing ovation.
They were given tickets to the game after it was discovered that the Illinois student section, known as the Orange Krush, had purchased 200 tickets in October, but had done so by claiming they were a charity for underprivileged kids.
Iowa Athletics after learning about the scam and refunded the original ticket order and then donated the tickets to the Boys and Girls Club of Cedar Rapids.
This latest controversy added yet another layer to an already intense border rivalry, and that intensity was noticeable on the court Saturday, and in the stands.
The arena was loud pretty much from start to finish, and that was another obstacle that Illinois had to try to withstand.
Iowa completed a three-game sweep at home with Saturday's victory and improved to 15-8 overall and 7-5 in the Big Ten.
Iowa defeated Rutgers and Northwestern in its previous two games, so momentum was on Iowa's side heading into the Illinois game and that helped to produce a sellout crowd.
"I think it says a lot about the character of the guys in that locker room, no question," Fran McCaffery said of winning the last three games at home," Fran McCaffery said. "We always say we want to protect the home floor and we had three home games against three great teams. But now we've got to go on the road and that's a lot harder."
Four of Iowa's next five games are on the road, beginning with Big Ten leader Purdue next Thursday in West Lafayette, Indiana.
Purdue is currently ranked No. 1 in the nation, but that could soon change since Indiana defeated the Boilermakers 79-74 on Saturday in Bloomington, Indiana.
Purdue has one of the best home-court advantages inside Mackey Arena, and one of the most energized student sections in the Big Ten, if not the country.
Iowa's next home game is against Ohio State on Feb. 16th, which is a Thursday.
Should the Hawkeyes keep winning, there is a good chance that Carver-Hawkeye Arena will be rocking again when the Buckeyes come to town.
The dagger 👌@payton_20_ x #Hawkeyes pic.twitter.com/Z8vioiqd5k

— Iowa Men's Basketball (@IowaHoops) February 5, 2023