By Pat Harty
IOWA CITY, Iowa – Whenever an upset occurs in sports, the same explanations, or excuses, are often used to explain why the improbable happened.
Two of the most popular explanations are that the underdog wanted it more, or that the team that was favored took the underdog lightly.
But that isn't really fair to either team because it takes away from what the underdog accomplished, and it suggests that the team that was expected to win didn't have the right mindset, or that it didn't prepare properly.
It seems hard to believe that the Iowa men's basketball team didn't want to win as much as Eastern Illinois and Nebraska when they both as underdogs upset the Hawkeyes in December.
Iowa will now face another massive underdog when it plays at last-place Minnesota on Sunday at Williams Arena in Minneapolis.
The Gophers were picked to struggle under second-year head coach Ben Johnson when the season began, and that was before its roster was gutted by injuries and illness.
Minnesota has separated from the Big Ten pack, but in the wrong direction with just one victory in conference play.
The Gophers also had their game against Illinois postponed earlier this week due to Covid-19 health concerns. It will now be played on Feb. 20th in Champaign, Illinois.
Minnesota was without its leading scorer Dawson Garcia, and only had eight players available, when it lost 81-46 to Maryland last Saturday in Williams Arena.
So, it's just been one obstacle and setback after another in a season that has turned into a nightmare for the depleted Gophers.
But what if the Gophers should pull off the upset on Sunday?
Would it be because they wanted it more than Iowa, or because the Iowa players took Minnesota lightly?
The answer to those two questions should be no and no, because sometimes, upsets just happen.
Why would a struggling Minnesota team want to win more than an Iowa team that is playing for postseason seeding?
And why would Iowa, with a 7-6 conference record, take any Big Ten opponent lightly?
Especially, considering that Iowa head coach Fran McCaffery's lives in the moment and takes it one game at a time as well as any coach out there.
Fran McCaffery said recently to the media that he rarely knows what's on the upcoming schedule except for the next game.
The media gets tired of hearing the one-game-at-a-time narrative, but it really is the best way to approach the Big Ten grind.
Every team deserves respect and the full attention of its opponent.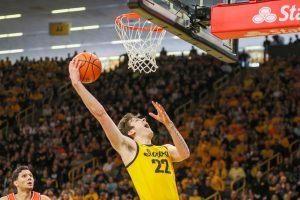 Iowa is 7-2 against Big Ten opponents with winning records in conference play, but 0-4 against teams with losing records.
Fran McCaffery was asked this past Tuesday if that means anything.
"I don't think so," Fran McCaffery said. "There's a lot of numbers you could look at. How many threes did you make, did you turn it over, did your key guys get in foul trouble, was somebody out. There's any number of reasons you could look at.
"But what probably stands out to me the most with that number is it shows you how good the other teams are. They might have losing records right now, but they're capable of beating anybody. We have some good teams in this league top to bottom, and especially if you're on the road."
Iowa is coming off an 87-73 loss at top-ranked Purdue this past Thursday, but one bright spot to take from the loss was the play of 6-foot-9 junior forward Patrick McCaffery, who had nine points on 4-of-6 shooting from the field and five steals.
Patrick McCaffery, who is the son of Fran McCaffery, missed six consecutive games in Big Ten play due to issues with anxiety.
He has played in three straight games since returning, but struggled in the first two games.
"He didn't look like himself in the previous two games," Fran McCaffery said. "It's just great seeing him out there flying around. I think when he does that, he's better, we're better. I think his legs are back. I'm not sure he had his game legs there for a week or so. We certainly need him and he was great."
Iowa (15-9, 7-6) vs. Minnesota (7-15, 1-11)
When: Sunday, 12:01 p.m.
Where: Minneapolis, (Williams Arena)
TV: FS1
Radio: Hawkeye Radio Network
Series: Minnesota holds a 107-100 advantage in the series. The 207 meetings are the most Iowa has played against any opponent. The Hawkeyes have won five of the last six meetings, with the lone loss coming in overtime in Minneapolis on Christmas night in 2020 (102-95). The Gophers own a 66-37 advantage in games played at Minnesota. Seven of the last 10 meetings at Williams Arena have been decided by six points or fewer, dating back to 2012, with the other two contests being decided in overtime in 2020 (102-95) and double overtime in 2017 (101-89).