By Pat Harty
IOWA CITY, Iowa – To mark what would have been Hayden Fry's 94th birthday on Tuesday, I'd like to tell a story about one of my funniest moments with the coaching legend.
I've told this story before, and also have written about it.
But Hayden had a tendency to tell the same stories over and over, especially ones that made him laugh, and this story still makes me laugh, even though it comes at my expense.
It happened in the mid-1990s at the annual Big Ten football media day event in Chicago.
Back then, the media didn't have as much contact with the Iowa coaches and players during the offseason as they do now.
So, when Hayden and I crossed paths at Big Ten media day, it marked the first time we had seen each other since the end of spring practice.
I walked up and shook his hand in the hotel lobby, and he paused briefly before saying:
"Patty, I don't know what you did during the summer, but it obviously wasn't sit ups."
Hayden burst into laughter, and I couldn't help but laugh at his unique way of saying that I had put on a few pounds.
Hayden liked to tease by calling me Patty and he loved telling jokes and poking fun.
And he was right in that I had put on a few pounds.
So, I used his remark as motivation to shed some weight, and he later complimented me for looking as if I had done some sit ups.
My first year on the Iowa beat was 1992 when I worked for the Iowa City Press-Citizen.
I had the privilege of covering Hayden Fry for seven seasons, and there never was a dull moment with Hayden as the head Hawk.
His gift for gab, and his funny phrases made every interview memorable.
And while Hayden liked to joke and have fun with the media, he also had a serious side, and would sometimes lash out at the media if he felt we had written something that was unfair or critical of his players, or if he wanted to create a distraction.
Hayden protected his players as if they were his own sons because that's how he felt about them.
I faced his wrath in the fall of 1992 after having written a column in which I questioned whether he was being honest about Wille Guy's playing status.
Guy was the former No. 1 recruit in the nation coming out of Tennessee in 1990, but he didn't play at Iowa until the 1992 season after having failed to meet the entrance requirements.
I had been warned heading into a press conference that Hayden was upset about what I had written and he planned to let me know about it.
So, instead of sitting near the front of the press room as I usually did for press conferences, I took a seat in the back because I was foolish enough to think that it might make a difference.
It didn't.
Shortly into the press conference, Hayden looked around the room and said, "Pat, where is Pat."
He didn't call me Patty this time because he was upset, and rightfully so, because I was wrong to have questioned his integrity and he let me know like only Hayden could just how wrong I was in this case.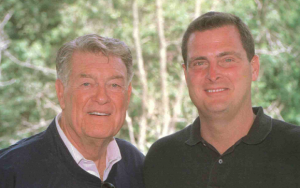 But you know what he didn't do was hold a grudge.
I think Hayden was as disappointed as he was upset in this case because I had let him down.
My older brother, Frank Harty, was also disappointed because he held Hayden in the highest regard for personal reasons.
My brother had just finished his freshman season in 1978 when Hayden was hired to replace Bob Commings as the Iowa head coach.
My brother was so excited to play for Hayden, but sadly, it never happened due to a staph infection in my brother's knee that ended his playing career in the fall of 1979.
That was a tough time for my family, but Hayden, who passed away on Dec. 17, 2019 at th age of 90, helped to ease the pain and suffering by keeping my brother on scholarship until he graduated.
There was concern that Hayden might not keep my brother on scholarship since my brother had been recruited by Commings.
But once a Hawkeye, always a Hawkeye was how Hayden saw it, and my family was forever grateful.
Hayden would go on to do what many thought was impossible by rebuilding an Iowa program that hadn't had a winning season since 1961.
He led Iowa to the Rose Bowl in just his third season as head coach and he ended the stranglehold that Ohio State and Michigan had on the Big Ten since the late 1960s.
Hayden also broke the color barrier in the Southwest Conference by recruiting Jerry LeVias to play for him at Southern Methodist University in the mid-1960s.
It seems so fitting that Hayden Fry was born in February since February is Black History month.
He was a pioneer and a visionary on the field with how he brought a passing offense to the Big Ten's three-yards-and-a-cloud-of-dust mentality, and he was a pioneer and visionary off the field with how he fought for civil rights at a time when few head coaches were willing to do so.
Hayden retired from coaching after the 1998 season, and it was later revealed that he was battling prostate cancer. And battle he did as he lived for nearly a quarter century after having retired.
Iowa pays tribute to Hayden Fry every year by holding the annual FryFest event on the day before the football season opener. There is also a street in Coralville named after Hayden.
I hadn't planned on writing a column this long, but sometimes, it's hard to stop writing about the legend that is Hayden Fry, especially on his birthday.
And just so you know coach, I didn't do any sit ups, but I walked five miles on your birthday to help keep the weight off.
RIP.
And thank you.