By Pat Harty
IOWA CITY, Iowa – On at least three occasions this season, the Iowa men's basketball team has thought by some to be on the verge of unraveling.
Some critics and naysayers might have even left the Hawkeyes for dead when they lost to Eastern Illinois in December, or when they started 0-3 in Big Ten play, or when they just recently lost back-to-back road games at Northwestern and Wisconsin by double figures.
It's easy to assume the worst during tough times, especially if you aren't directly involved with what is happening.
The hard part for those who are directly involved is to keep grinding, believing and fighting, but the Iowa players have managed to do that and are now just one victory from possibly having the two seed in the Big Ten Tournament.
The same Iowa team that lost to Eastern Illinois 92-83 at home, and the same Iowa team that lost to Wisconsin, Nebraska and Penn State in its first three conference games now just has to beat the Cornhuskers on Sunday at Carver-Hawkeye to secure at least a double bye in the Big Ten Tournament.
A season that could've spiraled in the wrong direction more than once is now filled with hope and optimism, and the two seniors that will be honored before Sunday's game are a big reason Iowa has stayed the course.
Sixth-year senior guard Connor McCaffery, who is the son of Iowa head coach Fran McCaffery, and fifth-year senior forward Filip Rebraca both have been key factors on and off the court during a season that has tested their resolve, and that has seen Iowa do the improbable by overcoming a 21-point first-half deficit against Indiana, and an 11-point deficit with less than a minute left in regulation against Michigan State.
Iowa would go on to win both games at home.
Fans will have a chance to show their appreciation on Sunday when Connor McCaffery and Rebraca are both honored during the Senior Day ceremony right before tip-off.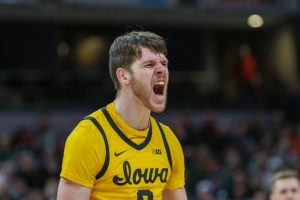 "It shows that we are a team that never quits," Rebraca said Friday. I" feel like we've had games this year that shows that. Indiana when they came here, they were up by twenty-something in the first half. Michigan State, everyone with a minute-thirty, everyone started leaving.
"But it just shows that we trust in each other and we're never going to quit no matter what the odds are. After Eastern Illinois and our 0-3 start people we're doubting us, but we just believed in each other."
Every senior class is unique in its own way but Iowa's current senior class really stands out in that regard.
Because it isn't often that a class has a 24-year old sixth-year senior, as is the case with Connor McCaffery, and a 25-year old fifth-year senior, as is the case with Rebraca.
Both players have used the free Covid year to stay in college under pretty ideal circumstances after having already graduated.
Former Hawkeye guard Jordan Bohannon played under the same circumstance last season as a sixth-year senior.
"I think just being able to play another year of college basketball, just be on a team, be with your friends, be in a winning environment, a wining culture," Connor McCaffery said. "These fans are great, playing in front of 15,000 people, it never gets old. Who really wants to leave college early if you have a chance to continue playing basketball without really doing a whole lot of school, which is what Jordan and Filip and I are on the same school plan because we already graduated.
"So, not a whole lot going there. So, I'm pretty much in college playing basketball, basically a professional basketball player for a year while being with my family, with my brother, with my dad and with all my friends."
Connor McCaffery also has had the luxury, or as he might say, the privilege of playing for and interacting with his father on a daily basis for six years.
His younger brother, Patrick McCaffery, is also a junior forward on the Iowa team.
"I've had an extra six years now with my dad every single day pretty much throughout the year," Connor McCaffery said. "It's a good thing that we get along because it could have gotten interesting if we didn't. But we do, so I've really enjoyed the time. I feel like we're as close as ever. We pretty much know what the other is thinking most of the time now. There's never really a scenario in which we're not on the same page. And I think that is something that I'll always be able to cherish."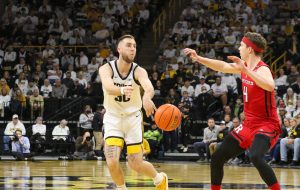 Connor McCaffery participated in Senior Day last season before deciding to return for a sixth season. He always has excelled in academics and could've entered the business world, but his desire to keep playing for his father, and for Iowa, was just too strong.
"I'm just so thrilled that he came back because he was looking at his options," Fran McCaffery said. "He graduated with two degrees, and am I going to go into the business world, am I going to start my coaching career? Do I keep playing, and obviously, he's been incredibly impactful with this team, especially with the injuries that we've had and really being an incredible leader along with Filip in that locker room.
"His performance has been outstanding. But we've said it before, the true value is in his ability to be on winning teams, no matter who we have. When you look at four years in high school, five years in college, over 200 wins, that's pretty impressive."
Connor McCaffery ranks first in the country in assist-to-turnover ratio (4.0) this year. He also led the natian in 2020, boasting a 4.6 ratio. He has amassed 514 career assists, seventh most in program history. Connor McCaffery is three assists from tying B.J. Armstrong (517) for sixth place. He also has played in 111 Hawkeye wins, tying Jordan Bohannon for most in program history.
Rebraca has reached double figures in scoring a team-best 25 times, including scoring at least 15 points in 12 of Iowa's last 20 games. Rebraca is also just one of eight players nationally to average at least 14 points, 7.5 rebounds, one block, while shooting 58 percent or better from the field.
"It shows that my effort is there every night and that's something that should never lack," Rebraca said. "You might have off shooting nights that don't go so well, like sometimes it rolls out or whatever and you're not hitting shots that you're supposed to. But I feel like I've never had a lack of effort. I don't think anyone can really criticize me for that. So, I'm just real proud that I was able to go into every game and just give it my all for this team."
And while Connor McCaffery has lived more than half of his life in the Iowa City area, and he also graduated from Iowa City West High School, which is less than one mile west of the Iowa campus, Rebraca's journey has been much different.
He is a native of Sombor, Serbia, and he played for three seasons at North Dakota, which is located in Grand Forks, before transferring to Iowa.
The 6-foot-9 Rebraca has been a two-year starter for the Hawkeyes, but he wasn't asked to score as much last season compared to this season.
He has accepted whatever role the team has needed, and Fran McCaffery will forever be grateful.
"I can't imagine a better fit for a guy who transferred than Filip Rebraca, not only in terms of arriving when we really needed what he brought to the table, but how he fits with our style of play, with his teammates in this league," Fran McCaffery said. "Just a guy who personifies class in everything that he does, his approach. He's been zero maintenance from the day he got here, incredibly hard worker, and toughest guy in the building. He's just one tough guy and just keeps getting better. I think that's what's fun as a coach to watch. He came here with a desire to prove that he could play at this level, and he certainly has done that. I think he's an all-league player."
And though he has only spent two years in Iowa City, Rebraca has grown fond of the city for what it has to offer, especially from a food standpoint.
"I like trying new cuisines and everything like that, so, Grand Forks wasn't necessarily the most diverse place," Rebraca said of his previous college town. "So, that aspect I like it. It's not as cold as it was up there.
"I like this place a lot. It's cool."
Rebraca and Connor McCaffery both enjoy teasing each other about being older than most seniors, and they both poked fun at each other during Friday's press conference.
"I'm glad you guys know, he's older than me," Connor McCaffery said to the media on Friday. "Like last year, everybody was on J-Bo (Bohannon), and I'm pretty sure Filip is older than J-Bo, too.
"So, I don't know why he gets a pass."
Rebraca kind of rolled his eyes when told what Connor McCaffery had said about Rebraca being the older of the two.
"He's trying to find comfort in that he's a sixth year and I'm a fifth year," Rebraca joked "So, I think he's just trying to point out that I'm older, so he feels better about himself."
Rebraca said there were times last season when he questioned if he had made the right decision to transfer to Iowa.
He wasn't a big factor on offense, and that was big change from his role at North Dakota.
"I've been through lot here," Rebraca said. "I found out a lot about myself last year. It tested me at times. I worried if I made the right decision. But I stuck through it, and I feel like I have no regrets. I made the right choice to come here, and I'm really happy that I did."
Rebraca credits Fran McCaffery for helping him stay the course at Iowa.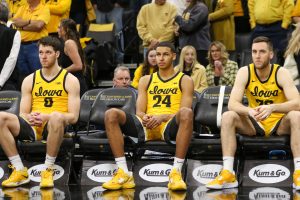 They had a sit-down meeting shortly after last season, which Fran McCaffery does with all his returning players, and it was during that conversation when Fran McCaffery reassured Rebraca that he still believed in him, even though Rebraca had struggled at times on the court.
"He kept saying that he believes in me and even though I might not have had the season I wanted, they had full trust in me and my skills and my basketball knowledge," Rebraca said. "So, just hearing that from a coach when I felt that I wasn't performing, and hearing that from him, meant a lot."
Rebraca and Connor McCaffery will be the only players honored before Sunday's game, but it seems almost certain that junior forward Kris Murray will also be playing in his final game at Carver-Hawkeye Arena.
Kris Murray leads Iowa in scoring and rebounding as a fourth-year junior, and he also projects as a first-round pick in the 2023 NBA draft.
Should Kris Murray get taken in the first round, he would join his twin brother, Keegan Murray, as NBA first-round picks.
Keegan Murray was selected fourth overall in the 2022 NBA draft by the Sacramento Kings after having earned consensus All-America honors at Iowa last season as a third-year sophomore.
Connor McCaffery plans on following his father into coaching, while Rebraca is expected to pursue a career in professional basketball, most likely in Europe.
His father, former NBA center Zeljko Rebraca, is the president of Vojvodina, a professional team based in Novi Sad, Serbia.
But the future can wait for both as they still have a lot to play for in college, beginning with the Nebraska game on Sunday.
Nebraska defeated Iowa 66-50 on Dec. 29th in Lincoln, Nebraska.
"I think we're really focused," Rebraca said. "We know what this game means. We're playing for the two seed potentially. And we also remember what happened last time when we played them at their place."
Nebraska (15-15, 8-11) vs. Iowa (19-11, 11-8)
When: Sunday, 1:07 p.m.
Where: Carver-Hawkeye Arena
TV: Big Ten Network
Radio: Hawkeye Radio Network
Series: Iowa holds a 24-14 advantage in the series. The Hawkeyes have won 12 of the 19 meetings since Nebraska joined the Big Ten in 2011. The Huskers won this season's fi rst meeting in Lincoln on Dec. 29 (66-50). Iowa owns a commanding 17-3 advantage in games in Iowa City. Sunday will be Nebraska's 11th contest played in Carver-Hawkeye Arena. The Hawkeyes have won 14 of the last 15 contests in the series played in Iowa City, including nine straight, dating back to 1943.