By Susan Harman
MINNEAPOLIS – Every time Iowa absolutely, positively needed a basket, Gabbie Marshall was there. Time and again Marshall rescued Iowa before it faltered. And when she wasn't there, McKenna Warnock was.
Iowa led almost start to finish in a tense, tight game and defeated No. 5 Maryland, 89-84, before 9,375, the second-largest crowd in Big Ten women's basketball tournament history.
"I think we took (the loss at Maryland) personally, and this was like a revenge game for us," Marshall said. "So we came out locked in at the beginning."
Iowa plays Ohio State Sunday at 4 p.m. for the Big Ten championship. It's the third time in row Iowa has reached the finals. The Hawkeyes are the defending tournament champs. Ohio State upset top-seed Indiana, 79-75, in a game with Jekyll and Hyde halves.
The Hawkeyes took an early lead and spent the entire game trying to hold off the Terps. They weathered the pressure that goes with that constant threat.
"We know it's a long game and it's all about runs, and they're going to go on theirs and we're going to go on ours," Kate Martin said. "It's more about limiting their runs and maximizing ours, and I think we did a great job of that. You've seen that in this tournament. There's been a lot of upsets; there's been a lot of comebacks, and for us to maintain that lead and keep that lead….sure it's exhausting but it shows a lot of maturity."
"We talked at halftime about being mentally tough and valuing the ball and just keep executing," Iowa coach Lisa Bluder said.
Maryland did tie the game at 79, and of course it was Marshall to the rescue with one of her seven 3-pointers.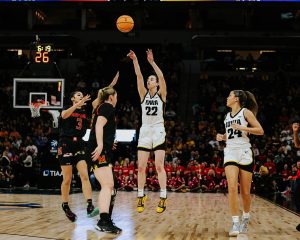 "There were five seconds on the shot clock and we ran a play on the sideline, and I had to get it up," Caitlin Clark said in describing the play. "McKenna gets a huge O-board. That was huge. If we don't get that, who knows? They might go down and score, but leaving Gabbie all alone was not great for them."
Warnock hit an open Marshall, and she swished the 3-pointer. The shot was a huge anxiety reliever for the pro-Iowa crowd after the lead had disappeared. Clark called it a pivotal play.
Iowa led by three with 1:44 left. Diamond Miller missed a three, and Kate Martin rebounded. Clark hit Monika Czinano for a layup and a five-point lead with 59 seconds left. Marshall then stole the ball just past midcourt. Clark was fouled and made one for an 85-79 lead. Maryland added two Faith Masonius free throws with 35 seconds left and it was 85-81.
Clark was called for an offensive foul as Iowa tried to get the ball inbounds against great pressure. Maryland's Lavender Briggs nailed a three to cut the lead to 85-84 with 25 seconds left.
Up stepped Warnock again. She was fouled with 24 seconds left and made both shots for a 3-point lead.
"You know you work out for those moments," she said. "You know you practice those moments under big-game pressure and you tune out the crowd."
Abby Meyers tried a three and missed, and Warnock was there for the rebound along with four Terps.
"They came in from every angle," Warnock said. "I give them a lot of credit though. They attack the board super hard, and we know that and you just kind of have to be strong. So glad I can pull it down."
Again, she was fouled and she hit both free throws. That was the game.
"I've shot that shot a million times," Warnock said. "We do it every single day in practice. Coach Bluder and coach J (Jan Jensen) tell us to think of a special time when this is going to count and put yourself in that situation. And that's just what I do every single time, so it's kind of a muscle memory."
Marshall finished with seven 3-pointers and made seven of 13 shots behind the arc for 21 points. Iowa's five starters all scored at least 10 points. Clark had 22 and nine assists. Martin had 10 points, seven assists and nine rebounds. Warnock scored 21 and made all six of her foul shots, the last four being crucial. Czinano had 15 despite being bottled up most of the game with two defenders.
The defense on Czinano seemed to affect Iowa's reliance on the 3-point shot. Bluder wasn't too keen on her team launching 40 3-pointers even if they made 15.
"It really is taking what the other team gave us," Bluder said. "We shot 40 threes tonight; that's a lot of threes. We shot a good percentage from there, but 40 of our 68 shots were threes. That's not ideal for us. But we still had 28 paint points."
Bluder lauded the defense Martin and Sydney Affolter played on Maryland star Diamond Miller.  Miller scored 21 but 12 of those points came from the foul line. Maryland had four players score in double figures. Meyers also had 21 points.
Three games in three days. Iowa did the same a year ago, so the Hawks know what is required.
"It's a dream, honestly, to have it two years in a row, and I'm a senior so it means even more to me this year," Warnock said. "But it's a dream to everyone every single year, and I'm so proud to be able to do this with this squad."
https://twitter.com/IowaWBB/status/1632185919871565827?s=20